Husbands & Sons
D H Lawrence, adapted by Ben Power
National Theatre and Royal Exchange, Manchester
Dorfman, National Theatre
–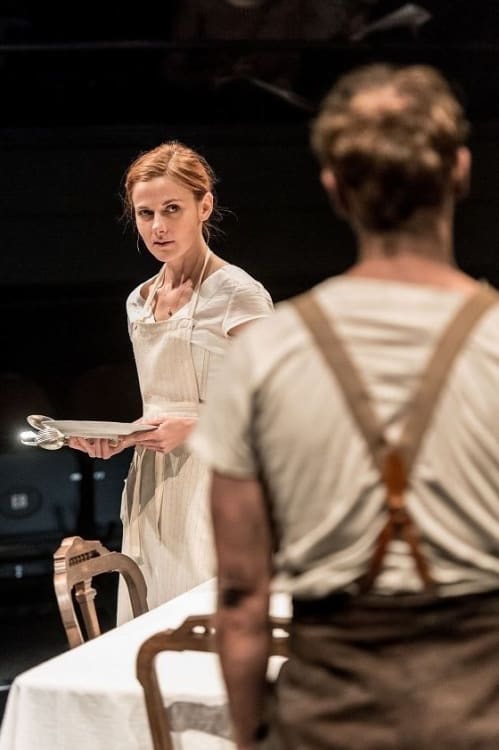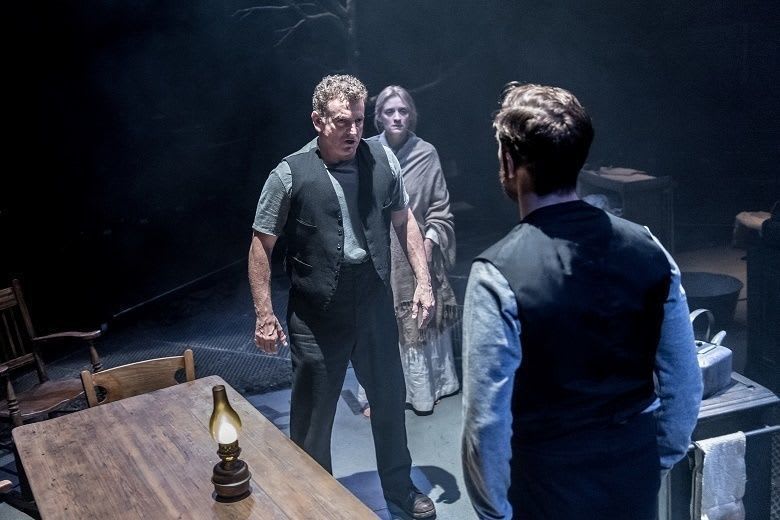 As his first year in charge of the National progresses from highlight to highlight, Rufus Norris bravely continues to challenge audiences and belie perceptions.
After a 3¼-hour adaptation of Jane Eyre which became an indisputable triumph, the equally forbidding prospect of a D H Lawrence trilogy condensed into a slightly shorter time frame has also come up trumps.
It helps to have a lucid adaptation by Ben Power, complemented by cleverly thought out staging from Marianne Elliott. This is characterised by strong performances from all involved and a good deal of physical theatre technique to recreate doors, outdoor garments and other invisible props.
Presented in-the-round by designer Bunny Christie, the Dorfman playing space is divided into three main areas, each representing a neighbouring house in a Nottinghamshire mining village.
Times were hard in 1911 and, as the drama starts, a strike is brewing. This is felt in different ways in the three households.
To present a little background, the Lamberts first saw the light of day in the trilogy's opening play A Collier's Friday Night, the Gascoignes in The Daughter-In-Law and the Holroyds in The Widowing of Mrs Holroyd.
Rather than presenting their stories in linear fashion as Lawrence wrote them, Ben Power and Marianne Elliott have chosen to intermingle them, demonstrating that there are strong connections in three plays that deal with eternal issues that still feel fresh over 100 years later.
After watching Husbands & Sons, some might come to the conclusion that a more appropriate title might have been Wives and Mothers, since all of the strongest characters on show are female, however much their menfolk might bluster and wave drunken fists around.
Each family has its own problems, but there is much commonality to the extent that it is hard to believe that, rather than a coherent whole, this is three plays compressed into one a century after their creation.
Ernest Lambert played by Johnny Gibbon is a student with literary inclinations, i.e. the D H Lawrence figure. He is much loved by Julia Ford as his mother, Lydia, while Lloyd Hutchinson gives a nice comic turn in the role of her monosyllabic husband Walter. As with his mining peers, Ernest has problems when courting, since this drives devoted Lydia mad with jealousy.
In the Gascoigne household, weak-willed Luther is struggling to come to terms with married life, particularly since his new wife Minnie has ideas way above their station and political views that shock her mother-in-law. Coincidentally, this pair are portrayed by Joe Armstrong and Louise Brealey, giving very different performances from their recent pairing in the London revival of Nick Payne's Constellations. Matters are not helped by Susan Brown playing the young man's cloying mother.
Finally, we get the always watchable Anne-Marie Duff playing Lizzie Holroyd, victim to the violent drunken Charles, Martin Marquez. As if life was not tough enough anyway, Lizzie is courted by a genteel electrician, Philip McGinley's Blackmore, and then driven to distraction by her husband's womanising, so unsubtle that he brings a couple of ladies of the night home and flaunts them in front of Lizzie and their young son.
With all of this going on, the evening is guaranteed to be engrossing and intriguing, with the intense family dramas spilling out into social and political comment about the lives of workers and their women in the years leading up to The Great War.
The National is certain to have another success on its hands with Husbands & Sons, making it the go-to London theatre of 2015, as it was throughout the Hytner years.
Reviewer: Philip Fisher