Hysteria
Terry Johnson
Theatre Royal, Bath
Hampstead Theatre
–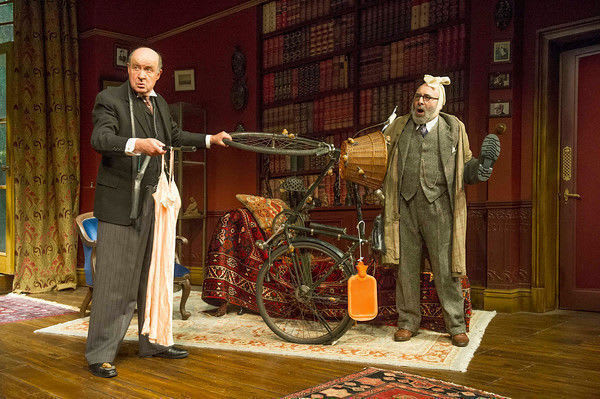 If the measure of a good night out at the theatre is the ability to remember the experience 20 years later, then Terry Johnson's surrealist concoction scores highly.
Where Phyllida Lloyd's production at the Royal Court was graced by Henry Goodman and Phoebe Nicholls, this new rendering even closer to home under the direction of the playwright has an equally talented cast.
In the leading role of Sigmund Freud, Sir Antony Sher balances quirkiness with something much deeper, while Lydia Wilson joins a growing list of young actresses who look set to herald a wonderful era for British Theatre (and inevitably international film).
Playing Jessica, a pushy woman who ends up analysing the great man as surely as he did her mother 30 years before, Miss Wilson ensures that her growing reputation is enhanced by a stunning performance. She cleverly combines comedy and deep feeling, proving herself to be effortlessly capable of matching the skills of a theatrical knight, which is no mean feat.
By any stretch of the imagination, Hysteria is an unusual work. On one level, it seeks to get under the skin of two of the most famous characters of the 20th century.
In the setting of Dr Freud's comfortable London consulting room, now a museum a few hundred yards from Hampstead Theatre, the old man begins to contemplate a death that cancer is fast bringing forward in the company of David Horovitch's Dr Yahuda, an old friend as well as a sympathetic, if rather nosy, GP.
Following the arrival of the beautiful Jessica, who soon dispenses with her clothes in an effort to receive a little time on the psychiatrist's couch, their meeting descends into amusing but sophisticated farce, evoking Ben Travers's Rookery Nook, complete with deliberately bad jokes and dropped trousers,
As if this is not confusing enough, a second patient arrives in the form of the self-obsessed Salvador Dali, played with an appalling accent (once again deliberate) by Adrian Schiller.
This quartet creates a wide range of amusements for the audience, two lots of biography combining with revelations about an archetypal Freudian patient, which develop to reveal as much about the doctor himself. Terry Johnson has done a really good job of researching the lives of both Freud and Dali, which ensures that his brand of lowbrow comedy does not overpower the underlying subject matter.
After the interval, the play gets both much more serious and surreal. As the subconscious is mined more and more deeply, Lez Brotherston's set becomes a Daliesque dream, possibly courtesy of morphine, complete with many unforgettable images, including a gas chamber trio that is new to this production.
The methodology this time around loses the manic intensity, which was a strength of the original, while allowing viewers to relish each individual part of the depiction at greater leisure.
Hysteria reveals a marvellously imaginative mind at work exploring several others that are arguably even more extraordinary. At his best as both a writer and director, few can match Terry Johnson and this revival shows him on top form twice over.
Reviewer: Philip Fisher