Icon / Noetic
Choreography Sidi Larbi Cherkaoui, design Antony Gormley
GöteborgsOperans Danskompani
Sadler's Wells
–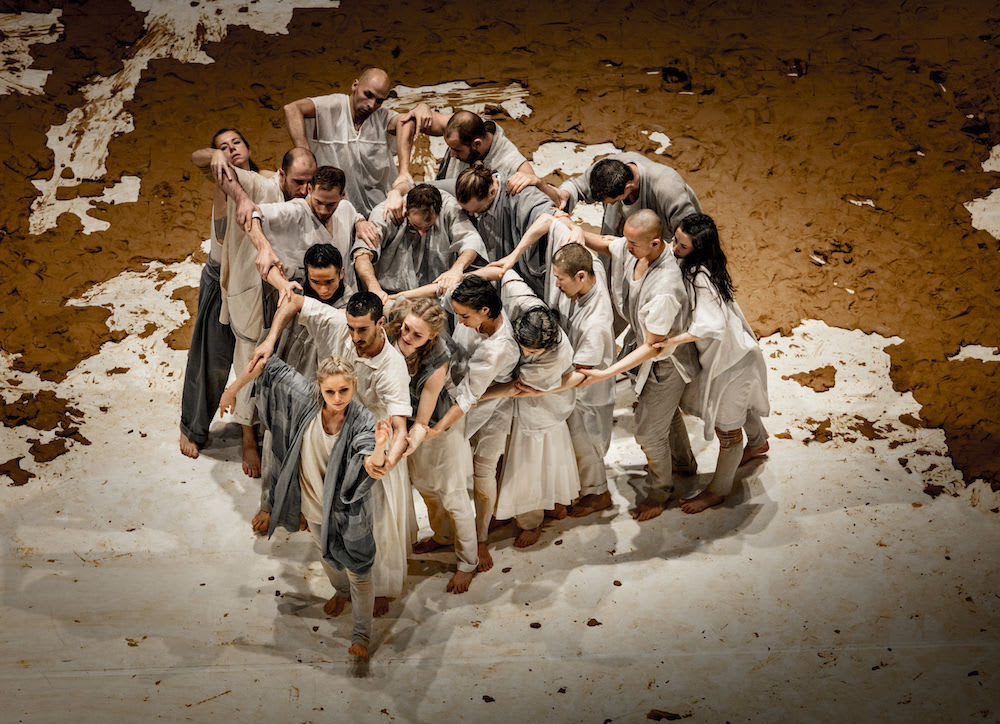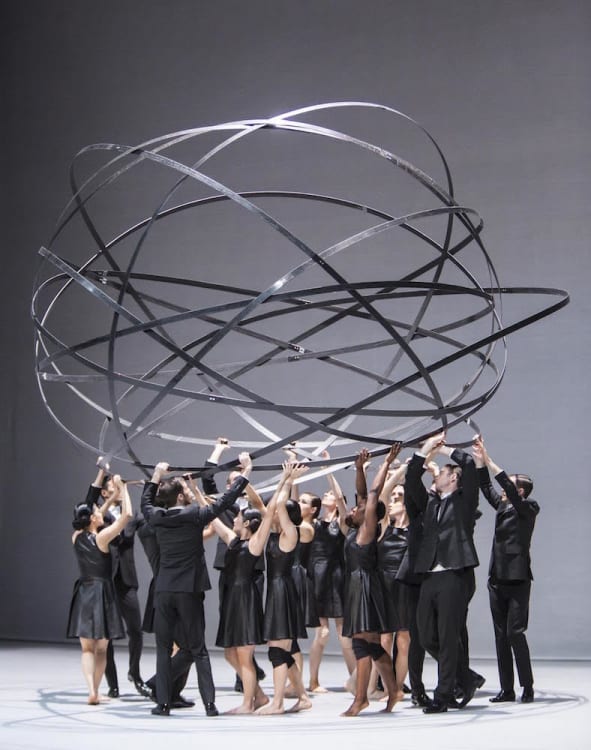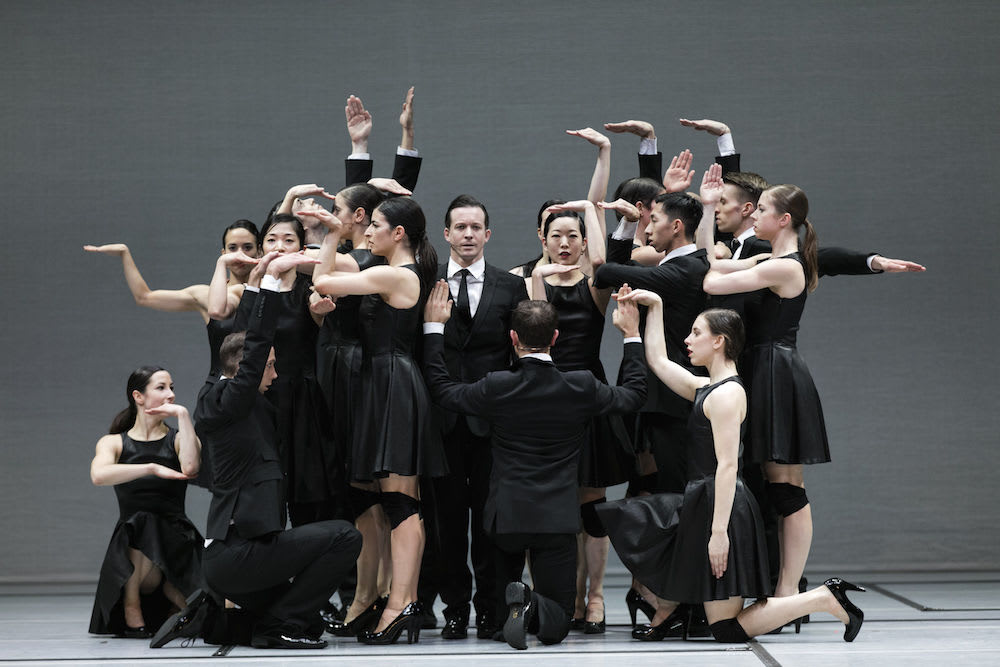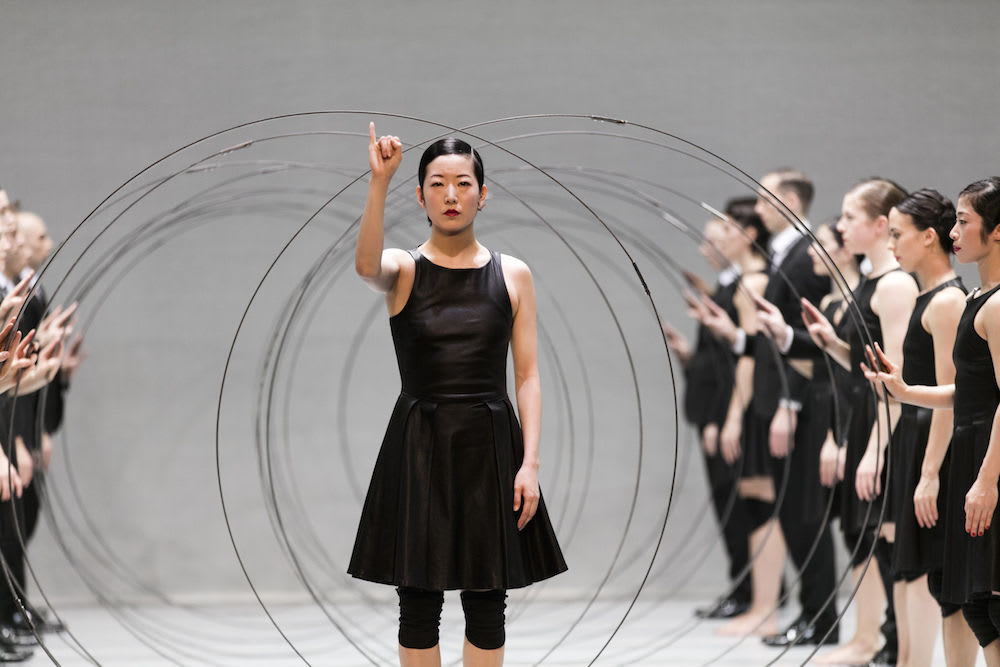 Prolific choreographer and artistic director of the Royal Ballet of Flanders and of his own Eastman company, Sidi Larbi Cherkaoui's embrace of dance styles, world music, philosophy (I've likened one of his shows to a TEDx talk before), and design knows no bounds as these two one-hour productions prove, if proof were necessary: Icon (2016) earthy, elemental, biblical; Noetic (2014) mathematical, metaphysical, theoretical.
Two contrasting pieces, both UK premières, created for the Swedish contemporary dance company GöteborgsOperans Danskompani, come with designs by his regular collaborator, sculptor Antony Gormley. But what demands they make on the dancers, who have to spout dense text as they dance, mould clay or create matrices out of pliant rods. What showcases for their first visit to Sadler's Wells.
Cherkaoui aims for the highest common denominator. He is searching, he says, "for a choreographic form that speaks the language of the universe" no less. For "inner wisdom", for "natural connections", for the bringing together of peoples and cultures: he has always done this, a lifelong seeker after the 'truth', a citizen of the world.
I do wonder though why these two one-hour pieces can't be seen in one evening, but I soon find out the reason. Three-and-a-half-tonnes of clay that's why: Icon's eighteen dancers trash and rehash the creation myth.
In twelve pools of light, Gormley's figurines (very like his 1991 Field which won him the Turner Prize) stand in a blue sea, with a hinterland beach of terracotta clay. Dancers, dressed in loose garments of yore, arriving in a new land perhaps, stamp on them, a tribe asserting its presence.
Destroyers and creators, iconoclasts and originators: "do we have the capacity to change the past?" They speak of epigenetics… of interpretation, language, words, all the while hands gesture silently—in layered confirmation or contradiction? Signs and semiotics, how we read the other…
But how to concentrate on the metatextual assault, on the dance, its soft, flowing, empathetic movement, on the words (William Blake's "doors of perception" cited) or the clay creations—how to keep it all in the mind's eye...
What is amazing is that the loose-limbed dancers can do all three: oration, contact work and handicraft. Icon is Cherkaoui's epic take on life. The dancers are his clay: senses and intellect brought into equal play. He delights in the ceaseless surprise of human capacity, in our universality.
I delight in the accompanying music, a concert in all but name. Ancient soulful songs from the Japanese Amami Islands, French ballads, Italian, Albanian, Sicilian and anonymous medieval compositions, played and sung live by sensational polyphonic singers and musicians on traditional instruments, are transporting and transformative.
Dancers break away from the collective for individual dance then are absorbed back into the fold ripping and pounding that clay at the back. Crowns, masks, helmets, tools for ceremony and awe, clay tablets for cuneiform writing… baseball caps, gloves and ball, bottles, hats, specs, microphone, breasts and a large heavy phallus—can't not have that in a creation myth—Cherkaoui in playful mode…
Rocks to throw at scapegoats: there are always scapegoats and stoning in biblical stories. Covered in large slabs of clay (Gormley's template has always been his own body), through trial and error they make a large seated primitive Golem in their own image.
The academic and introspective Noetic (from the Greek "noesis" meaning intellect) reminds me of the 2010 Cherkaoui / Gormley Babel (words) and Alexander Whitley's 2015 architectural Frames for Rambert, as nineteen dancers, in black suits and black cocktail dresses against a white box set, manipulate Gormley's flexi-carbon-fibre strips in geometric transformation. Stiletto shoes also figure—in metaphorical and gender fluid conversion—and, of course, make me think of Pina Bausch when a man saunters diagonally across the stage in them.
The best is Shogo Yoshii's taiko drum-playing performance at the side of the stage. He also plays the string kokyu and fué (Japanese flute). Original music, ranging from apocalyptic to neo-baroque and ecstatic neo-medieval timbres, by regular collaborator Symon Brzóska is a recording by the Göteborg Opera Orchestra. At times I think I hear echoes of Mahler's Von der Jugend from his Song of the Earth.
The text is beyond my bear brain, but the right-angled flicked wrist and group arrangements remind me of Mondrian. Architectural geometry in action, equations and patterns everywhere (think Fibonacci numbers, remember doing those at school…): in the natural world, in choreography, in music.
Arches, a skeleton skiff, a dome, a pergola, spinning hoops, coins, gyroscopes, Venn diagrams, Cyr wheels: I see the gymnastic hoops in Leni Riefenstahl's Olympia, of Soviet May Day parade displays. Theory and rite, shoulder-stands, kneepads, talk of the interconnectedness of the universe, its energy, its magnetism, the curvature of the globe, the magic of numbers.
Automation, algorithms, data, technology: "if we can understand all this… beautiful stuff"… A globe is made. A couple has the shakes. I'm not surprised; my poor brain is on overload. Think of the dancers, though, what amazing specimens. "What a piece of work is a man… how infinite in faculties…"
Reviewer: Vera Liber