Play
Sidi Larbi Cherkaoui and Shantala Shivalingappa
Southbank Centre Queen Elizabeth Hall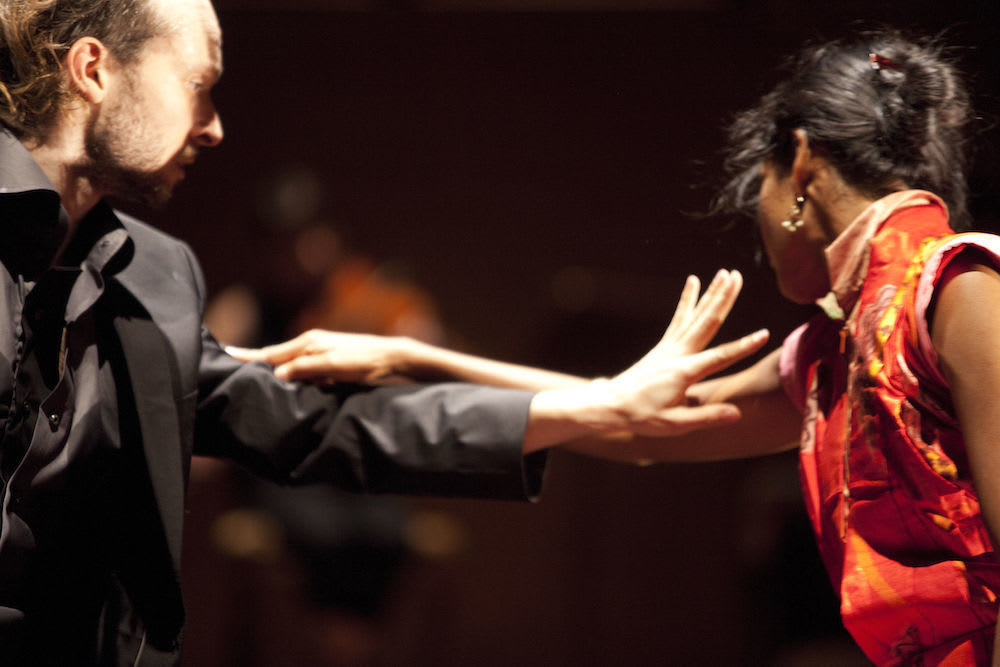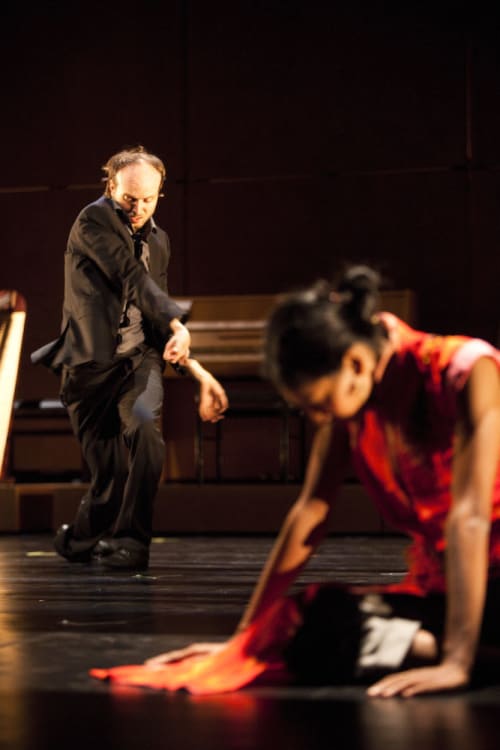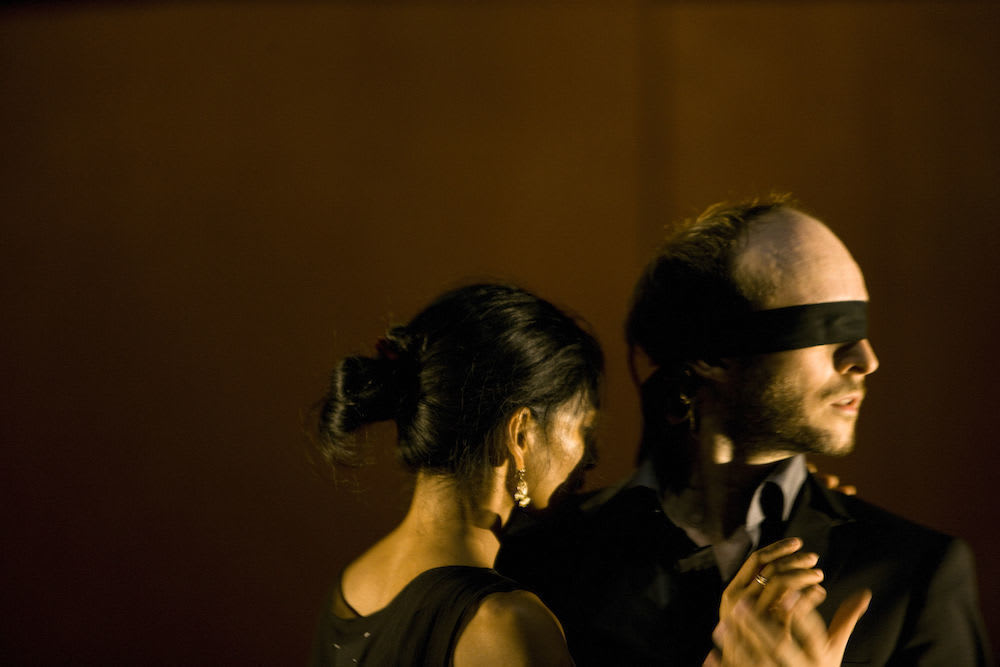 Sidi Larbi Cherkaoui bestrides countries and continents metaphorically, culturally and emotionally in his sincere search for collaboration and cooperation between peoples. And he always looks like a little boy enjoying himself with his new toy, or in his case a new dance technique, here the South Eastern Indian Kuchipudi, as he partners Indian-born dancer Shantala Shivalingappa.
He looks very much the gawky if dedicated pupil as he follows the dainty Shivalingappa. How long has she studied the dance drama form of Kuchipudi and how long has he? Why is she barefoot and he in shoes? But it matters not, as they seem to be having fun riffing off each other in a fusion of classical Indian and contemporary dance forms—he falls and rises, falls and rises very well.
Maybe this is why my teenage companion is so taken with the playful Play (2010), commenting he's never seen anything like it before. Of course, those who know Cherkaoui's work will know he likes to collaborate and learn new forms of dance (d'avant, Sutra, Babel (words), Puz/zle, 生长genesis, m¡longa, TeZukA, Dunas, Fractus V and more). Sometimes it's a hit, sometimes one would like a bit of an edit or a vague structure.
Or maybe it is the games being played, speedy chess with attitude, Rubik's Cube, cards, dice, pick-up-sticks and the calligraphic shapes on the backscreen, that appeal to my young companion's mathematical mind—and the complex rhythms of hands beating on a table, strings accompanying fabulous percussion.
Curious dance dramas are sung and played out with Bunraku puppets and masks. Is it a moral Indian folktale of male entitlement and female subservience, of arranged marriages, or is it about star-crossed lovers?
Who are their alter egos, who the Janus character who hangs himself? I think of Akram Khan's Desh, so much more mercurial and subtle. But then Cherkaoui would know that, he has worked with him—who hasn't he worked with…
To Cherkaoui "singing is internal, unseen choreography". One must sense it, use all our senses, and he's right. Both are blindfolded in one episode as if to prove the point. We can cross obstacles of sight, language and culture if the will is there. But are our interpretations and our ways of seeing on the button?
Cherkaoui likes hands and the gestural possibilities, fingers strumming instruments, fingers caressing arms, undulating limbs, expressive dancing fingers. Sexual games that people play, all of life a pattern… play-acting, role-playing…
He plucks at a harp, sings in several languages and dances, as does Shivalingappa. She even gives us a 'Deepak Chopra' style TedX talk on mindfulness and happiness, as he gestures above her head in sign language of his own. And he dances with a woman in the first row. "I can show you the world, I can open your heart", he sings to her and to us.
Is this his all-inclusive mission? A pity the hall is only half full for this single evening performance. I almost missed it; saw very little publicity for it. Slipping under the radar? But one can't help but love him for his open heart and yes, his mindfulness.
Apparently the late Pina Bausch brought them together (Shivalingappa performed in many of her pieces) and Play is dedicated to her. A baggy (not as rambling as Pina's numbers but as eclectic), self-indulgent, if enjoyable seventy-five interval-free minutes with an encore, it is the music that makes the evening and draws one in. If only one could get up and join in… Sit in the front row…
Music composed and performed on an array of beautiful instruments by Patricia Bovi, Tsubasa Hori, Gabriele Miracle, Olga Wojciechowska, on six moveable plinths shifted like chess pieces by unobtrusive assistants Kazutomi "Tsuki' Kozuki and Nicola Leahey into pleasing stage patterns—part of the set design and the performance, blending Japanese, Indian and Western musical influences.
A meandering production, warm, wilful, human. A multi-lingual, multi-cultural and multi-talented team, all equal in this hybrid art form, with back projection video design from Paul Van Caudenberg and lighting by Adam Carrée: all hands to the piano—you see we can all play in harmony…
And a mélange of cursive scripts on the screen—Cherkaoui calls himself a draughtsman, amongst other things. What next from him, I wonder. May he never lose his wonder at the possibilities in the world...
Reviewer: Vera Liber