In the Next Room or the vibrator play
Sarah Ruhl
Theatre Royal, Bath
St James Theatre
–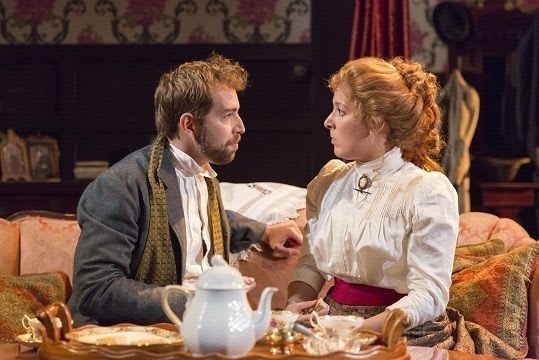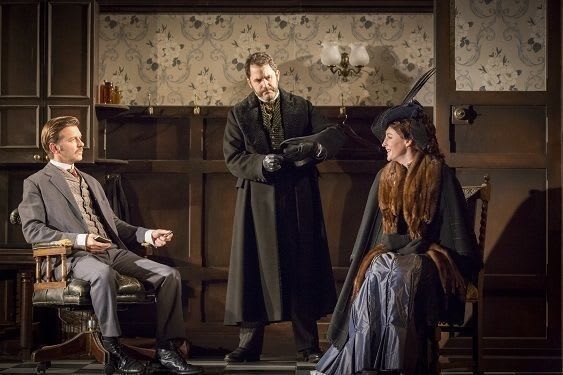 Laurence Boswell is currently cornering the market in London imports of quirky plays from New York, all of them incubated at Bath's Ustinov Studio.
In the Next Room proved popular when Lincoln Center Theater took it straight into a borrowed Broadway house, the Lyceum Theatre.
The mixture of salacious subject matter and social commentary has the ability to attract a mixed audience, while Sarah Ruhl offers a great sense of humour, which she liberally shares with her audience.
While the play is set in the late 19th century as Edison was exploring the uses to which his great discovery of electricity could be put, its central topic smacks far more of the last few decades.
The drama takes place in the home of Dr Givings and his wife Catherine, played by Jason Hughes and Natalie Casey.
Where Broadway stages have the necessary width, the next room at St James moves a storey upwards. There lies what is described as an operating theatre in which patients are relieved of their ills in a novel procedure utilising Edison's discovery with delightful (and for us often hilarious) consequences.
The patients are certainly in a sorry way, seemingly in need of a Freudian talking cure, but the enterprising scientist has a different solution, giving the vibrator play its alternative name.
Flora Montgomery's nervy, barren Mrs Daldry is invigorated to the point of addiction, even accepting the manual substitution of Sarah Woodward's selfless nurse when the current isn't strong enough.
Equally amusing is Leo, a British artist played wittily by Edward Bennett, who succumbs to an uncomfortable male alternative in the operating theatre. He also begs the family's wet nurse to become a model with unfortunate consequences.
Jason Hughes conveys the fervour and obsession of a scientist with consequent lack of consideration for his poor wife, leading to a clear case of physician heal thy wife (and self). Natalie Casey appears to have been asked to play Catherine as a briefly gaffe-ridden, babbling human robot, which can be distracting.
Of the supporting actors, Flora Montgomery has a great deal orgasmic fun, while Sarah Woodward is a model of matronly calmness until her moment arrives.
While, on the surface, In the Next Room looks like a historical sex romp, especially when Bennett is entrancing and amusing the audience, it is far more.
Sarah Ruhl explores numerous subjects, often from a feminist perspective. Love, marriage, race, religion and gender issues all get a look in, along with electricity, science, nature and art in a charming historical play with modern resonance that is also very funny.
Reviewer: Philip Fisher