In the Night Time (Before the Sun Rises)
Nina Segal
Gate Theatre, Notting Hill
–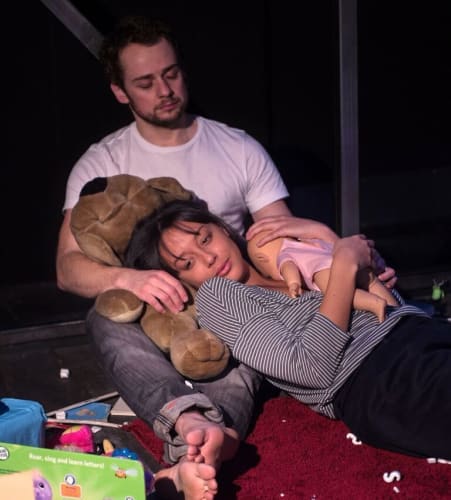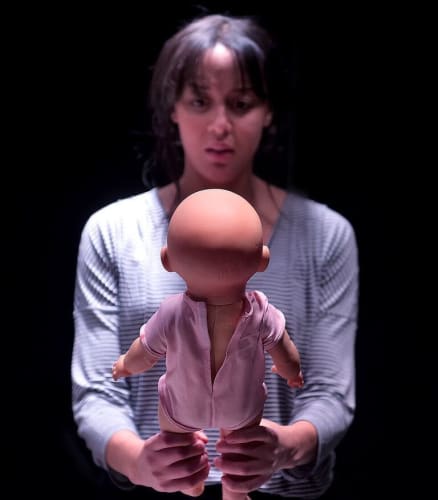 While watching this two-hander played in traverse, viewers might well bring to mind Nick Payne's award-winning Constellations.
The connection is in the portrayal of contemporary yuppies and the urgent, combative style.
The unnamed Man and Woman, respectively played by Alex Waldmann and Adelle Leonce, wait patiently trapped in a cocoon of cling film for their audience to settle.
The couple are born into a bare, cubed world that they slowly furnish and adorn, while their histories unfold in a series of connected conjectures that lead to love and co-habitation but never that offensive and old-fashioned state called marriage.
The turning point in a poetic joy ride comes with the happy arrival of their first-born, a little girl who comes not via the traditional stork but its 21st-century counterpart, the Amazon box.
The oohs and aahs of family life dissolve all too quickly when the babe finds her lungs and starts an alarming burst of crying that lasts for the remainder of the play's hour-long duration, much to the irritation of not only her loved ones but probably members of the audience too.
As with all parents of the new-born, they initially use natural instincts then old tricks passed on via the parental bush telegraph to quieten the babe but to no avail, the anonymous daughter maintaining the torture through a long, dark night of the soul that becomes something more.
Nina Segal uses the destructiveness that wrecks sleep and drains victims of hope and logic as a metaphor to represent the war zone that our world can sometimes seem like as one nation after another either implodes or seems bent of domination of its fellows at whatever cost to life and the sanity of the common man.
Ben Kidd's direction brings out the poetry of the piece and the actors fully inhabit their roles but nothing can cover the thinness of a piece that will probably have greatest appeal to recent parents who cannot remember their last full night of sleep.
Reviewer: Philip Fisher