Ink
James Graham
Almeida Theatre
Duke of York's Theatre
–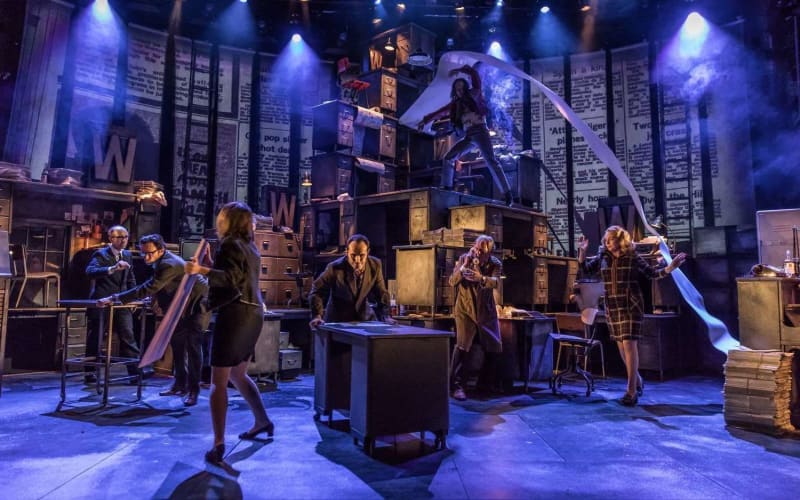 There is a strong possibility that Ink will end 2017 as the Best New Play in the eyes of many ordinary theatregoers but also those who choose award winners.
Following a sell-out run at the Almeida, James Graham's play about the early days of Rupert Murdoch's long and colourful career as a leader of the British media transfers the West End.
Directed with élan by Rupert Goold, the drama largely centres on the dynamic duo of Bertie Carvel as Murdoch and Richard Coyle playing his editor, tough Yorkshireman Larry Lamb.
As he demonstrated so successfully in This House, James Graham has a knack of replicating historical events from before his birth in a manner that appears to be absolutely authentic. For every minute of an engrossing three-hour running time, the activities of the media mogul and his cohorts seem totally believable, even though on occasion, they are outrageous.
Events open in 1969 on a Bunny Christie set designed around vertiginous piles of old desks and newspapers, as the Australian entrepreneur, already proprietor of the News of the World, makes a momentous decision to purchase the failing Sun title and wage a war to beat the country's highest circulating daily newspaper, The Daily Mirror.
Supported by Lamb, his tactics are frequently aggressive and occasionally legally dubious, which makes for rich, prurient entertainment for we flies on the fourth wall.
What shines through is the cussed determination of these two outsiders to achieve their goal at whatever cost is required, each taking the other on when additional confidence or boldness is most needed.
Putting together a team of undesirables to transform a title that was "a laughing stock on the street", they get the presses rolling on what would now be called a new concept, doubling sales in a month.
Their formula may be crass and distasteful but booze, fags, giveaways, gossip and, above all, sex sold fifty years ago, as they still do today, even if the mix has been refined by the passing decades.
Having set up the chase prior to the interval, James Graham is as single-minded as his leading figures in the second half.
Two features provide the evening with a solid ethical debate as first, the wife of a Sun executive is kidnapped and becomes front page fare, before the final throw of the dice as day 365 looms with the Mirror run by Jonathan Coy's Hugh Cudlipp still in the lead.
The coup de grâce comes when Pearl Chanda in the role of an Anglo-Asian model becomes a porn pawn as Page 3 is launched with dramatic results.
These two events define the play but also set the terms of the audacious and avaricious Murdoch media empire with which we are all familiar today.
Rupert Goold's production features a fine cast to support the exemplary efforts of the two leads and helps to bring the text to life and in doing so utilises a variety of directorial flourishes including songs and music in addition to the ability to make every joke and issue hit each viewer right between the eyes.
If proof were still needed that the prolific James Graham is the real thing, Ink provides that utilising wonderfully vivid storytelling and characterisation as it delivers a depressingly accurate message about our times. In what is turning out to be a strong year for new writing, this intelligent and highly entertaining drama looks like being primus inter pares and should be on everyone's must-see list.
Reviewer: Philip Fisher