This House
James Graham
Olivier Theatre (National)
–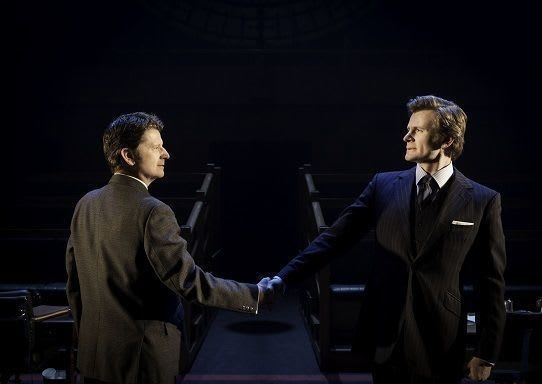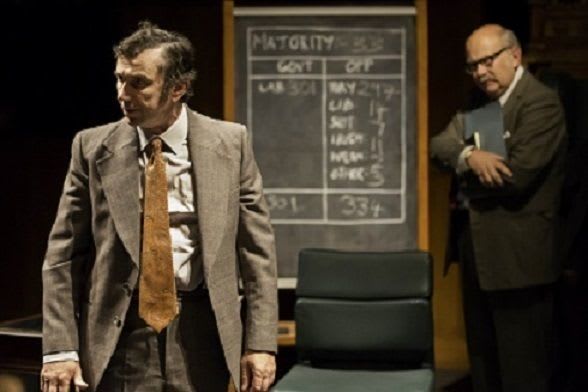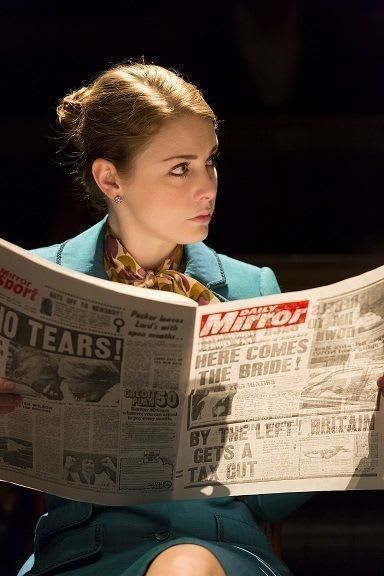 It is often a mistake to revisit favourite novels, films or plays. What had seemed fresh and exciting on first viewing frequently lacks that magic ingredient on second viewing.
Therefore, making a trip to see the transfer of This House, the play that I voted for as best of breed when it appeared in the Cottesloe in 2012, represented a calculated risk. Surely a play about political shenanigans behind the scenes 35-40 years ago could not have been that good?
It is!
Rae Smith has had to rethink the design for a bigger theatre but even end-on, keeps the spirit of the original with some members of the paying public sharing the green leather benches of the House of Commons with MPs. The shame is that they were not asked to dress the part, far too many looking slovenly amongst the well-dressed politicians.
What had every chance of being a dull history lesson ignoring the main players such as Harold Wilson and Margaret Thatcher is anything but.
This is an exhilarating rollercoaster ride through an era of political upheaval when, like the Conservatives today, the Labour Government of 1974-1979 was either hung, in coalition or had a wafer thin majority.
James Graham realised that in order to tell his story and entertain his audience, it was necessary to combine the cut and thrust of verbal battle, becoming physical when shaggy-haired Michael Heseltine wielded the ceremonial mace, with something more.
That comes in the form of a stream of memorable characters, some like the Whips seen jousting and creating alliances with equal alacrity, while others have odd moments in the spotlight before disappearing back into the history books.
Having dispensed with the ministers, even the Chief Whips, for Labour Bob Mellish and Michael Cocks against Tory Humphrey Atkins, play second fiddle, not to belittle the sterling performances respectively from Phil Daniels, Vincent Franklin and Julian Wadham.
The key characters are their deputies, raw Yorkshireman Walter Harrison, now played by Reece Dinsdale (who gives a grittier performance than Philip Glenister in the Cottesloe) and Charles Edwards as patrician Jack Weatherill. Much of the time, they go in for dirty tricks to get their way but there is honour amongst these thieves, movingly so as the play pushes towards its inevitable historical climax.
Back in the day, class was a real issue that separated the parties and this meant that the Whips were either well-heeled middle aged men or rough-spoken, middle aged men.
In such company, the presence of Lauren O'Neil taking the role of 26-year-old Ann (now Baroness) Taylor makes a big impression.
There is also a rich selection of characters such as Christopher Godwin's Doc Broughton, a diehard Labour MP from Batley & Morley, effete Norman St John Stevas and battleaxe Audrey Wise who practically brought her own party down, before Minister Reg Prentice delivered the coup de grace by changing allegiances mid-term.
In addition, Andrew Havill has great fun as the member for Walsall North who faked his own death, the fraudster John Stonehouse and also George Thomas, one of the Speakers who direct the show by identifying each member by constituency.
This is war in all but name and thanks to James Graham's ability to write witty but truthful dialogue and build a thrilling story aided by Jeremy Herrin's assured direction of a large cast playing numerous roles, This House offers as good an evening out as you could hope to enjoy.
If you cannot get to the National or tickets are impossible to beg, steal or borrow, there is a chance to enjoy the experience at one of 250 cinemas across the UK and more worldwide on 16 May.
Philip Fisher interviewed James Graham after the Cottesloe run.
Reviewer: Philip Fisher