Instructions for Correct Assembly
Thomas Eccleshare
Royal Court Theatre Downstairs
–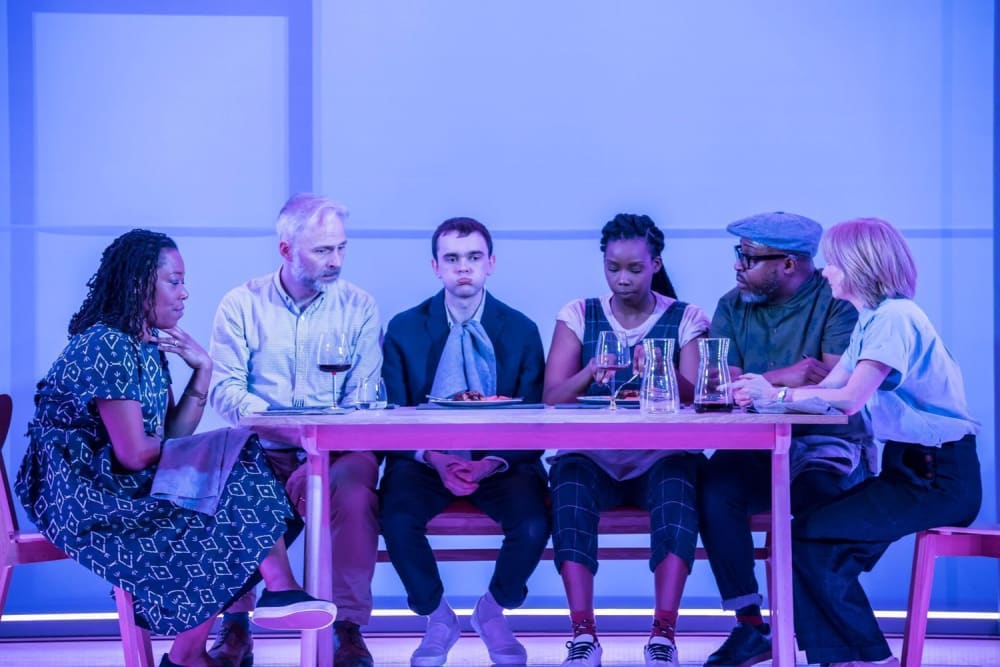 On the strength of Edinburgh Festival Fringe hit Heather and this Royal Court debut, Thomas Eccleshare is a lover of complexity.
Instructions for Correct Assembly attempts to bring together two very diffuse elements. First, there is a rather witty sci-fi drama with echoes of Caryl Churchill's hit play A Number, which also premièred Downstairs at the Royal Court. This opens the evening as nondescript married couple Harry and Max, respectively played by Mark Bonnar and Jane Horrocks, decide to indulge themselves in a bit of harmless DIY.
Instead of a bed or cupboard, their flat pack contains Jån, portrayed by Brian Vernel, who shows great adaptability and skill in dual roles. He is the ultimate technological specimen—humanity replicated but also an opportunity to explore where genetic engineering may take society within a generation or two. Some of the evening's funniest and most insightful moments occur when, like an unruly puppy, Jån unwittingly behaves badly, only to be reined in by the remote control wielded by his frequently shocked "parents".
The second strand to the 100-minute-long comedy-drama takes time to unpick, since the actors are the same and the characters only differ to the extent that rather than an almost house-trained clone, the couple's son really is their son, Nick (also Vernel).
He is the antithesis of the dream son who arrives by courier courtesy of Amazon, soon betraying the optimism of a young man heading to university and a glowing future. Instead, Nick becomes the ultimate parental nightmare, a spiteful, deceitful junkie. In doing so, he inevitably brings to mind Denise Gough's epic performance in People, Places and Things by Duncan Macmillan, though in a more impressionistic and less detailed depiction. At times though, observing the pain of parents who see a son descending into a pit of hell and can do nothing to help is moving.
To ensure that the comparisons between a real son and an aspirational dream alternative are not missed, this family's experience is repeatedly compared with that of their closest friends and most particularly their straight-A student daughter, who immediately fits in at Oxford and seems destined to become a neurologist, despite the stiffest of competition.
Hamish Pirie's staging, helped by designer Cai Dyfan, makes good use of conveyor belts to symbolise the artificiality of robotics, but when the whole cast is asked to deliver disco-robot dance moves between scenes, the message can tend to get blurred.
As with his earlier play, Thomas Eccleshare creates genuinely novel situations that are well worth pursuing but if this piece is deconstructed too far viewers might conclude that were he to concentrate on a single thread for a play and investigate it more thoroughly, the final output would be more satisfying.
Even so, this inventive young writer continues to show great promise and is definitely one to follow.
Reviewer: Philip Fisher