Into the Hoods: Remixed
Directed and written by Kate Prince
ZooNation Dance Company
Peacock Theatre
–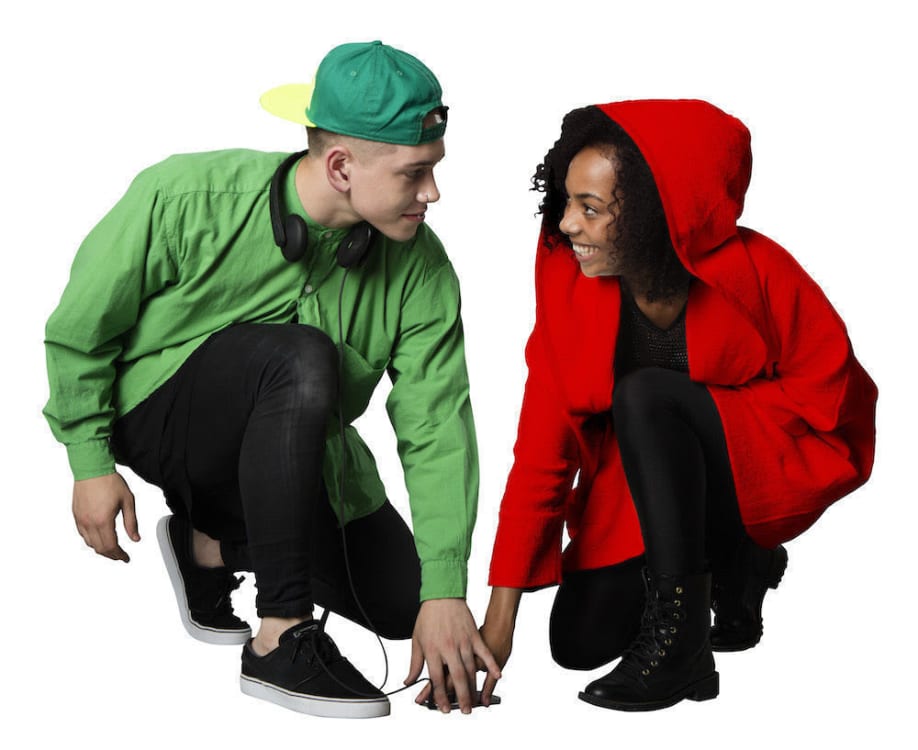 Kate Prince, the Matthew Bourne of hip hop dance theatre, brings back her first big hit—Into the Hoods: Remixed is the giveaway title—with brilliant new designs, new costumes, a freshly remixed soundtrack (an astonishing ninety-four music tracks are credited in the programme notes) and a young cast, most of whom have come up from her ZooNation Youth Company (ZYC).
Sondheim's clever entwining of fairy tales in his Into the Woods is equally cleverly transposed to the crumbling Beanstalk Towers tower block hood of the Ruff Endz Estate. A wicked West Indian-accented Landlord (Andry Oporia) tasks the two Lost Kids with getting him four items for his badass rapper daughter Rap On Zel's (Jade Hackett) eighteenth birthday.
Trainers as pure as gold, a hoodie as red as blood, some weave as yellow as corn and an iPod Touch as white as milk. See where that's going? But should they be taking sweets from a stranger? Cliché on knowing deliberate cliché follows fast upon.
Spinderella (Lucinda Wessels) all in yellow is a tomboyish DJ, fashionista Fairy Gee does a makeover on her ("I Believe In Miracles"), and celeb Prince falls for her, though he is a two-timing sonofabitch. The golden trainers ("from Foot Locker") belong to her—yellow to gold...
Music producer Jaxx (in green) lives in the basement and can't pay his rent, whilst the Gary Glitterish drug baron Giant lives in the penthouse with his seventies Afro-haired "Kung Fu Fighting" boys.
Jaxx loves Lil Red with the voice, but BIG TEEF record producer Wolf is after her to sign a contract with him. Will Jaxx get his Lil? Will Prince make the right decision? How will Wolf get his girl, and what about the retirement home, where granny lives? Now that's a hoot, especially her twinkly twerking dance. Will the children get the fare back home?
The epilogue set five years later lets us know it all ends happily ever after. Well, Spinderella gets over it. And the Uglies are signed as a triple act—not quite the Supremes but still.... Landlord retires to the land of his fathers. But it takes a hell of a long time to get there. A very generous and high-spirited two-and-a-half hours.
The family audience full of children on half-term break loves it. Make as much noise as you like they are told and they do. And the girls on the front row are delighted when Daryl Baker's Prince jumps down almost into their laps. Now that's someone sure of his charm.
A warm-hearted humorous cross between panto and musical theatre Into the Hoods: Remixed delivers the goods, but it's too long for me. I know, I know, heart in the right place, value for money, but the limits of choreographic variety take their toll on me—too much generic hip hop, too little variety in the pure dance numbers.
Nine choreographers and the original 2006-2008 cast are credited. Some Like It Hip Hop (and a few of that cast are in this) impressed me more. Having said that, the sheer number of talent on display is superb and the production values are very high.
DJ Walde's music direction is tight, Ben Stones's set design and Andy Murrell's lighting are darkly clever, but it's Andrzej Goulding's video design that does that theatre company 1927 trick of integrating live action with video animation and commentary that draws me in. Jake Cuddihy's illustrations have something of Chris Riddell about them, and Ben Stones and Russell Royer's colour-coded costume design signposts wittily.
Once upon a time… words and images, voiceover and music that ranges over the past decades from Queen Latifah, Jay Z, Jennifer Hudson, Chemical Brothers, Kanye West, MC Hammer to Nat King Cole, Massive Attack, Gorillaz, Roots Manuva, Portishead, James Brown, Whitney Houston, and The Black Eyed Peas, speak more than words can say (Rap On Zel's "Rescue Me…"), whilst the whole company mime and dance their souls out in sixteen episodic scenes.
Krumper Duwane Taylor (Wolf), towering head and shoulders above everyone, and Natasha Gooden (Lil Red) I remember from Some Like It Hip Hop, but it's Corey Culverwell as Jaxx that takes my eye as a dancer and Annie Edwards (Fairy Gee) is delightfully full of verve.
"The original Into The Hoods received universal praise at two Edinburgh Fringe runs (2006/07) and during its West End run in 2008, winning a What's On Stage Award for Best Ensemble Performance and an Olivier nomination for Best Theatre Choreography." It "became the first ever hip hop dance show to open in the West End and subsequently became one of the longest running dance shows in the West End's history." There's still life in it yet, but I'm done.
In 2016, Into the Hoods: Remixed goes on national tour to Wolverhampton, Blackpool, Dartford, Leicester, Truro, Sheffield, Brighton, Southampton, Canterbury, and Manchester.
Reviewer: Vera Liber