Into the Woods
Music and lyrics by Stephen Sondheim, book by James Lapine
Fiasco Theater
Menier Chocolate Factory
–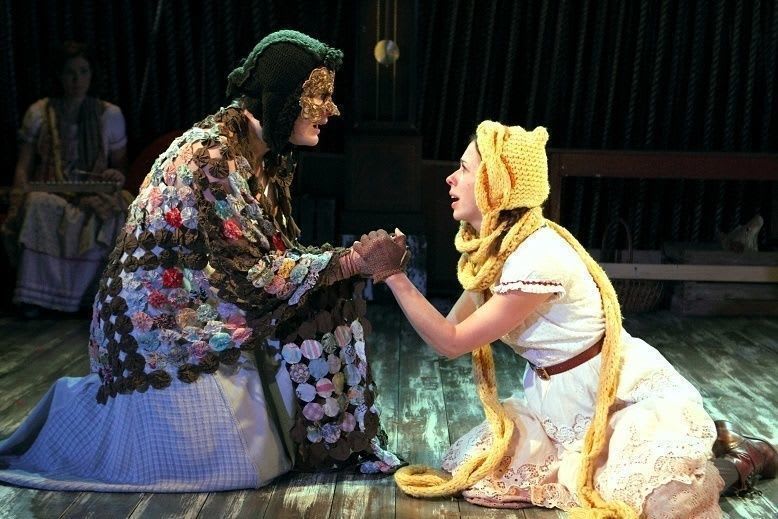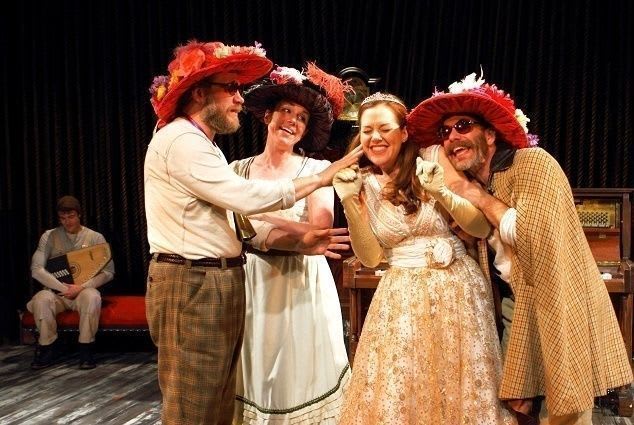 As you watch Fiasco Theater's award-winning revival of a musical loosely based on fairy tales, it is easy to see why the often visionary producer David Babani chose to import it wholesale from New York, where it played to enthusiastic reviews Off-Broadway.
That original production benefited from the publicity boost of a flashy, blockbuster Hollywood movie featuring iconic stars such as Meryl Streep, Johnny Depp and James Corden.
In complete contrast, this is clearly an ensemble with a strong but simple aesthetic and, more importantly, they all seem to be having such fun together under the direction of two of the three co-artistic directors, Ben Steinfeld and Noah Brody, which is infectious.
In Derek McLane's attractive, if rather cramped, setting for a cast of 11, five tales combine rather manically. In relating them, every cast member plays a musical instrument, led by pianist Evan Rees, as well as acting and singing.
As Cinderella (Claire Karpen) dreams of attending a Royal Festival, sweet-voiced Little Red Riding Hood (Emily Young who also plays Rapunzel) seeks her Granny. At the same time, Jack (Patrick Mulryan) needs to sell his beloved cow to appease his angry, hungry mother and Rapunzel seduces a prince with her golden tresses and heavenly singing.
Linking them all is the tale of a curse involving Ben Steinfeld as the Baker and his Wife who cannot conceive (though delightfully actress/co-artistic director Jessie Austrian has done exactly that, requiring some additional exposition at the start).
They meet Vanessa Reseland playing a Witch who has a solution, demanding a lengthy quest which involves all of the other parties in a rip-roaring ride that can be very funny, sexy and, at times, quite scary.
By this stage, the haunting riff of the title has been set off to recur constantly until the lights go down 2¾ hours later.
Viewers will quickly learn that this is a company that eschews gadgetry for simple effects that might seem old fashioned but are usually novel and always effective, whether cardboard cut-out ugly sisters, a human cow, paper birds or a silhouetted wolf.
The story races along, never quite defying logic as the original plots are intermingled. The trite and sugary are given claws in this version, rich humour mixing with something much darker until the interval, by which time all of the stories appear to have reached satisfactory resolution.
However, with James Lapine's book and Stephen Sondheim's lyrics (to accompany a catchy score), something deeper begins after the break, by which time little seems possible other than watching people enjoying happiness ever after for an hour or so.
Instead, some deep moral and social issues come to the surface as well as a series of powerful and moving songs, including two fine efforts from Vanessa Reseland, the "Finale-Children will Listen" and "Last Midnight" as well as "Agony" a fine, witty duet between co-director Noah Brody and Andy Grotelueschen playing respectively Cinderella's and Rapunzel's Princes.
The attractions of both the show and this version are manifold and Londoners should not miss the chance to see a feted but relatively low profile company showing what the imagination allied to great talent can achieve on a stage.
Reviewer: Philip Fisher