Invincible
Torben Betts
Orange Tree Theatre
St James Theatre
–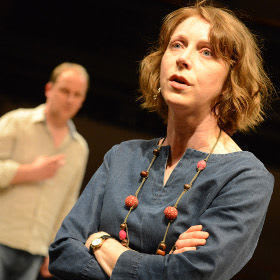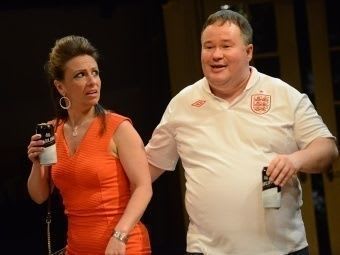 The West End transfer of Invincible can be seen as small tribute to Sam Walters, who has recently stepped down after over 40 years at the helm of the Orange Tree in Richmond, a delightful small-scale theatre that he founded.
Its mix of revivals of undiscovered gems and new plays from writers as diverse as Vaclav Havel and Martin Crimp may not have fed that many large theatres, since a series of transfers in the 1970s, but the theatre has certainly given great pleasure to those who make trips to Richmond a valued part of their lives.
Invincible (named for a rather unpleasant cat) is an ultra-lightweight sitcom with some serious underlying intentions that primarily relies on outlandish coincidences and misunderstandings to get laughs.
The initial set-up sees a snooty London couple relocating to the grim north. Darren Strange's hesitant Oliver is an unemployed former civil servant. Laura Howard is his partner Emily, a neurotic earth mother incarnate who spreads coffee table books about Karl Marx around the living room to impress visitors.
Their antitheses are the equally two-dimensional but much more common next door neighbours. Samantha Seager takes the role of Dawn, an under-dressed, blowsy tart tottering on the highest of heels, while Alan, a seriously obese football zealot played by Daniel Copeland, is a self-confessed "big fat slob" and, by his own accurate admission, more boring even than the others.
The fact that both relationships are at breaking point should come as no surprise once one realises that none of the four characters ever listens to any of the others, each ploughing his or her weary way towards tedious oblivion. It doesn't help that each of them seems to delight in embarrassing his or her partner gratuitously but very publicly.
Unsurprisingly, first meeting is so inauspicious, as they trade tired clichés, that it is hard to see how any writer could manage to manufacture a reunion, without which the play will not achieve its allotted 2½ hour span.
This conundrum is never really solved, the script relying on audience laughter to paper over the cracks in the plot.
Torben Betts does appear to have more serious ambitions for this comedy-farce, but every time he introduces topics such as marriage, politics or death they are headed off before making much of a point by his desire to amuse.
It may well be that Invincible lives up to its name as visitors lap up the comedy. However, as an introduction to the tradition that Paul Miller inherits at the Orange Tree, it is a long way short of the theatre's usually impeccable standards.
Reviewer: Philip Fisher