Irving Berlin's White Christmas: The Musical
Music and lyrics by Irving Berlin, book by David Ives and Paul Blake, based on the screenplay by Norman Krasna, Norman Panama and Melvin Frank
Curve Theatre, Leicester
Dominion Theatre
–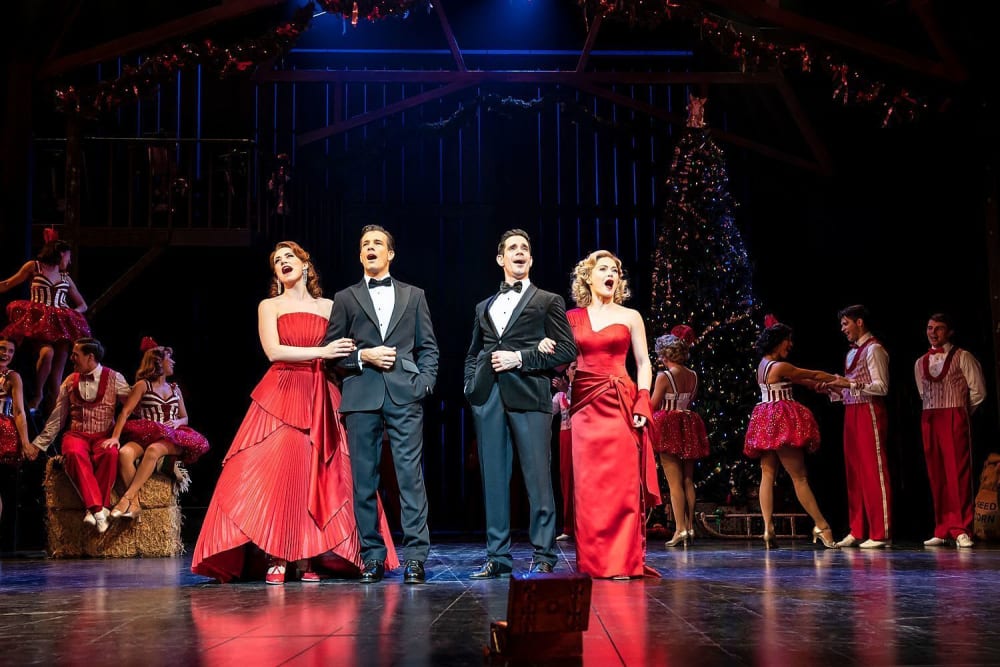 The 1954 film version of White Christmas starring Bing Crosby and Danny Kaye has been a TV staple for the festive season for as long as anyone can remember. It is syrupy but not overly so, creating exactly the right atmosphere and helped along by a stream of classic Irving Berlin songs.
The stage version only premièred on Broadway as recently as 2008 but has unsurprisingly become an instant classic, always likely to reappear in the lead up to the Yuletide celebrations.
This latest reworking was created by the Curve Theatre Leicester's Artistic Director Nikolai Foster in 2018 and, thanks to his ambition, has now been upscaled to fill one of London's largest venues.
The story is typical musical schmaltz. An army captain and private cheer up the troops in 1944, to the somewhat grudging praise of their wounded general.
Ten years on, Danny Mac as ex-Captain Bob Wallace and Dan Burton playing former Private Phil Davis are a double act good enough to play on the iconic Ed Sullivan Show.
Goofy, womanising Phil then cons his otherwise intelligent pal into pursuing a pair of talented sisters through a Christmas Eve gig in a barn in unseasonably warm Vermont, instead of their planned luxury tour to Florida.
In true musical fashion, Phil falls for Clare Halse's sassy, scheming Judy, while Bob more slowly learns of the charms to be offered by the sweet-voiced Danielle Hope in the role of shy, frosty Betty.
In particular, the latter relationship develops in wholly convincing fashion, whether the couple are loving or hating each other.
Inevitably, misunderstandings fall in the way of true love, while the boys also pull out all the stops in an effort to help out Michael Brandon as the General, running a hotel that has fallen on hard times.
Coincidentally, Martha, the hotel 'concierge' and his right-hand woman, just happens to be played by Brenda Edwards who sings up a powerful storm particularly with "Let Me Sing and I'm Happy", even miraculously managing to avoid being upstaged by tiny Erin Rushidi, the kind of child actor that loves the stage and exudes talent.
The plotting can seem a little over-stagey but is warm and frequently very funny, which partly explains the piece's enduring popularity.
The setting has fewer of the special effects that garnish so many modern musical evenings, but still looks good relying on simplicity, albeit oversized for the large stage space, as well as Diego Pitarch's sumptuous costumes.
However, the real strengths of Nikolai Foster's production lie in Stephen Mear's exceptional choreography, which peaks in tap dancing extravaganza "I Love a Piano" and those songs, of which "White Christmas" and "Sisters" are justifiably the most famous.
There are few surprises in this latest incarnation of White Christmas but thanks to good, old-fashioned qualities of well-drilled performers, superb dance routines and classic songs, allied to a strong, witty romcom script, viewers will come away happy having received exactly what they signed up for.
Reviewer: Philip Fisher