Jean Paul Gaultier Fashion Freak Show
Creator, writer, director, costume designer Jean Paul Gaultier
Southbank Centre in association with RGM Productions and TS3
Queen Elizabeth Hall Southbank Centre
–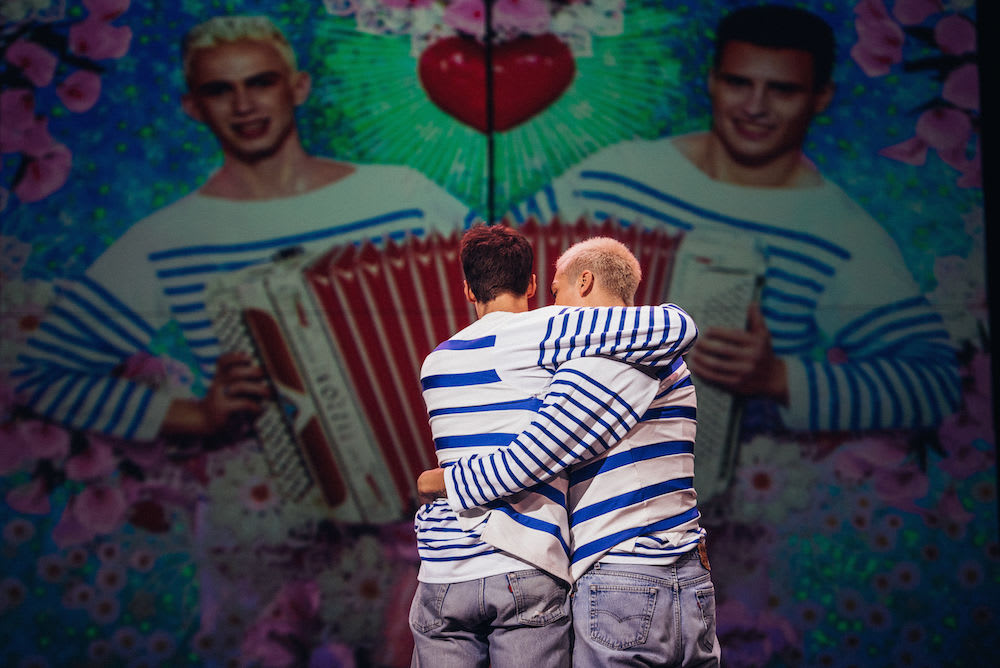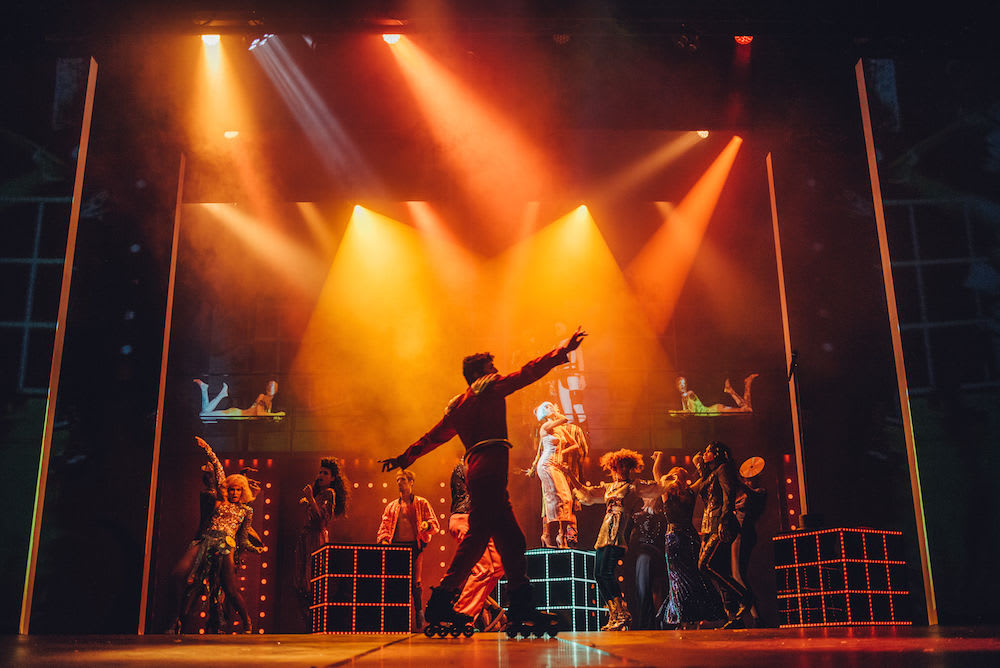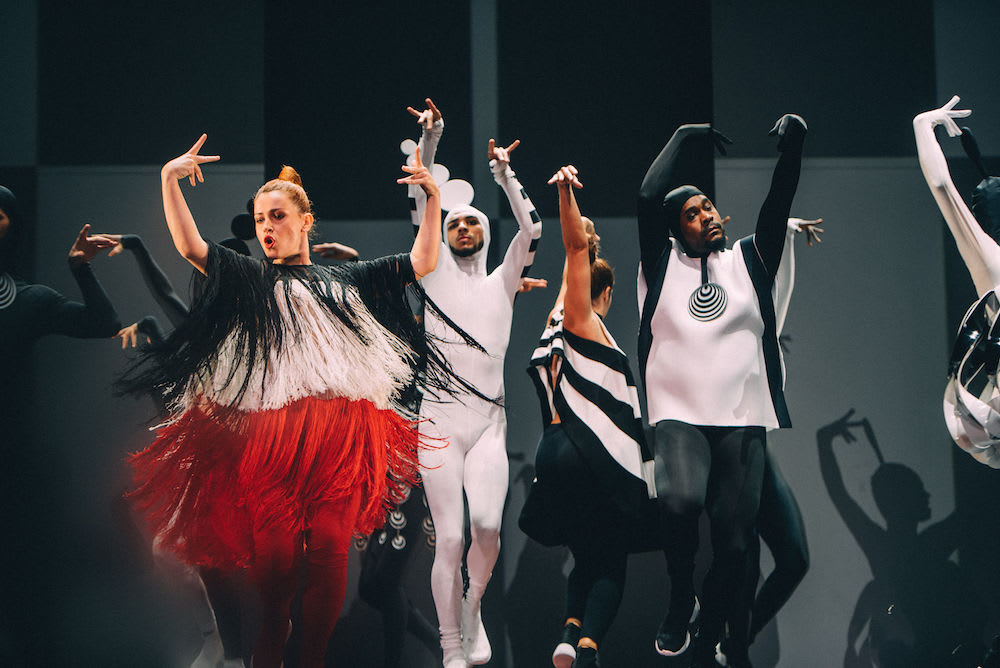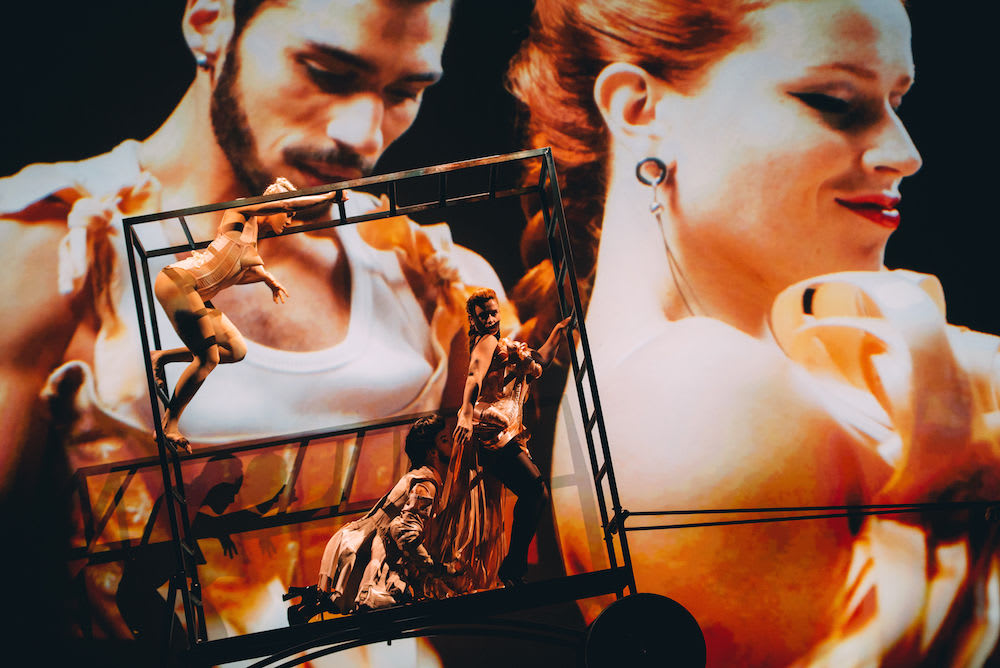 Trademark corsets and conical breasts, furry animals, strange pop-art insects, and contortionists, 'Tits and Ass' crotch-grinding bendy dancers (a range of body types) and brand new eye-boggling couture creations—two dynamic hours of Rocky Horror Show, iconoclastic punk 1980s Michael Clark / Leigh Bowery dazzle. Lights strafing the auditorium, Jean Paul Gaultier Fashion Freak Show is a hybrid fusion of catwalk (aisles used as runways), circus, music hall, cabaret revue, raucous song and dance drag club scene, S&M strap-on sassy (choreographer Marion Motin) and much fun.
"Everybody's looking for something," Eurythmics' "Sweet Dreams" could be its anthem. But, let's start with those cone breasts. No, they weren't made for Madonna, but for his teddy bear Nana, whom he thought of as a fashion editor... His grandmother wouldn't let him have a doll, so aged seven he feminized his masculine bear—gender-bending before the term existed? The show opens in 1959 with a bloody operating theatre sequence where this transformation takes place—his first creation.
Bears of all shapes and sizes with glittery conical breasts front and back cavort in childlike wonder, an irreverent wonder Gaultier has never lost. That, someone once said, is the mark of talent and genius. And then there's those significant Liaisons dangereuses corsets—his grandmother let him play with hers.
A knowing self-referential and self-parodying wild party, Jean Paul Gaultier Fashion Freak Show is not just for fashion victims (plenty of those on view—I've never seen so many selfies being taken) and fashionistas (grande dame fashion critic Suzy Menkes in the audience), celebrities (Ab Fab Jennifer Saunders present, too), but for all of us, Gaultier is anything if not inclusive.
What a sweetie he is, and his tastes range wide from the sugary sweet Pierre et Giles 2018 Love Story photo montage of a young JPG with his lover to the comic monsters from the deep lagoon (some costumes look as if made with piped icing and furry ice). His alter ego maintains his matelot stripy look, a constant in the show.
Gaultier, influenced by the Folies Bergère (Loïe Fuller, Josephine Baker, whom he saw a week before her death—here we have a male and female Baker reincarnation and what a supple torso the young Cuban dancer Lazaro Cuervo Costa has), and old films as a child at his grandmother's knee, has won Paris over with this show at the Folies Bergère—have all his dreams come true?
And now London has the pleasure. "London is dear to my heart and a constant source of inspiration. I have been coming here since my youth and have been greatly influenced by British music, theatre and cinema throughout my career from the Rocky Horror Show through punk and new wave and I keep coming back."
And what heady and uninhibited talent there is on display: eighteen superlative performers who take on a Madame Tussauds of preening stars. Do I spot Prince? From top model Anna Cleveland to aerial acrobat Julie Demont, burlesque stars, hip-hop, House of Ninja voguing, underground singer Demi Mondaine (get it?), and much crossover dance, the sapeurs taking on the voguers in dance battle.
The creative team is vast, as are the production credits, but they are all at his beck and call, apparently he tweaks constantly, ideas surging anew. Joyful exuberance and vivid tongue-in-cheek imagination, an endearing personality, he sends the fashion business up and they love him for it, complicit in his game.
Who hasn't Gaultier worked with, many are willing to contribute if only on film: Catherine Deneuve calling out the silly names Gaultier gave his fez hat fixated men's couture show creations of the early '90s. Rossy de Palma of Pedro Almodovar vintage plays his schoolteacher on film. Video projections, light show, choreography, scenography, a rich mix, and a rainbow callout for LGBT tolerance—with confetti and condoms raining down on us. His lover Francis Menuge died of AIDS in 1990.
Later he takes the piss out of 'plastik fantastik', as he calls it, in a couture shop sequence where one can buy new breasts, new arms, new anything off the peg. He also lampoons Anna Wintour (played by Anouk Viale) and Karl Lagerfeld (Kody Kim), the heads of the 'Fashion Police'. Nothing is out of bounds. His friend and co-star from Eurotrash days, Antoine de Caunes, plays our sovereign in homage to the Sex Pistols.
Sixty-six now—hard to believe—his Fashion Freak Show is an autobiographical trawl through his life, his influences, his loves—with an evocative 35-number playlist of each decade that made him, from disco to funk, from pop to rock, to new wave and punk. A playlist that has Nile Rodgers as the musical arranger and orchestrator (incidentally Rodgers is curating this year's Meltdown Festival at the Southbank, so, of course, he's in the audience).
"From his childhood to his early career, from his greatest fashion shows to the wild nights in Le Palace or London, Jean Paul Gaultier shares his journal of the times and pays tribute to those who have inspired him in film (Pedro Almodovar, Luc Besson), music (Madonna, Kylie Minogue, Mylène Farmer) and dance (Régine Chopinot, Angelin Prejlocaj)." That barely covers the fifty years of pop culture beamed from another planet.
It has something of the decadence of Paolo Sorrentino's 2013 film, The Great Beauty. And the Trocks... His first (1976) catwalk is recreated, Paris evoked in magazines, posters and film. He takes a walk on the wild side, as he makes costumes out of bin bags and wet look PVC. Wintour calls it 'so vulgar" but later changes her mind… "I've always adored him"… as she sings "Bohemian Rhapsody".
"A couturier telling his stories": "the idea of a show that combines magazines, fashion and more has come naturally over the years. I've always loved shows, the stage, and this particular atmosphere. I probably wouldn't do what I do if it wasn't for the catwalk. I conceived the show visually, imagining a succession of 'paintings' that tell not just my life story but also my journey in fashion and creation. The idea is to show the behind-the-scenes bit which, a bit like a jacket lining, is often as beautiful as the main event."
"I am 'appy", he says taking his bow, so are we all if the standing ovation is anything to go by. A true original. Life is all mixed up, he says, drama and irony, but he seems to see the life-enhancing joy in fashion which speaks of many things—provocation, cover up, lies, shows off different kinds of beauty, and it can tell a story. It's all about attitude.
"My 'freaks' to me have been there since I started: I've always dressed tall and short, thin and curvy, young and old. I tend to prefer 'real women' to their stereotypical 'delicate flower' image!" Beauty should be in the plural, he says. Wrinkles are beautiful. "All is beautiful, "freak is chic". "Soyez libre."
"Leave your troubles outside! So life is disappointing? Forget it! In here, life is beautiful! The girls are beautiful! Even the orchestra is beautiful!" - Cabaret MC... is this another influence?
Reviewer: Vera Liber