Jekyll & Hyde
Jonathan Holloway, based on the novella by Robert Louis Stevenson
Flipping the Bird, in association with Red Shift Theatre Company
Southwark Playhouse
–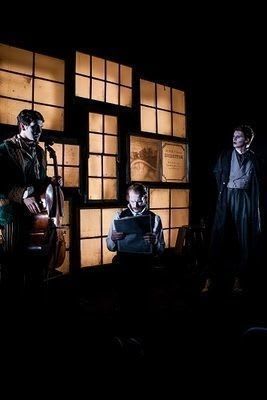 The London transfer of Jonathan Holloway's spookily erotic take on Robert Louis Stevenson's classic horror story holds up well.
The Little theatre at Southwark pretty much matches the space that it occupied at Edinburgh's Assembly Roxy through August, enabling the company to re-create the intimate atmosphere that this beautifully crafted production craves.
Director Jessica Edwards has a wonderful holistic attitude to theatre. This means that a talented acting team is supported by a home-made soundscape and a simple but inventive set that effortlessly takes its audience back over a century in time but almost no distance, since the setting is only yards from the Playhouse.
This is the seamy side of Victorian London, where Jack the Ripper was for a spell as well-known as our own dear Queen and probably far more talked about.
The opening sees an antiquarian enticing a publisher to buy a story by relating it, Elliot Rennie and Joel Phillimore taking these roles and doubling as musicians. The rendition is animated by real actors, almost like watching a TV reconstruction, if only the medium had been invented by them.
We watch the entrance as Leo Marcus Wan's faintly seedy Enfield leads his legal friend, Henry Utterson played by Michael Edwards, through the streets of dockside depravity, at the same time conjuring up a horrific murder.
Connections begin to emerge and when the pair enters a nearby residence, ghostly occurrences leave them totally unnerved.
Despite the initial scare, Utterson bravely but impetuously returns and meets Cristina Catalina as a seductive, definitively feminine Dr Jekyll. He falls for the beautiful European medic, unwisely hardly pausing to listen to her tale of scientific experimentation.
Passion can be dangerous and as intoxicating as this delightful hour on the stage. Harassed Henry is hooked before he discovers his love's horrific secret, allowing Miss Catalina to take on a new persona with gifted alacrity.
The pleasure of this presentation derives as much from the care and inventiveness that has gone into the construction of a stylish, modern-day Victorian melodrama as a story that is compelling and contains a few surprises, even for devotees of this genre.
In addition, Jonathan Holloway's dark sense of humour leavens what could otherwise be an hour's somewhat gory mode of entertaining his audience.
With clever tricks such as video-style freeze framing and signage built into the set, Jessica Edwards has created a lovely piece of theatre that is both seductive and memorable.
As a result, this fresh version of Jekyll & Hyde is just as good second time around and richly deserves as successful a run in London as it enjoyed north of the border.
Reviewer: Philip Fisher