Jersey Boys
Book by Marshall Brickman & Rick Elice, music by Bob Gaudio, lyrics by Bob Crewe
Trafalgar Theatre
–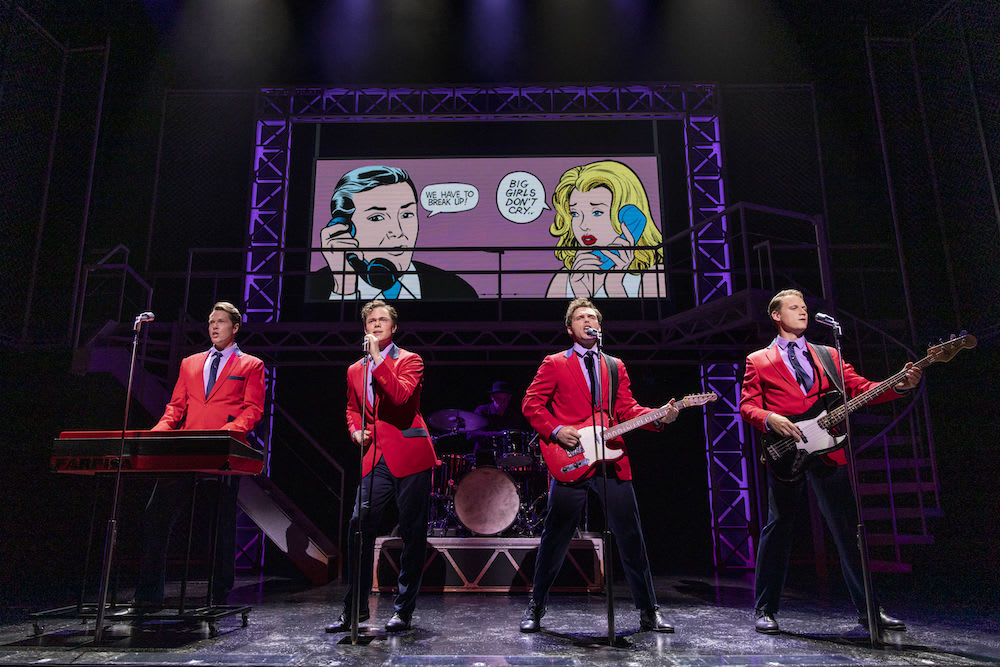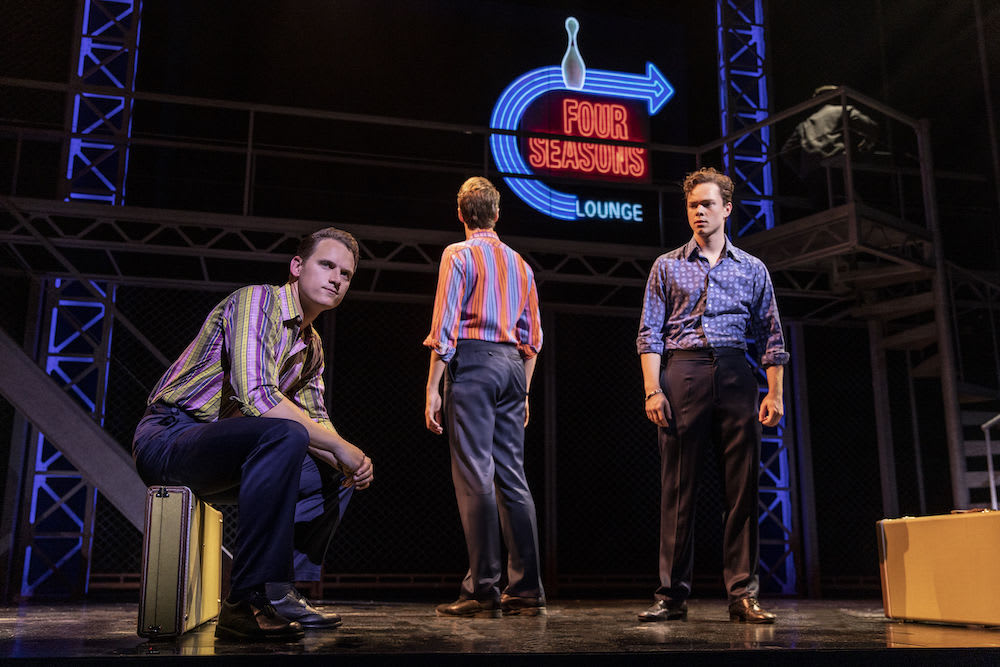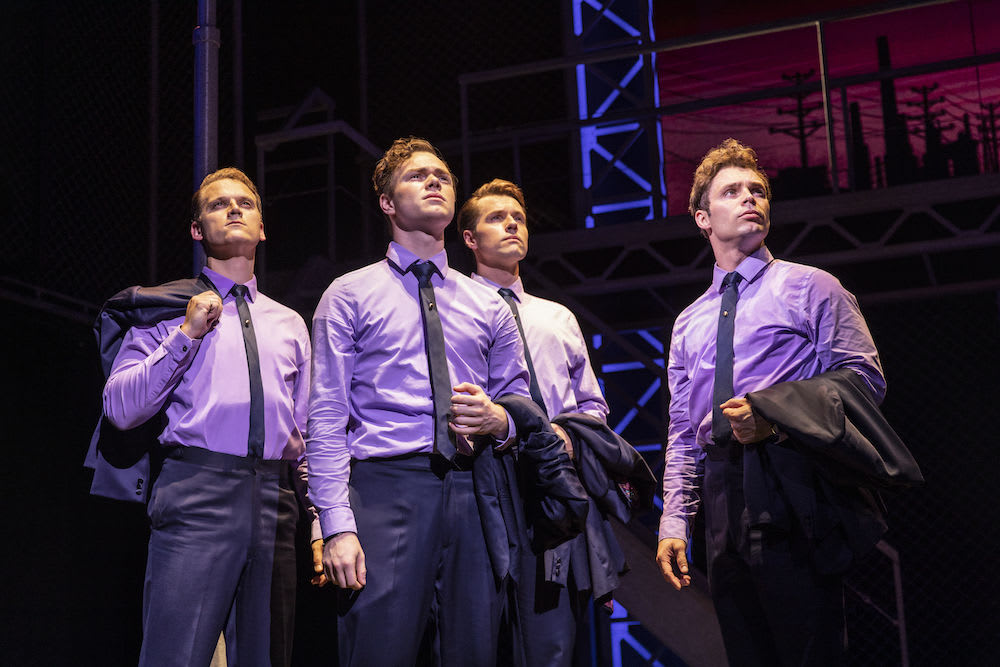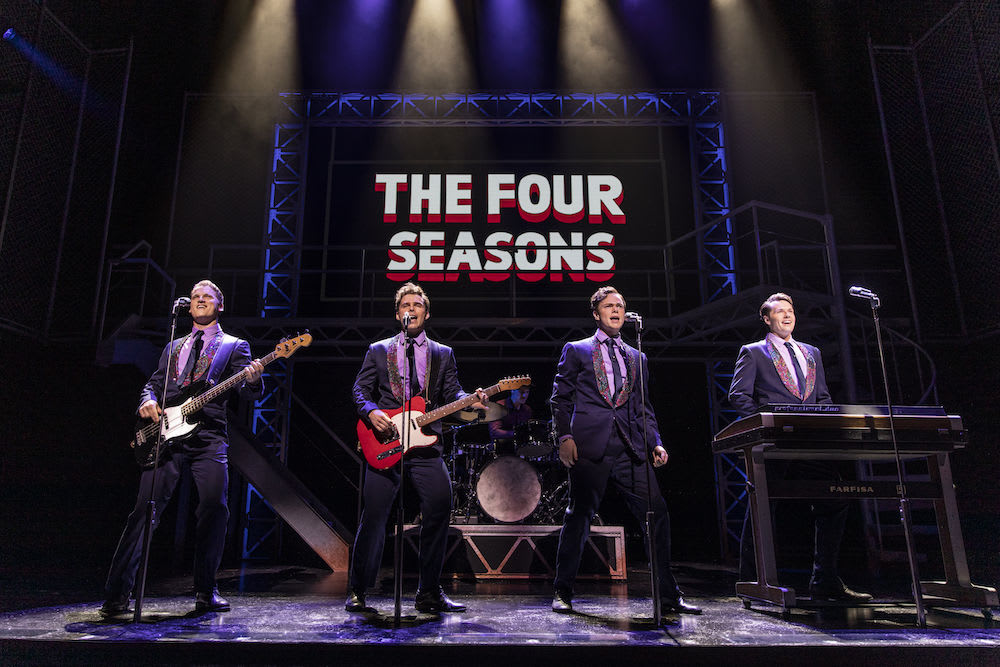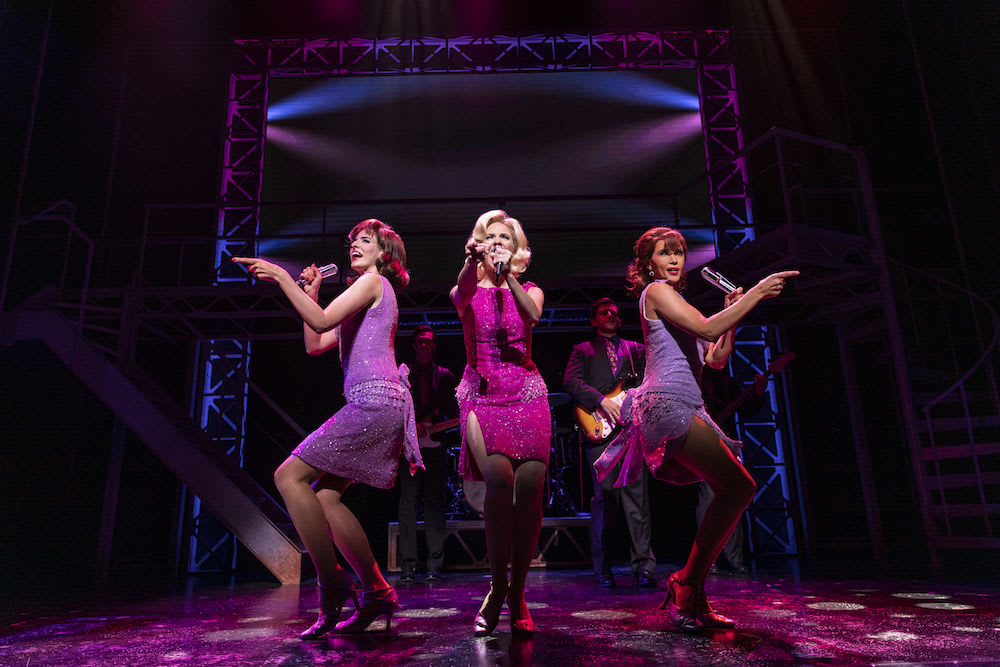 Staged here by the original Broadway creative team, what is there left to say about the long-running, global wonder jukebox musical Jersey Boys? It's been reviewed multiple times, eight times by British Theatre Guide alone, but tonight's opening (second press night) is special in that it reopens the refurbished Trafalgar Studios, now renamed Trafalgar Theatre, returned at last to a single 630-seater auditorium. Restored to its 1930s art deco original colour scheme, all silvered black and bronze, the carpet and seating cream and yellow on green, at a cost of millions of pounds, it is a small gem.
The auditorium is packed (no social distancing) with coach-loads of fans out to have a good time, drinks at the ready, nary a mask in sight, singing along, coughing, cheering, clapping each number, wolf whistling, quite uninhibited. Such exuberance—did lockdown ever happen? I hope none of us suffers any after-effects.
Joy is in the air if not always in the lives of Frankie Valli and The Four Seasons (that sounds like a five but it was only four with Valli one of the Seasons), who I must admit were never on my radar, yet I seem to know all the songs if little about these lads from blue-collar New Jersey (birthplace of Sinatra, Springsteen, Count Basie, and more). This emotionally charged show fills in the biographical gaps and gives us four viewpoints under seasonal headings (geddit?).
The hits just keep on coming, over thirty of them, and there were more in real life. But what blows me away is the talent of the actor-singers and the creatives. A very tight show with clever book by Marshall Brickman and Rick Elice, who knew they had gold dust on their hands when they interviewed the Boys and discovered their stories; composer Bob Gaudio (one of the Boys); lyricist Bob Crew (represented in the show); and above all director Des McAnuff (former artistic director of Stratford Festival). The jazzy numbers are good, too.
Michael Clark's video projection of 'Roy Lichtenstein' colourful cartoons, neon club signs, and films of the Boys, enhance Klara Zieglerova's two-tier set design, all steely 'Meccano' scaffolding and grey mesh, metal staircases and platform, which rings to heavy footsteps in the brief prison scenes. Yes, some of the Boys were felons, in particular Tommy De Vito (a terrific macho, crudely charismatic Benjamin Yates) the founder of the group, constantly beholden to the mob. Think Scorsese. Matteo Johnson's Joe Pesci, Oscar winner (who knew then?), here is a cheeky but endearing little punk who introduces T S Eliot-quoting Bob Gaudio to the others. De Vito is not keen, but Valli makes a handshake deal with Gaudio, one that lasts forty years.
And what a serendipitous decision... Often called the Beach Boys of the East Coast, the group, after the usual tribulations, setbacks, touring, family breakups and tragedy, conquered America and made it into the Rock and Roll Hall of Fame. It was Valli's astonishing falsetto voice (doing justice to Gaudio's perceptive, time-defining songs) that drove the fans wild.
Newcomer Ben Joyce, just graduated this summer, makes a spectacular theatrical debut flawlessly giving it all he's got, New Jersey accent, too. Whilst James Wilson's laconic and fastidious Nick Massi, calling himself the Ringo of the group, provides solid and witty support.
What is so stimulating is the never-faltering synchronicity of the dance moves (choreographer Sergio Trujillo). For two and a half hours, it never lets up. It may be a Rashomon style structure according to the writers, but the four dance as one. Music and dance and a true story with four variations knit so completely that there is barely time to take a breath.
It is a macho show with only three women playing multiple roles, Koko Basigara, Melanie Bright, and Helen Ternent, and these are types, 'broads' very much of that place and era. Yet, the love songs, the torch songs, are directed at them: "Sherry" (their first hit), "Big Girls Don't Cry" (inspired by a John Wayne film), "My Eyes Adored You" (my favourite), "Can't Take My Eyes Off You" (gets a standing ovation), "Working My Way Back to You", "Who Loves You", and many more worm their way into one's head.
The four each have a final say addressed directly at us: Gaudio (I can't take my eyes off Adam Bailey), the most laid-back, from a slightly more relaxed middle-class background, now chills on his boat; quiet Nick doesn't know why he left; pugnacious De Vito is unchanged; but for Valli it was the music, above all the music, that mattered. The group slowly fell apart as groups often did and do, but he is still performing.
Great new casting, Jersey Boys can't fail to pull them in: harmonious on stage, the opposite off, a dynamic that never fails, the show is impressive in its taut cohesion. No wonder it has won some 65 major awards and "has been seen by over 27 million people worldwide".
It originally opened in New York in November 2005 and ran over eleven years on Broadway. It ran nine years in London's West End from March 2008 to March 2017, then toured UK and Ireland from 2014 to 2016 and from 2017 to 2019. It returned to New York with a new production in November 2017 and intends to resume this autumn. Its US Tour is still, apparently, "breaking house records in cities across North America". Says it all.
Reviewer: Vera Liber