Jules Verne's Around the World in 80 Days
Adapted by Laura Eason
New Vic Theatre Company
Cadogan Hall London
–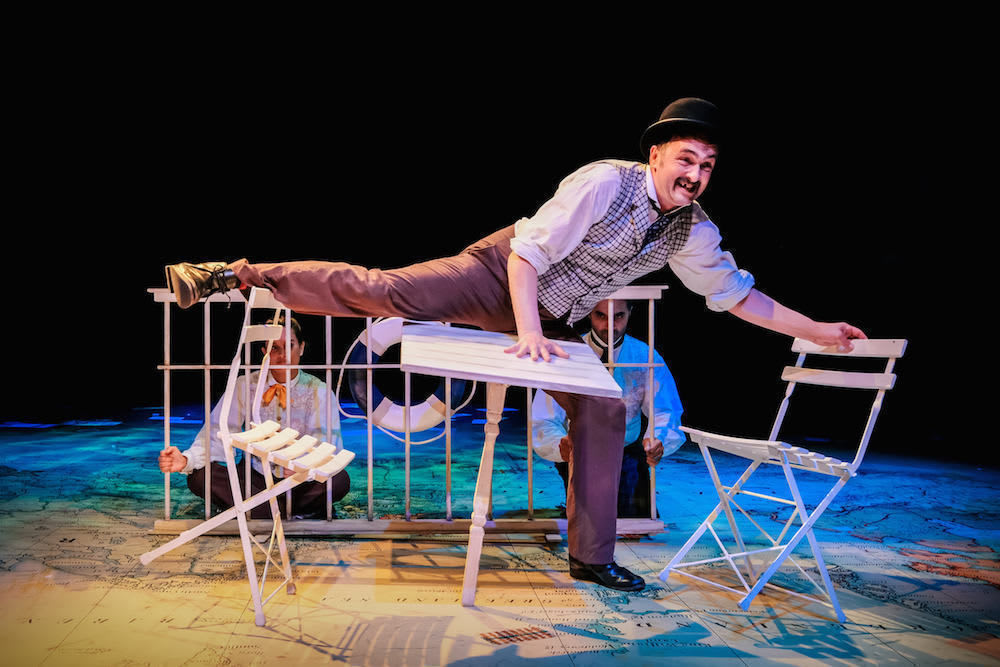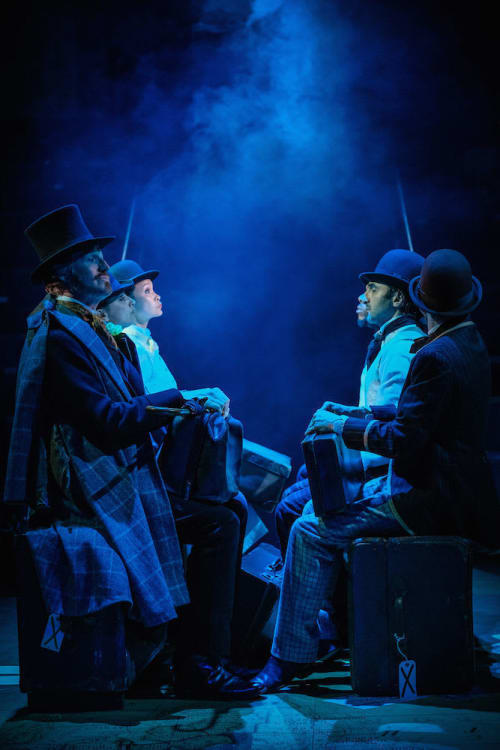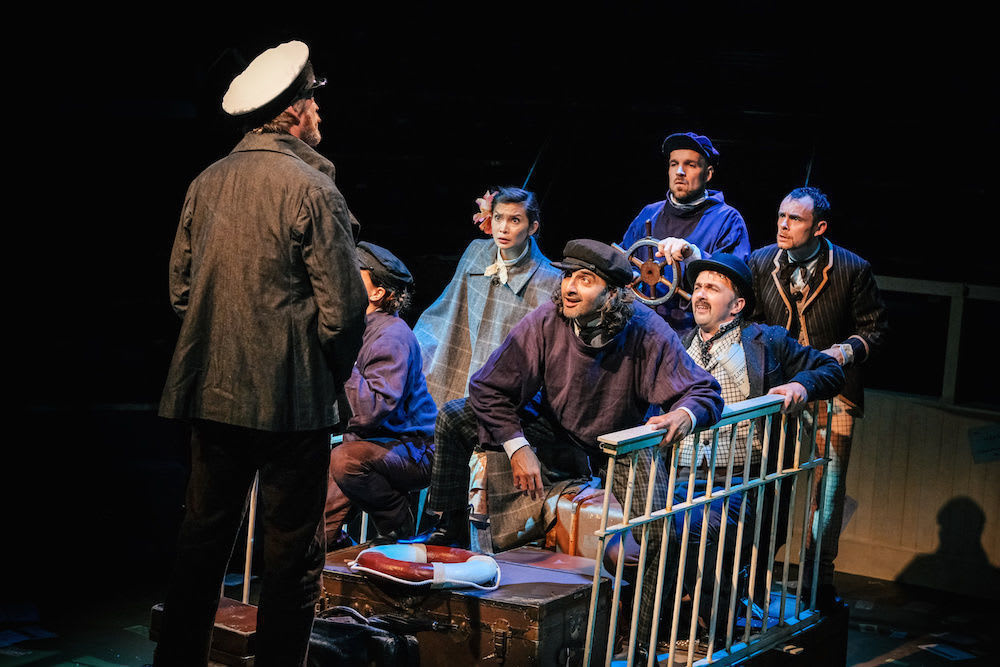 A superabundance of ingenuity and boundless imagination—that's the simple magic at the heart of Jules Verne's 1873 Around the World in 80 Days and Theresa Heskins's production of Laura Eason's fluent adaptation.
Never mind 80 days, what about circling the globe in a hectic 150 minutes—to be "mathematically precise" in 130 minutes if one doesn't include the interval. Hats off to the New Vic Company, its director Heskins, designer Lis Evans, movement director Beverley Edmunds, composer James Atherton, lighting designer Alexandra Stafford, soundscape designer James Earls-Davis and associate Alex Day, and the eight actors playing 125 characters. Phew!
A family show, for which my 'maths scholar' 13-year-old companion thought he was too cool—how wrong he was. He loved it, as did all around us. A mixed metropolitan audience is won over by an old-fashioned picaresque adventure that craftily and with much humour imparts information about geography, time zones, customs (some clichéd but this is the Victorian era when the sun never set on the Empire) and customs officials, and there's a gripping race to beat the clock with an obstructive dim Scotland Yard detective on the tail.
This takes some doing especially as Around the World in 80 Days originated in a 600-seater theatre-in-the-round and here it has to adapt to a 953-seater concert hall. Not intimate in the slightest, the hall stretches back some way. How to draw those far away into the intimacy of the adventure?
The magnetic Michael Hugo that's how: the secret weapon that breaks through the fourth wall, has the front row eating out of his hand, helping him when he calls for it ("push me back on")—pure unfashionable music hall physical comedy and it works. As Jean Passepartout, Phileas Fogg's factotum, he is a bundle of energy, a cross between Lee Evans and Norman Wisdom. Busking in the interval in character, the crowd around him believes in him totally, and sings along.
And that's the nub: the actors are so good that one believes in them implicitly. And isn't that theatre at its best? Hugo might be stepping out of the box, but the others are deeply in it.
Andrew Pollard (reminding me a little of a young Charles Dance) as the regular in his habits, phlegmatic English gentleman Phileas Fogg, correct if a little clinical, bets his fortune on a wager at the Reform Club. Worked out to the last detail with his Bradshaw's timetable of trains and steamers, he is sure of his calculations, but of course he doesn't take the unexpected into account. Nor that he will be mistaken for a bank robber.
His slippery valet (slippery French accent too) Passepartout, who has been around a bit (the clue is in his name), is the perfect comic sidekick to straight man Fogg. His wily skills embrace martial arts, circus performance, opium immunity and more: he seems invincible, as is Fogg in his conviction and his winning at whist.
Along the way, they meet all sorts, travel by choppy boat and rhythmic train and elephant: an Englishman with his umbrella, lots of money to ease passage, and self-belief in his own superiority can overcome anything—except love. Yes, Fogg softens when he meets Mrs Aouda (Kirsten Foster), rescuing her from widow's suttee. She plays him subtly and wins him in the end, but that's by and by.
Does Fogg make it on time and win his bet? Spoiler alert if you don't know the book or the films. No! He takes it like a man. But Passepartout accidentally discovers that they have gained a day by circumnavigating the globe west to east. Fogg got the day wrong—must be love. He wins by a whisker. Hurrah!
This show ought to be bottled as a tonic elixir: visible delight all around me, inhibitions jettisoned, adults turning into children, children open-mouthed at the sleight-of hand on display. A delightful potpourri of slapstick, stand-up comedy, acrobatics, mime, dance, music, wit, and riotous resourcefulness is not to be sniffed at.
Suitcases the main stage prop—as staircase (with umbrella balustrades), beds, tables, all sorts of vehicles. The everyday is improvised into magical transformations. You can do this at home. Timing is precision slick—it has to be for all the scene and cast changes. Bank notes are 'thrown' across the stage and 'caught' meticulously every time—not by Inspector Fix (Dennis Herdman the perfect panto fall guy)—exotic scenes evoked by bowls of flowers and shimmering fabrics.
Ingenious visual aids make sense of the complicated maths and transcend language. The journey is plotted and the stops marked with umbrella and bowler hat on a projected globe in the centre of Cadogan Hall's arched architecture at the back of the stage. The actors are standing on a globe, too, but this is not visible from the stalls, maybe from the gallery.
I'm a little puzzled as to the misleading hot air balloon on the programme cover, as it is not in the book: not in the Bradshaw Fogg opines, dismissing the idea. Nor in Verne's book. A tiny balloon rises only to sink: an excuse for another bit of sly wit and another visual joke. A gun is fired and feathers fly; a cowboy spits and hits the invisible spittoon, tables and chairs sway on the waves with the aid of hands and feet ("Improvise! Be one with the waves!").
A versatile multilingual cast—Pushpinder Chani, Matthew Ganley, Simi Egbejumi-David and Joey Parsad must not go unmentioned for their many roles and accents—and creatives make a Rolls Royce team.
Regional theatre at its best, Around the World in 80 Days premièred at Newcastle-under-Lyme's New Vic Theatre in 2013 followed by a season at the Royal Exchange Theatre Manchester in 2014. Artistic director Heskins is doing a terrific job following in the illustrious footsteps of Stephen Joseph and Peter Cheeseman, pioneers of theatre-in-the round.
Now she is taking Around the World in 80 Days on the road in a six month UK tour. Imagine adjusting to so many different venues. I'd love to see it in its natural habitat, but I'm grateful to have seen it at all.
Reviewer: Vera Liber