Kathy and Stella Solve a Murder!
Jon Brittain (book and lyrics) and Matthew Floyd Jones (music and lyrics)
Francesca Moody Productions, Kater Gordon, Wessex Grove and Fiery Angel
HOME, Manchester
–

Listing details and ticket info...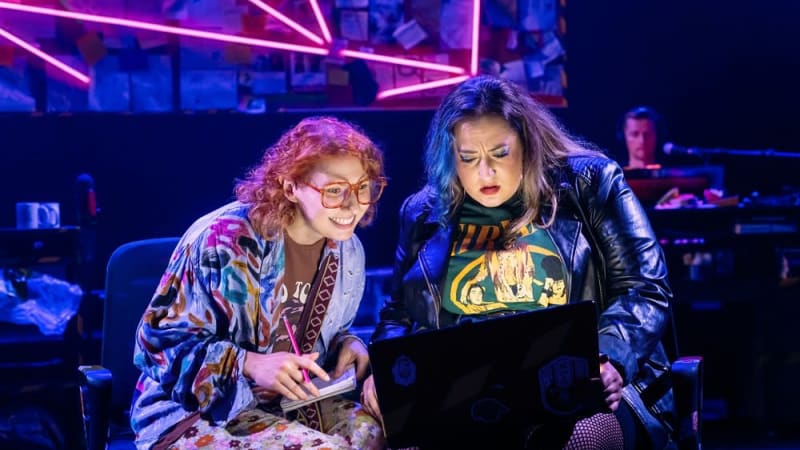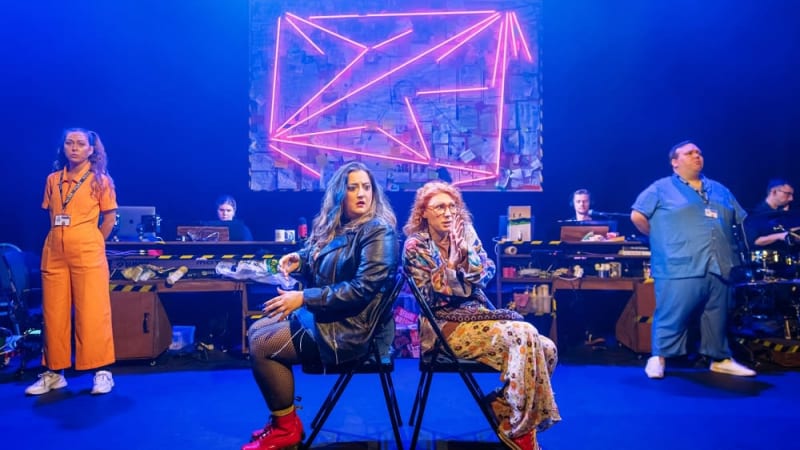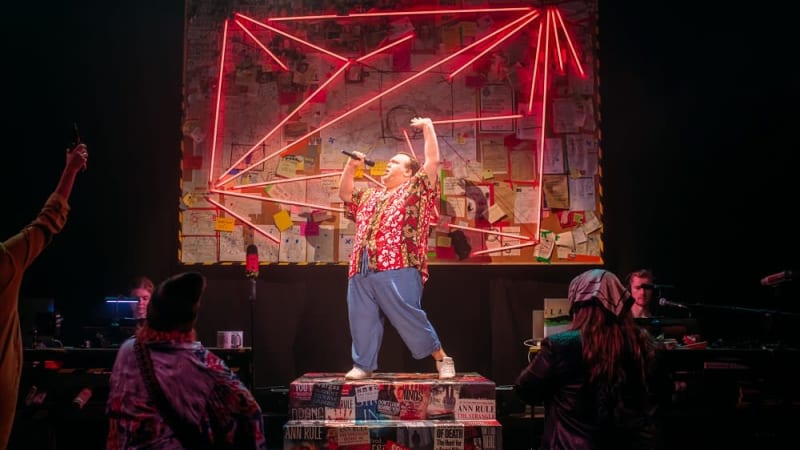 Manchester's HOME is cornering the market in shows that are unexpectedly uplifting. After the joy taken by a non-professional in dancing in 40/40, Kathy and Stella Solve a Murder! features a cheerful ditty on the appeal of mortuaries sung by Bronté Barbé while bouncing on a corpse.
Friends since childhood Kathy (Bronté Barbé) and Stella (Rebecca Hinds) have turned their mutual interest in true crime into a podcast. However, pressure from their families to commit to conventional careers is mounting. The possibility of achieving celebrity status arises as the favourite author of the duo is murdered in their hometown and they become the unlikely recipients of her severed head. However, fickle fame is dependent upon maintaining audience interest, bringing the temptation to fabricate evidence, and putting a strain upon friendship. It also attracts the attention of a killer.
Impressively Kathy and Stella Solve a Murder! does not descend into a thriller pastiche. The plot by Jon Brittain (who co-directs with choreographer Fabian Aloise) is a creditable whodunnit with satisfactory red herrings, so the show avoids becoming just a string of jokes. The in-jokes tend to be theatrical rather than directed at the thriller genre with Jodie Jacobs popping up in umpteen variations of the same character.
The show is as a much an opera as musical with most dialogue sung rather than spoken, but the tunes work as songs with catchy verses and choruses instead of just serving as a narrative. The lyrics are witty—"someone who understands you" is matched with "someone who can actually stand you." Kathy dismisses her day job as a librarian as amounting to no more than keeping old men from accessing porn on the free computers. She's onto me.
Co-directors Brittain and Aloise set a breathless pace with characters constantly on the move. Frequently, musical comedies feature comedians who cannot sing, but the entire cast of Kathy and Stella Solve a Murder! are excellent vocalists.
Much of the humour in the musical arises from the events taking place on the mean streets of Hull. The Pennines are regarded as an insurmountable obstacle to travel. Rebecca Hinds's nasal accent is almost a character in itself, mangling words 'Allo 'Allo! style (''hoax'' becomes ''herx'') to massive comic effect.
There are flickers of social commentary with the distorting impact of TikTok detectives upon actual crime investigations being acknowledged. More significantly, however, the musical is a study of the power of friendship with the opening to the second act setting out the origins of the relationship between the title characters and discreetly showing how each helped the other recover from mental illness and parental loss.
Although a comedy, the musical has a rueful, reflective undertone. The title characters are drawn together not only by their mutual interest in a morbid topic but also by them feeling they are disappointments to their families. Bronté Barbé's anxious Kathy is ashamed of how she has failed to achieve her youthful potential, while Rebecca Hinds's defensive Stella is only too aware how she has lived down to the low expectations of others. There is the possibility the relationship which helped the friends get through hard times has become a barrier to them moving forward.
With an absorbing score, witty script and likeable characters, Kathy and Stella Solve a Murder! engages the head and heart and sets toes tapping.
Reviewer: David Cunningham