King Kong
Jack Thorne, score composed and produced by Marius de Vries, Songs by Eddie Perfect
Broadway Theatre, New York
–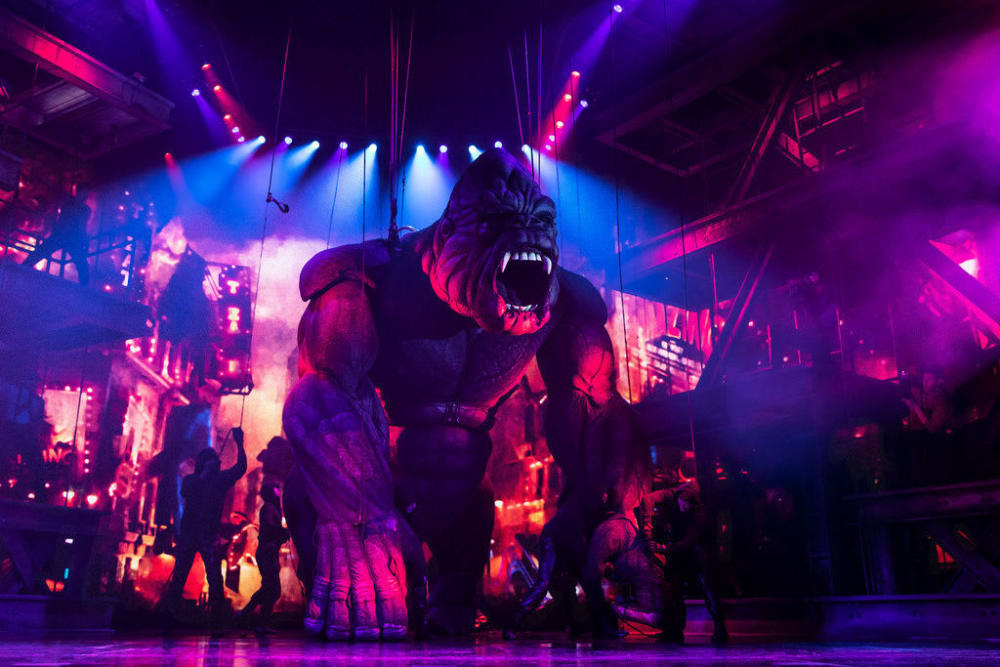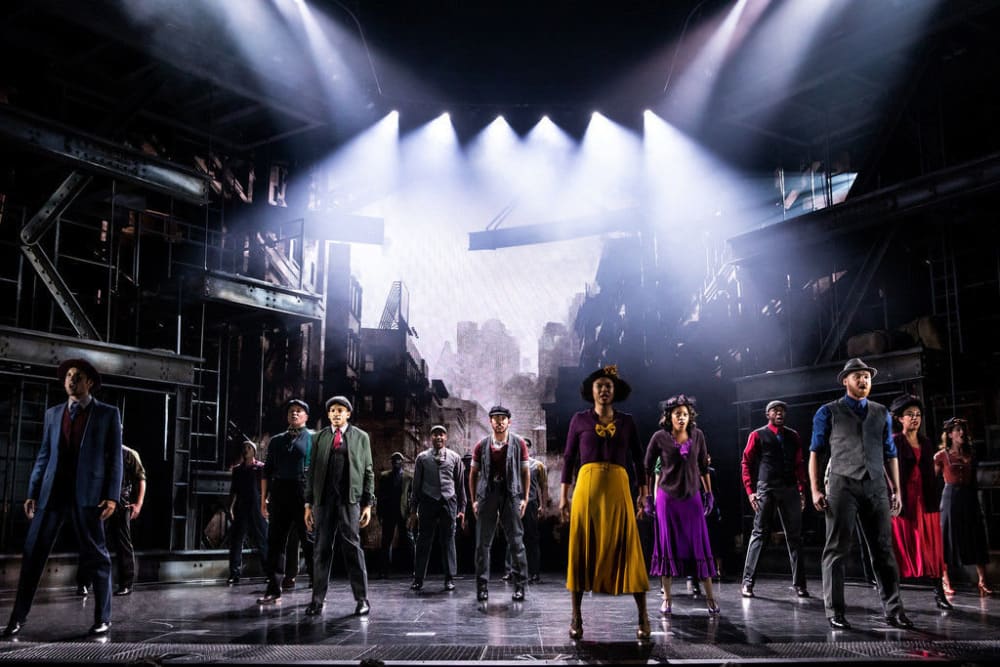 We all know how it works. The Brits are great at straight plays and export them to New York, while the Yanks do the same in reverse with musicals.
This blockbuster musical that must find its way across the Atlantic before too long bucks that trend, having been written by Jack Thorne, currently a Broadway darling as Harry Potter and the Cursed Child breaks numerous box office records just up the road, and directed by Drew McOnie, still best known for his work as a choreographer has a strong British grounding.
Almost everything in this production is oversized, almost certainly including the budget. The producers bravely decided if they were going to do King Kong on stage then it would need to compete both with movie versions starring Fay Wray and Jessica Lange and also the best that videogames can throw at their audiences.
They achieve this through a combination of awesome puppetry, with a 30 foot high gorilla manipulated by no fewer than 10 puppeteers, some risking life and limb to give him authenticity, along with stupendous computer-generated imagery and a soundscape that would do credit to a stadium rock concert. The overall effect and impact are almost literally stunning.
With this director, it was almost inevitable that there would be some spectacular dance sequences and one of the best opens an evening with events that start and end in New York circa 1931.
However, choreography impinges in a different way too as the frankly lovable if overly loud King Kong is manipulated through a series of adventures, including a battle with a skeletal snake that brings back memories of War Horse, being charmed by plucky little Ann Darrow, played at this performance by Jennifer Noble and, in the final sequences, everything that the US Air Force can throw and fire at him.
Before that, a dynamically melodramatic plot unfolds opening as Miss Darrow is desperately attempting to find work as a dancer, and starving as succeeding auditions go awry. She is saved by Eric William Morris's mildly sleazy, wannabe filmmaker Carl Denham, who promises her fame, fortune and excitement as well as a boat journey to the mysterious Skull Island.
Following a series of battles and the stirring "Pressure Up" sung by the crew, they reach their nightmarish destination, which seems to have almost human plant life. There they also encounter the big gorilla, who falls for Miss Darrow in a way that the self-obsessed Denham never can.
Instead, he kidnaps the King, trying to turn him into the kind of exhibit that even The Greatest Showman would have killed for. Inevitably, the kind of plan that could not fail to succeed fails to succeed, leading to one of the most thrilling theatrical finales that Broadway can ever have staged.
While the storytelling can be overly sentimental and deals in clichés for much of the time and not many of the songs are catchy, Jack Thorne's version, along with the high quality song and dance, moves the 2¼-hour performance along at a good rate and does its very best avoid getting in the way of the spectacle.
This is what will help to sell tickets to the kind of show that audiences will flock to and then boost with their enthusiasm on social media, pretty much ensuring that this new musical will be a big hit and, finances permitting, expand into a global franchise.
Reviewer: Philip Fisher