King Lear
William Shakespeare
Royal Shakespeare Company
Barbican Theatre
–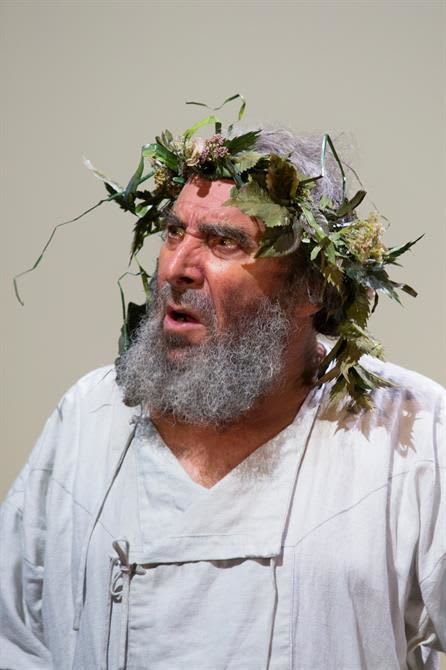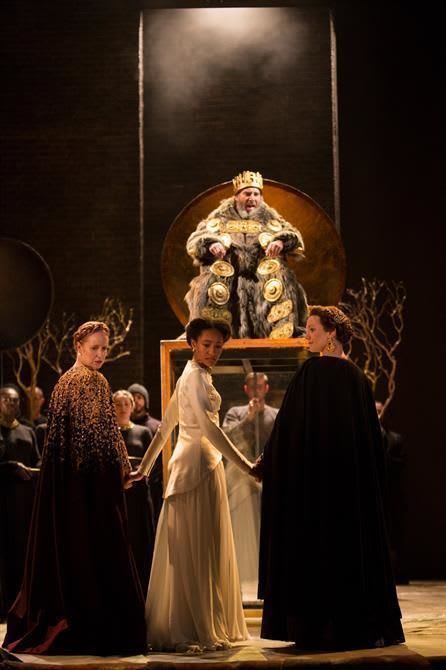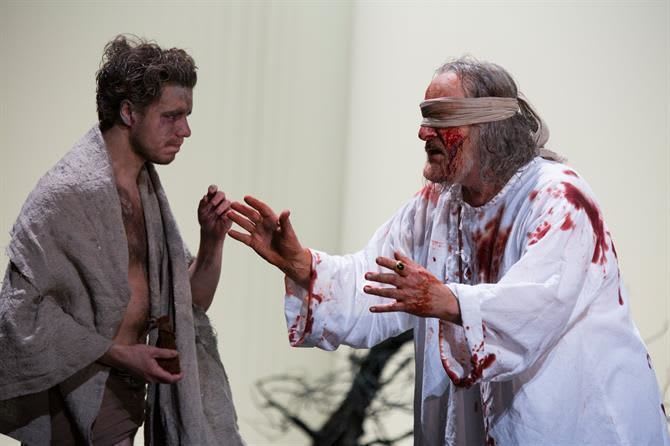 Gregory Doran and Sir Antony Sher are one of the most potent combinations in contemporary theatre. This means that, unless their King Lear hit the dizziest of heights, they would be seen as failing. Pleasingly, they will leave viewers as dizzy as Gloucester on Dover Cliffs but for all of the right reasons.
Inevitably when they open only ten days apart, aficionados will be comparing this production with Glenda Jackson at the Old Vic. At the same time, a sad tale of two powerful families in transition and turmoil might just make viewers consider international politics on both sides of the Atlantic today.
Strangely, considering that the raw materials are the same, both succeed but for different reasons. Where Deborah Warner's production was modern and flashy, the RSC presents a Lear that is much more traditional, concentrating on deep psychological insight complemented by pomp and circumstance.
This is apparent from the opening scene in which, with proud negligence, the elderly King delivers his decision to abdicate from on high in a kind of raised, glassed-in sedan chair, a mighty man ripe for a great fall.
Already at this early stage, many of the main players have established their characters. Innocent young Cordelia is played by Natalie Simpson as a strong-willed, kindly young woman who has close ties with her older sisters. At the same time, Antony Byrne's Kent is a raging force who bravely tries to persuade the King of the error of his ways, while David Troughton as Gloucester is a choleric blusterer, if innately decent, ripe to be gulled should an evil son happen along.
If those are the good citizens at Lear's court; their malign opposite numbers do not take much longer to show their hands.
Paapa Essiedu turns Edmund into the personification of evil, albeit with a wry, modern twist. The eldest daughter Goneril's relationship with the King has rarely been better explored, since a father's uncaring and frankly callous attitude towards her would be enough to make any daughter angry and shrewish, as Nia Gwynne demonstrates, if not necessarily quite so vengeful, while Kelly Williams as Regan seems motivated more by her own bad nature.
Their treatment of a fond, foolish father is harsh, leading to a scenic but dramatically muted storm scene. In turn, this presages the end of Graham Turner's Fool who is bold and hard-nosed more in the fashion of a contemporary stand-up comedian than a more whimsical Middle Ages equivalent, while Oliver Johnstone in the role of Edgar mixes scary madness with real heart in the presence of both his father and the King when times get tough.
Sir Antony and his cohorts take Lear on an epic journey, starting out with magisterial disdain, moving through bitter anger and disbelief before madness gives way to the piteous "Howl, Howl, Howl" lament for his greatest loss.
In a very different way from The Old Vic offering, the 3¼-hour-long RSC Lear is a clearly conceived triumph and Shakespeare fans or even tyros should make the effort to compare and contrast the two over the next few weeks.
Reviewer: Philip Fisher