Kinky Boots
Songs by Cyndi Lauper, book by Harvey Fierstein, from an original screen play by Geoff Deane and Tim Firth
Daryl Roth, Hal Lustig, Cameron Mackintosh et al
Donald Gordon Auditorium, Wales Millennium Centre
–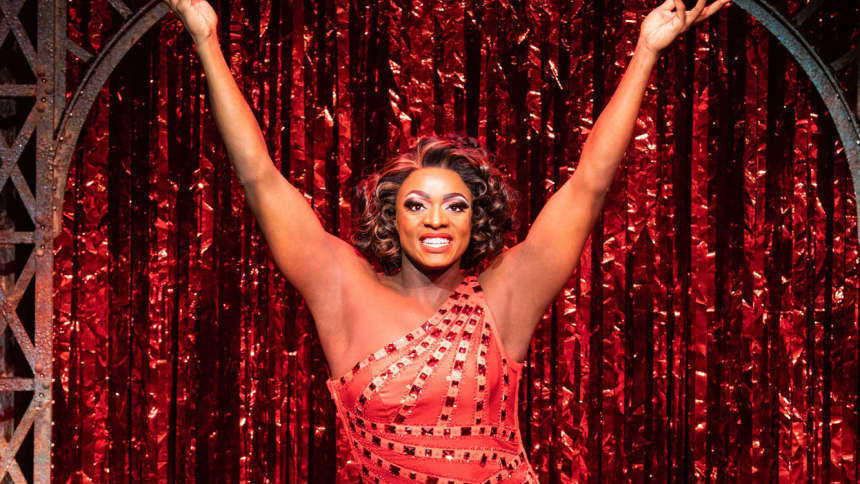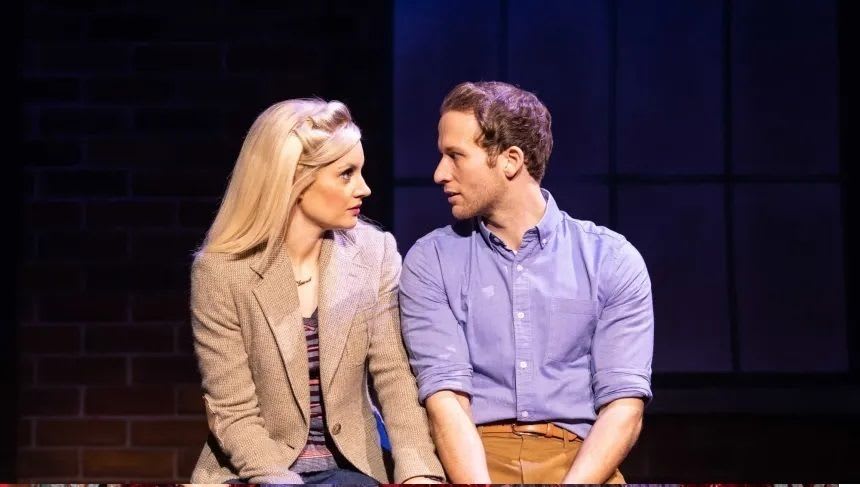 It's a familiar scenario by now: a low budget film celebrating the fabled British "can-do" spirit in trying circumstances (cf The Full Monty, Calendar Girls) punches above its weight internationally and is adapted into a lavish stage musical.
In the case of Kinky Boots, however, the Broadway story began even before the film's moderate box-office success, producer Daryl Roth having seen it at the Sundance Festival in 2005, bought the rights and put together a team including director-choreographer Jerry Mitchell, legendary playwright Harvey Fierstein and despite—or perhaps because of—her lack of experience in writing for musical theatre, idiosyncratic '80s pop-star Cyndi Lauper.
Having opened in 2013, the show won six Tony Awards and has since been produced all over the world, running for over three years in the West End. It is visiting Cardiff as part of an extensive UK tour.
Loosely based on a true story, Kinky Boots is the story of Charlie Price, who on inheriting the family footwear business in "Northampton, England" discovers that it is on the verge of collapse. Whilst in the process of relocating to London, he gamely attempts to rescue a woman from a street attack, only to discover that Lola is, in fact, a drag queen who is well able to take care of him / herself.
This introduction to the world of professional cross-dressing leads eventually to the realisation—inspired by factory worker Lauren—that Price & Sons might be saved were they to adapt their products to a niche market: customers who seek the aesthetic splendour of ladies' boots alongside the durability required by clod-hopping males. All Charlie has to do is persuade Lola to join his workforce as a design consultant…
The role of Lola is a star-making turn, and it has to be said that Kayi Ushe gives a brilliant performance as the parodically flamboyant, brazen and witty drag queen, with exemplary comic timing and a powerful singing voice. His male alter-ego, Simon, is notably less self-confident and, perhaps counterintuitively, less stereotypically "masculine". This illustrates the underlying theme of Fierstein's script: that being a "real" man is all about courage, which sometimes involves becoming a woman.
The role of Charlie is inevitably overshadowed, but Joel Harper-Jackson gives an immensely sympathetic performance as Lola's awkward, well-meaning partner in bromance. Paula Lane is also impressive as Lauren, his employee turned love-interest, especially during her amusing solo song "The History Of Wrong Guys".
This last is one of mercifully few numbers which follows the standard contemporary musical theatre template—for the most part, Lauper's songs sound like pop (or rock, or disco) songs, and are all the better for that; indeed, one is surprised that none of them seems to have entered the popular consciousness. Her score is delivered with a sleazy slickness by the live ensemble, led by Patrick Hurley.
The ticking time-bomb plot involves the factory preparing for a high profile presentation in Milan. In this, Charlie and Lola are variously aided and hindered by the supporting cast, including Demetri Lampra as the boorish, homophobic factory worker Don, Adam Price as faithful foreman George, Lizzie Bea and Niki Evans as more helpful colleagues Pat and Trish and Helen Ternent as Charlie's acquisitive and possibly treacherous girlfriend, Nicola.
The large ensemble is well marshalled by Mitchell on David Rockwell's set which does service as both factory floor (with treadmills cleverly adapted into conveyor belts) and nightclub; and the drag club Angels, extravagantly costumed by Gregg Barnes, are a show in themselves.
Fierstein's script steers clear of some issues (e.g. actual gay relationships) and perhaps predates others (e.g. debates re transgender identity), but it is funny and relatable throughout, even if some of the more potentially dramatic moments (the initial street brawl, Simon's encounter with his ailing father) are given insufficient weight (possibly a directorial choice).
Kinky Boots is an unashamedly glamorous, feelgood, crowd-pleasing show boasting a variety of positive messages—embracing the other, accepting oneself, bravery being rewarded—and a hearteningly hummable original song score. Thoroughly enjoyable.
Reviewer: Othniel Smith