Mr Kolpert
David Gieselmann, translated by David Tushingham
Greenwich Playhouse
(2008)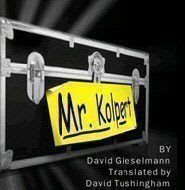 Mr Kolpert was played as the second part of a horror double bill with Monster brought together by Rose Bruford College.
This glorious German black comedy was first seen Upstairs at the Royal Court some ten years ago with Richard Wilson's cast featuring Adam Godley now carrying Josh Hartnett in Rain Man and Amanda Drew who has gone on to star for the RSC and in EastEnders.
It is one of the funniest plays that the reviewer has had the good fortune to enjoy. However, unlike a couple of the characters, it helps if you have a strong and preferably empty stomach before seeing it.
The opening is entirely conventional as an upwardly mobile couple await dinner guests with nothing in the larder. On this occasion, Sarah, played by Annalie Wilson, is a nymphomaniac, while the rather jokey Ralf, a chaos theorist brought to life by Jonathan de Mallet Morgan, also seems to have kinky sexual tendencies.
Where they are wild, their teetotal guests could not be more straight-laced. Robert Crumpton's Bastian is an architect with the kind of temper that is supposed to go with his red hair, while Edith (Elinor Keber) is a colleague of Sarah's who tries hard to have the sense of humour that her husband cannot even dream of.
They are somewhat put out to be told that there is a fifth guest in the apartment. Boring Mr Kolpert from the accounts department - or at least his corpse - may be in a large trunk.
The party is hardly going well, as Bastian keeps taking offence, even before the wrong pizzas roll up with James Canvin, the goofy delivery man.
Then, all hell breaks loose as fists fly, blood flows liberally and the solution to the mystery of Mr K is revealed.
In Bjartmar Thordarson's production, there may be slightly too light an air in the early scenes, which are extremely funny but could be tenser. It then moves into manic overdrive with barely time to draw breath as events become madder and madder.
Overall, this is a great second half to an enjoyably shocking evening and will richly reward anyone making the journey to Greenwich.
Reviewer: Philip Fisher