Monster
Daniel McIvor, dramatised by Daniel Brooks
Greenwich Playhouse
(2008)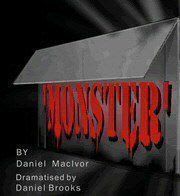 Monster, which is not based on the same story as the movie with that title, has been paired in a horror double bill with Mr Kolpert, under the loose auspices of Rose Bruford College.
This play from Canada relies on the talents of its lone actor and, except for a tendency to shout unnecessarily, Geoffrey Towers proves himself well able to cope with the demands of a dozen or so roles.
This talented character actor might well have been a stand-up comedian in a past life, such is his ability to involve and eyeball members of the audience, who are likely to be uncomfortable enough anyway.
The central story is gruesome, featuring a boy who slowly kills his father. This is first related by a youthful neighbour who clearly relishes his fifteen minutes of fame.
However, there is far more to Monster than a mere gore fest. It winds its way through numerous stories within stories, mostly either expanding on the murder or its telling.
The most powerful strand, after the killing, is told by an ex-junkie and alcoholic who claims that he invented it and gave it to Hollywood producers. They, as is that kind's way, claim it for their own, rewarding him with no more than enough drinks to send him back to addiction.
With the assistance of a strong soundscape designed by Josh Richardson, direction from Ryland Alexander and, most of all, his own talent, Geoffrey Towers makes his audience shiver, recoil and laugh at different times in this chilling hour.
By the end, viewers will not only reflect on the harm that we do to those whom we love but also the joy that people derive from hearing about it and possibly also the nature of dreams and reality.
Reviewer: Philip Fisher