Kunene and the King
John Kani
The Fugard Theatre, Cape Town and Royal Shakespeare Company
Ambassadors Theatre
–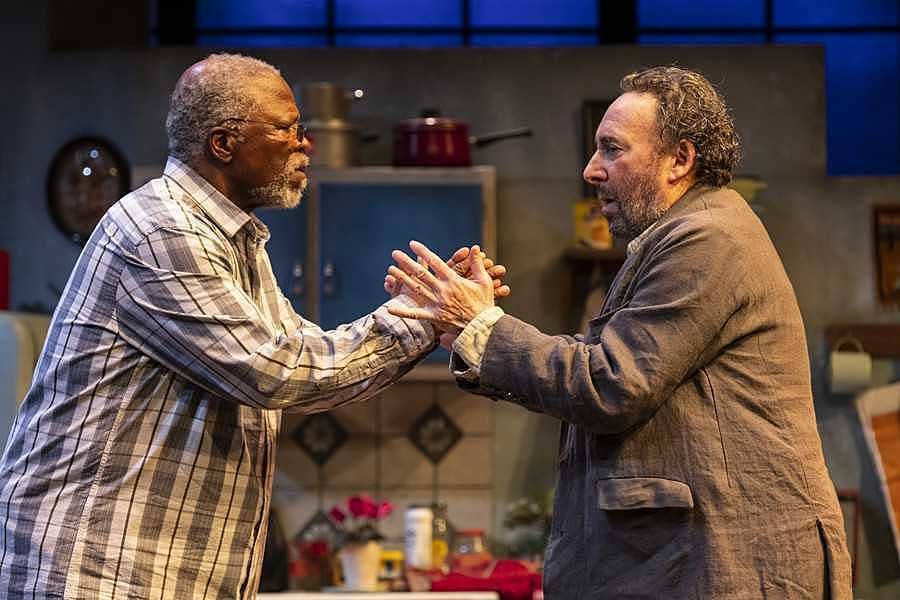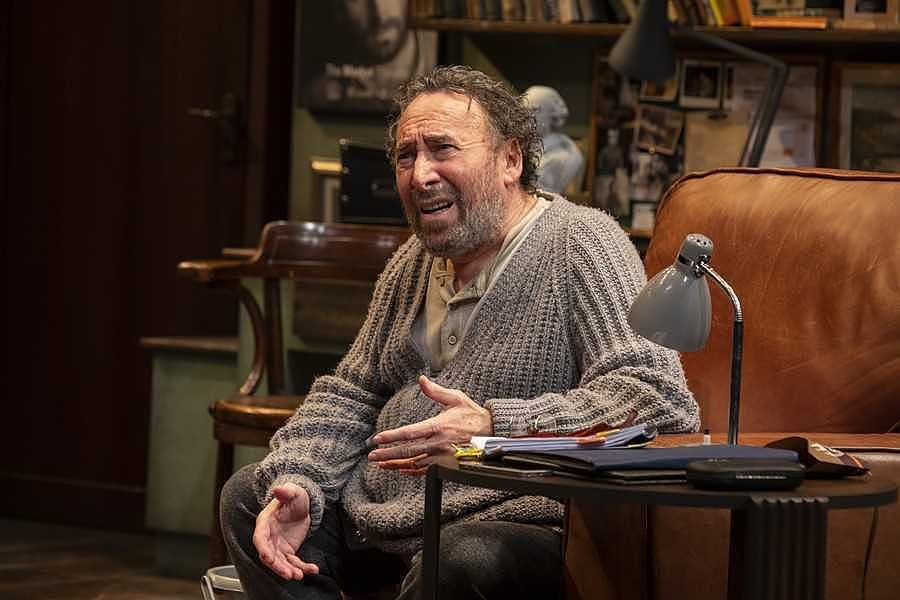 John Kani has long been one of the most humane and intelligent writers and actors in the world, creating iconic plays such as The Island and Sizwe Banzi is Dead.
Once again, in this new piece meditating on quarter of a century of post-apartheid freedom in South Africa, he demonstrates these valuable facets.
Kunene and the King, which originated with the Fugard Theatre, Cape Town and is presented in London by the RSC, cleverly combines the themes of King Lear with a double-edged look at South Africa, and more particularly South Africans, today.
Following the first of a number of songs from Anna Mudeka, who lights up the stage both with her vocal talents and spectacular orange costume, we are introduced to two elderly men.
In his Johannesburg home, meticulously designed by Birrie Le Roux, Sir Antony Sher plays Jack Morris, a celebrated Shakespearean actor desperately trying to learn the lines of Lear for a swansong.
Following an amusing if racially incendiary misunderstanding, Morris is obliged to come to terms with his new carer "Sister" Lunga Kunene, a patient but not infinitely patient star of the nursing profession.
The reason for the presence of the character played by Kani is his host's terminal cancer of the liver, for which the prognosis is literally hope-less.
However, after offence is gratuitously given and taken followed by a most amusing but grudging agreement to live and let live, the pair develop a friendship as, despite his agony, Jack learns and impressively delivers lines from the misguided Shakespearean King.
Part of the evening's attraction is the way in which the nurse starts to appreciate both the talents of his patient and also Shakespeare, having previously only experienced the Bard in a Xhosa school production of Julius Caesar.
Soon, Jack's fate and that of the character whose words he is learning begin to show parallels. However, there is far more to this play than a clever rehash of a great work's ideas.
Just as significantly, the relationship between two elderly men, one black and one white, who remember the horrors of apartheid from very different perspectives begin to educate those on the far side of the fourth wall.
It is not only the politics but also the attitudes of the men and the communities that they embody which are so richly drawn.
Janice Honeyman has had great good fortune in getting an opportunity to direct two of the best actors of their generation and everyone delivers to perfection.
By the end of the 96 minutes, viewers will have learned a great deal about humanity and the ways in which even enemies can help each other and even relished some fresh thoughts about one of the greatest tragedies ever written.
Reviewer: Philip Fisher