L'Ormindo
Music by Francesco Cavalli, libretto by Giovanni Faustini, director Kasper Holten, revival director Toria Banks
Royal Opera
Sam Wanamaker Playhouse at Shakespeare's Globe
–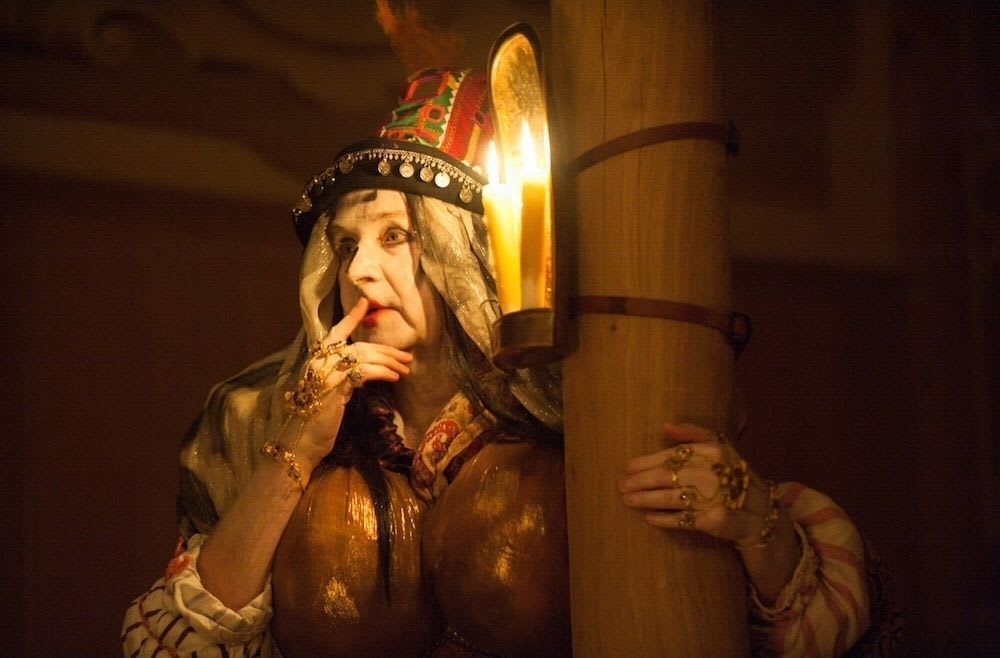 One year has passed since the building has admitted the Muses. Music will join Shakespeare and his companions, and never be put asunder.
So sings Music in update as she descends from on high, opening L'Ormindo, Shakespeare's Globe's first collaboration with The Royal Opera—revived with the same cast (two have recently sung in Monteverdi's Orfeo at The Roundhouse) as a year ago.
Never be put asunder—is that a promise and is translator Christopher Cowell taking fresh liberties with the text? Of course he is, and I in turn can only refresh and reiterate my original review—L'Ormindo is a fabulous treat, even better, if that is possible, on second viewing. Sadly it's returns only.
My good fortune is to have tested it from the Upper Gallery last year and to be placed in the Pit this time: to have seen it from top to bottom, so to speak. What a resonant sounding board the Sam Wanamaker Playhouse is. I am enraptured (to borrow a word from the text) by the quality of it all.
The voices that pour out from these throats are silk and honey—no sound technology, just talent and training. In the Pit, a few inches away from the performers—one could call it in-your-face theatre—the intimacy of the interaction, the warmth of performance, the clarity of the singing are transfixing.
Imagine seventeenth century extravagantly costumed Venetian high society transported to one's drawing room, breaking through that fourth wall, their licentiousness, bawdy fun and wit given contemporary glister and gleam. At such close quarters one can see the raised eyebrow, the glint in the eye, the knowing or lascivious look.
Personified blind Love, Lady Luck, Destiny, deception, revenge and repentance, L'Ormindo's currency is love in all its forms, gullibility, too: an entertainment for all time, a Gesamtkunstwerk, a synthesis of the arts.
Two princes fall for the same woman, one betraying his true love. Married to an old husband the queen would like them both, given the chance. Two 'gypsy women' read their fortunes and play a trick on the betrayer. An ill wind brings a death sentence. Poison is replaced by sleeping potion. A long lost son is found. A new match is made.
Saucy innuendo, lovely arias and harmonising duets: Sicle's song of heartbreak; Erisbe and Mirinda's soprano and mezzo voices blending in private intimacy as they light the boudoir candles; rivals in love Ormindo and Amidas' alto and tenor not in conflict; King Ariadenus' imposing bass.
Oh, the twists and turns of fickle love, its sweet distress… 'How can I bear it?' Erisbe and Ormindo's death duet is sublime and genuine—they don't know it's a sleeping draught—speak well of love, they sing, he's not to blame, rapture will be eternal.
Contrast that with nurse Eryka's (travesti tenor) 'a dog with no riches attracts no bitches', and you get L'Ormindo's high and low wicked flavour. Amidas' page Nerillus has his own initiating adventure with desire—what a town, he sings, so tawdry, what a hell. More please is the subtext.
Director Kasper Holten has treated 'the opera as text set to music rather than 'just' singing'—'the music sits exactly midway between theatre and opera'—and this shows in the ease of acting a drama halfway between commedia dell'arte and courtly entertainment.
Together with Christopher Curnyn, harpsichordist and conductor of the small but sublime Orchestra of Early Opera, Holten gives the singers exercises in speaking the words instead of singing them first, and says he makes sure the staging is 'so visual that the action will be easy to follow'.
Melodious music from Francesco Cavalli, singer, organist and maestro di cappella at St Mark's Basilica in Venice, prolific composer in his day, strongly influenced by Monteverdi, and witty scenarios from librettist Giovanni Faustini, seem to pour forth in effortless flow.
Christopher Cowell's rhyming retains the fête galante mischievousness of the original: beauty / duty / cruelty, leisure / pleasure / treasure / measure, flowers / bowers, comment / torment, younger / hunger, moulder / older… 'To love make no reproaches, he wounds every heart he touches'.
The Playhouse's only lighting, six chandeliers are raised up or down, the amount of light modified quite simply. Side sconces and individual candles enhance the dramatic shadows. Candles are metaphors for life being snuffed out, a single candle the flame of love, and a single candle is all that's needed to seduce a young man.
The applause is deafening—this pleasing on the eye and ear production ought to run and run. Here's to its return, as return it must. Three transporting hours, with two intervals to recover one's equilibrium and blood to one's nether regions, sorely tested on the cramped bench seating, are not a minute too long.
Reviewer: Vera Liber