La Consagración de la Primavera (Rite of Spring)
Concept and choreography Israel Galván, music Igor Stravinsky, Domenico Scarlatti, Frederic Rzewski
Israel Galván Company
Sadler's Wells
–

Listing details and ticket info...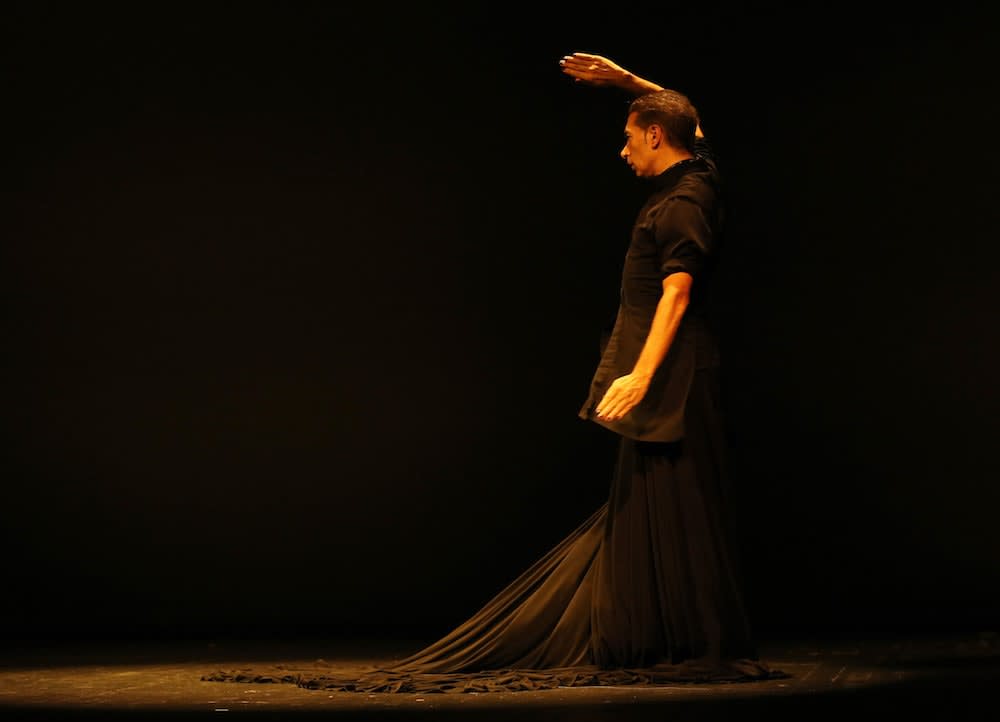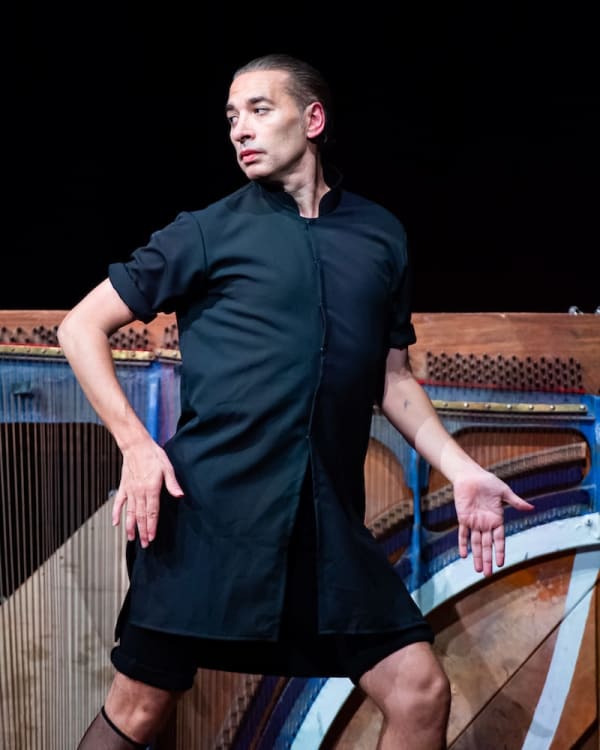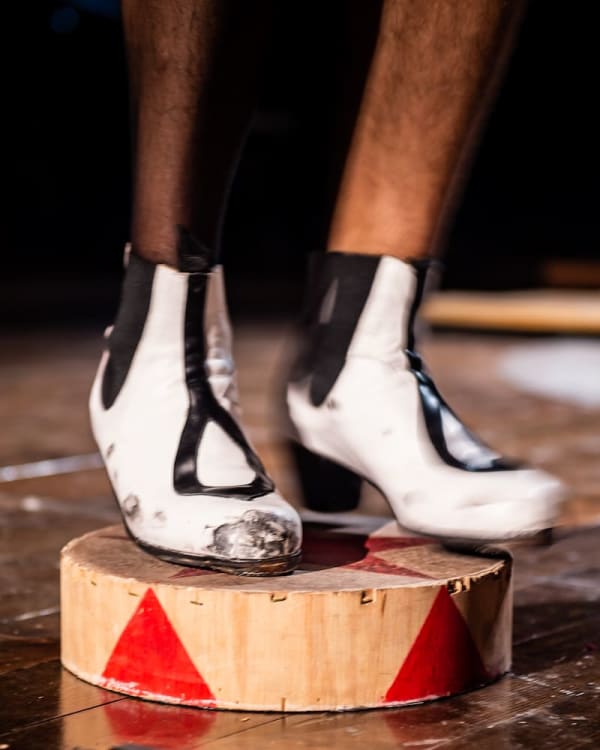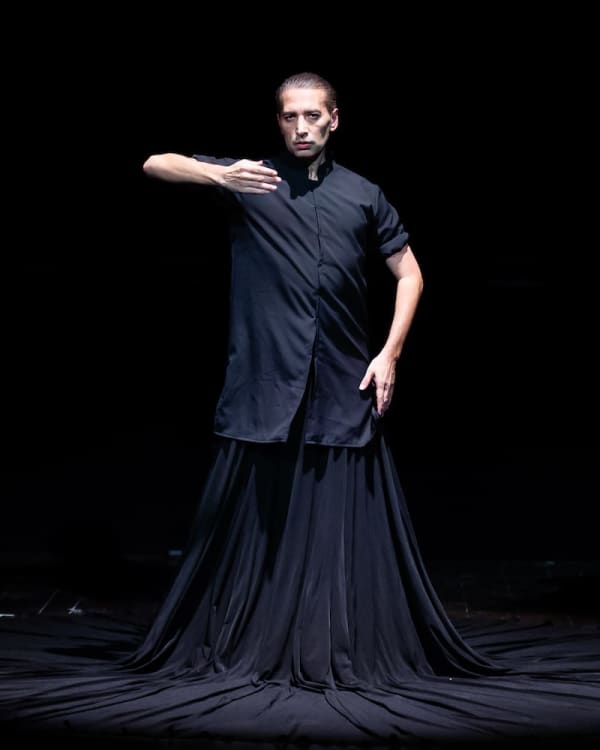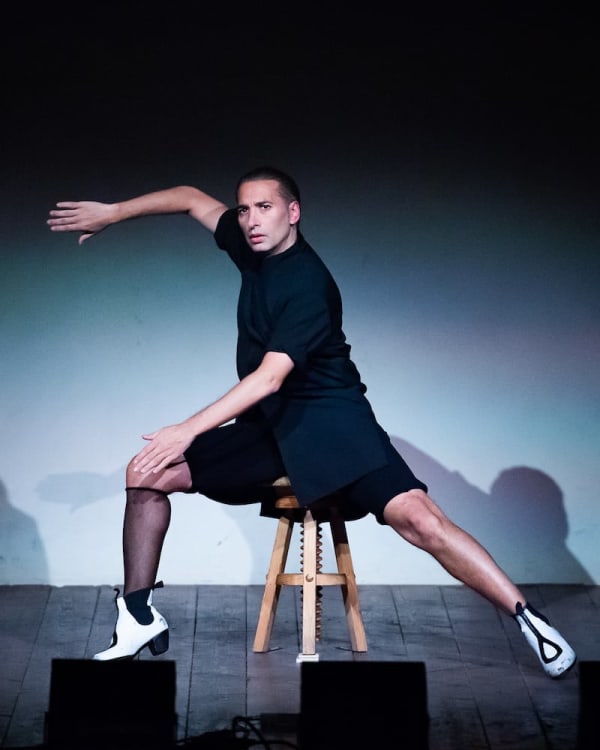 I have compared Israel Galván to Picasso in the past; tonight I think he is more of the Dada persuasion or the Marcel Duchamp of Nude Descending a Staircase. As he deconstructs and reconstructs flamenco in his own cerebral, eccentric, and gender-free form. Dressed in black, he is a musical instrument alongside the two pianists on stage. A black stripe up one bare leg, a black knee sock on the other, white shoes with black markings, he's a musical score.
He dances, prances, moves in percussive waves from sounding board to board to the side of them, dances sitting down, weaves between, and peers over, the two pianos (in concept not unlike Teresa De Keersmaeker). His complex timing is out of this world. I can't stop smiling at his inventiveness, his playful imagination, his audacity.
And what pianists: Dutch / Russian Daria van den Bercken and Dutch Gerard Bouwhuis, playing and blending Stravinsky's Rite of Spring for Four Hands, Domenico Scarlatti's Sonata K87 and Frederic Rzewski's 1980 jazzy Winnsboro Cotton Mill Blues. There's a mix for you. Sound designer and technical director Pedro León deserves a mention (for setting the theatre a-trembling and for the resonating silences). Ruben Camacho's shadowy moody lighting, too.
Avant-garde music that sounds improvised, and avant-garde flamenco, which looks improvised—that takes some doing. It's a concert in all but name. Seventy or so minutes no interval flash by, and it's enough for the audience's attention span, it's quite a stimulating workout.
On a stage bare but for two back-to-back grand pianos, a carcass of an upright one at the back for him to twang occasionally, and several amplified platforms for his percussive beats in boots and bare feet. There's grit, too. He is mesmerising. The pianists, she prefers the baroque, he contemporary, go at it hammer and tongs, if I may use that analogy. They are a glorious fit.
Of a flamenco family, it is in his blood, in his nerve endings, in his sensitivity to the smallest inflection. There is flamenco and there is Galván: what he is doing is flamenco if you watch closely his zapateados, his pitos. And when he comes on in a dress that pools around him on the floor—you can't see his feet—we have to listen—he is androgynous until he lifts the skirt like a bata de cola.
Dancing male and female, his is the abstract essence of flamenco itself. And more. We just have to put the pieces together: his physical references to Nijinsky in that infamous first production of Rite, the turned-in feet, the frieze walk, the elder sitting on a chair. Is he the victim, as he throttles himself? The inner child processing the information?
A note from Galván: "Le Sacre du Printemps constitutes a meeting with a work that everyone knows. Dancing the Sacre means having to relate to a place where there is no freedom, as everyone knows it and has danced it. It is a huge challenge to follow the score as faithfully as possible and feeling that within this strictness you have something new to tell."
I'd say he's cracked it. Mercurial ideas spill out of a restless mind and body. It's a happening, an event, a musical collage. A standing ovation is no less than they all deserve, and get.
Reviewer: Vera Liber