La Ronde
A new adaptation by Max Gill
Collaborative Artists
The Bunker, Southwark
–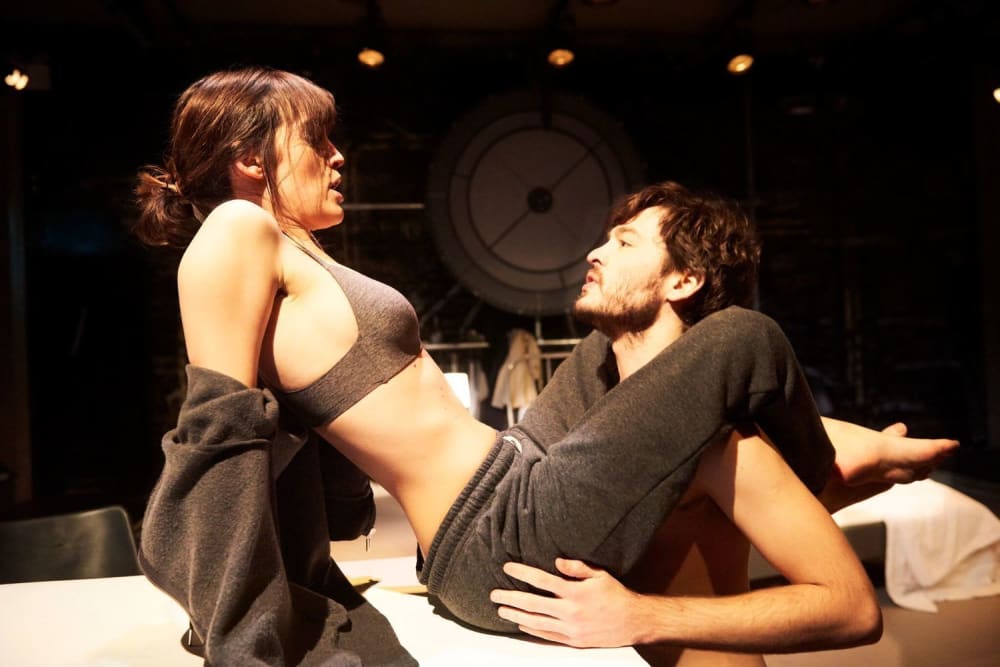 This modern play very loosely based on La Ronde is proof that it takes more than a clever gimmick and some tawdry sex scenes to create a rewarding night out at the theatre.
Readers will probably be familiar with the structure of Arthur Schnitzler's controversial 120-year-old classic. He starts with a scene featuring a sexual encounter between a man and a woman and then swaps and retains one partner each time until the tenth and last tryst, completing the circle as the departee from the first scene returns.
Writer/director Max Gill has tried to add an extra element of risk to his version by introducing a reality TV-style Wheel of Fortune. Given 3,000 different potential outcomes, what he failed to foresee was the risk that it would misbehave on opening night with unfortunate consequences.
Instead of sharing the acting honours around evenly and fairly as chance should, poor Leemore Marrett Jr was left sitting through eight painful encounters looking more and more doleful and only getting a brief moment of glory when a colleague, clearly sorry for him, rigged the decision-making before the ninth.
This serendipity did, at least, spice up the 1½ hours to the extent that every audience member was willing Marrett to come good, as were his increasingly desperate colleagues, musicals specialist Lauren Samuels of Bend it like Beckham fame, Amanda Wilkin and Alex Vlahos.
Instead, for most of the performance it was these three performers in varying combinations who were obliged to carry the show.
The only real connection with the original, beyond the ten scene structure, lay in the jobs of some characters, for example a prostitute and a student, but certainly not the female bus driver.
The other problem with the wheel concept lay in ordering scenes, which showed a tendency to lose coherence and chronology. This again was predictable since when the wrong people come up, scenes are staged out of their natural order, which inevitably leads to more confusion than mystery.
However, the more serious faults with this production lie in the writing and acting, neither of which are anything to write home about.
Too many scenes feel as if they have been drawn from a dated, low budget sex sitcom, while the actors were asked by Gill with his directorial hat on to shout and over-express at every turn, possibly because they did not trust the script given that the tone throughout smacks of puerile smut. Even the scene involving incest between a terminally ill man and his sister is played for laughs.
What sounded like an intriguing and adventurous approach to an old favourite, partly as a result of bad luck, therefore misses the mark by a considerable way.
Reviewer: Philip Fisher