Laughter in the Rain
Book by Philip Norman, songs by Neil Sedaka and Howard Greenfield, Phil Cody and others
Churchill Theatre, Bromley, and touring
(2010)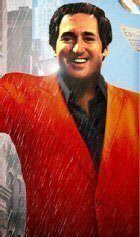 Neil Sedaka, a consummate performer with a career that spans three decades is still going strong, writing and performing the world over.
The king of the tra-la-la and doo-be-do (think "Happy Birthday Sweet Sixteen" if you need convincing) was a singer-songwriter in the early days of the species, and anyone who grew up in the 60s or 70s will instinctively be able to join in with "Breaking Up Is Hard to Do", "Love Will Keep Us Together", "Calendar Girl" or "Oh Carol". The list could fill the page.
Writing initially with lyricist Howie Greenfield - a collaboration that started when they were both teenagers and lasted into middle age - Sedaka had a lacklustre career with a band, finding fame and fortune only when "Stupid Cupid" was recorded by Connie Francis.
This allowed him the freedom to record their work but Sedaka moved to England where his fan base remained faithful as the British Invasion of the American music scene all but obliterated his style of home-grown talent.
In the early 70s Elton John signed up Sedaka to his own record label and this turned around the lull in his professional life and marked a re-entry to the American market. Sedaka's place in the musical history book of the period was cemented by number one hits co-written with Phil Cody and the re-release of "Breaking Up Is Hard To Do" as a ballad, becoming the first song recorded by the same artist to reach number one in two different versions. His professional renaissance was complimented by the continued success of other artists with Sedaka compositions.
Even if you find the reversions to his Yiddish or classical roots discomforting, though you have to admit it takes chutzpah to write new lyrics to Puccini's "Nessun Dorma", or if you simply don't like his later more thoughtful compositions, it is impossible to deny that Neil Sedaka is part of the history of rock and roll. Put this together with his huge catalogue of songs and a rollercoaster-ish life story and you can see why Sedaka is ripe for a bio musical.
I suppose you could say The Neil Sedaka Story - Laughter in the Rain came off a conveyor belt. After Elvis the Musical, The Roy Orbison Story, Dreamboats and Petticoats, etc, it doesn't take a rocket scientist to see a pattern. Or, more precisely, a formula.
And it certainly is all too easy to be dismissive and say that, with yet another 'rock n roll musical', Bill Kenwright and co are merely cashing in on the unappeasable appetite for nostalgia of the grey-pound.
Laughter in the Rain. The title says it all really and it does what it says on the packaging: the biography is subordinated to allow the maximum number of songs to be sung in the time allotted, and in the order in which they best fit the chronology of the narrative. There are pretty girls in short dresses, familiar tunes, an opportunity for an audience sing-along when you wouldn't be able to stop them anyway - in this case, "Is This the Way to Amarillo?" - and if the audience are up for it there's clapping and even dancing to be done.
The book of Laughter in the Rain is not its strong point - it's at least as feeble as that for Dreamboats and Petticoats but with less reason. It plunges toe curling depths with lame jokes about English warm beer, as it bounces through Sedaka's life story, trivialising tragedy and playing down hardships, presumably in an effort not to offend (or be sued by) those portrayed who are still living.
But this is a jolly, fun, no need to think, feel good family show and I don't want to gratuitously put it down. Or is that down-dooby-doo--down-down.
The narrative is sufficiently clear and musical landmarks and contemporaries provide a historical musical context. If you have a favourite Sedaka song it is almost certainly in the show and Wayne Smith is energetic and engaging as the smiley Neil Sedaka: his stamina is tested, even if his acting skills are not. He gets good support from the ladies, most notably Anna Clayton as Sedaka's wife Leba, Jade Sampson as his sister and Natalie Hope.
Edward Handoll's performance is perhaps the most convincing in that there is a development in his Howie Greenfield from geeky teenager to adult, although this is very much Sedaka's show and Greenfield is downplayed.
Sedaka's career as a recording star largely folded in the 80s and whether there is a young market for the life story of the now septuagenarian composer is doubtful, even if he did write "Amarillo". There are however more than enough parents and grandparents for whom Sedaka's appeal endures and who could put paid to the notion that the tra-la days are over.
"Laughter in the Rain" is on tour throughout the UK until July
David Chadderton reviewed this production in Manchester
Reviewer: Sandra Giorgetti