Le Corsaire
Staged by Anna-Marie Holmes after Marius Petipa and Konstantin Sergeyev
English National Ballet
London Coliseum
–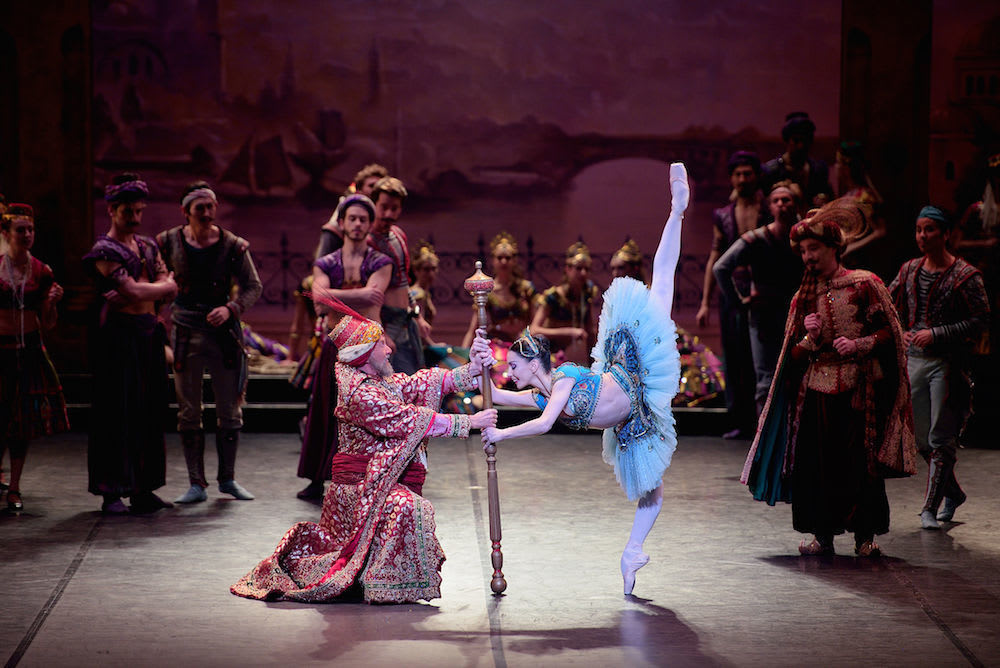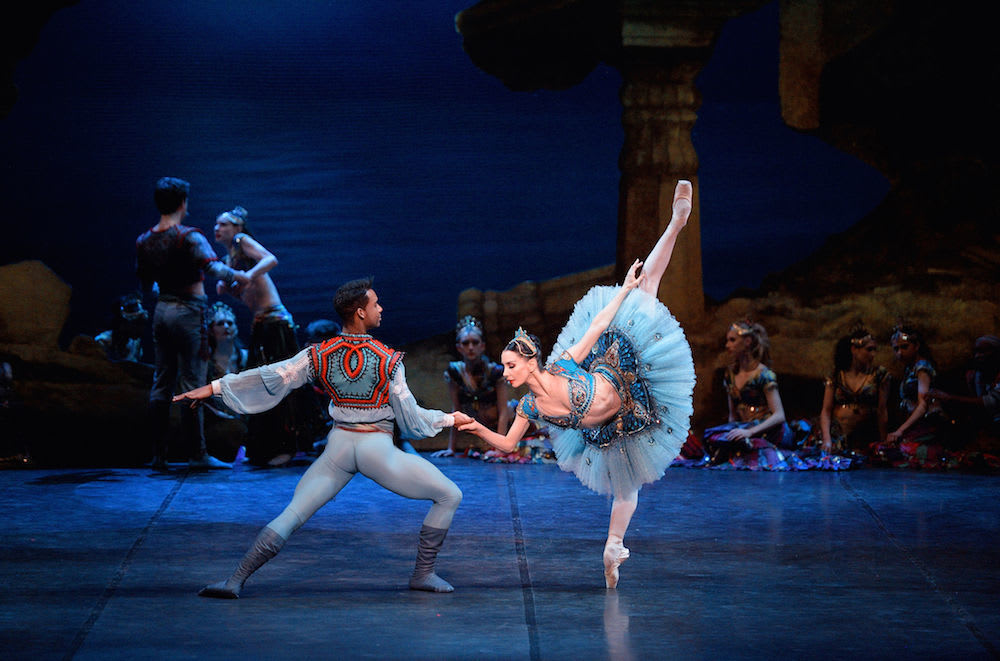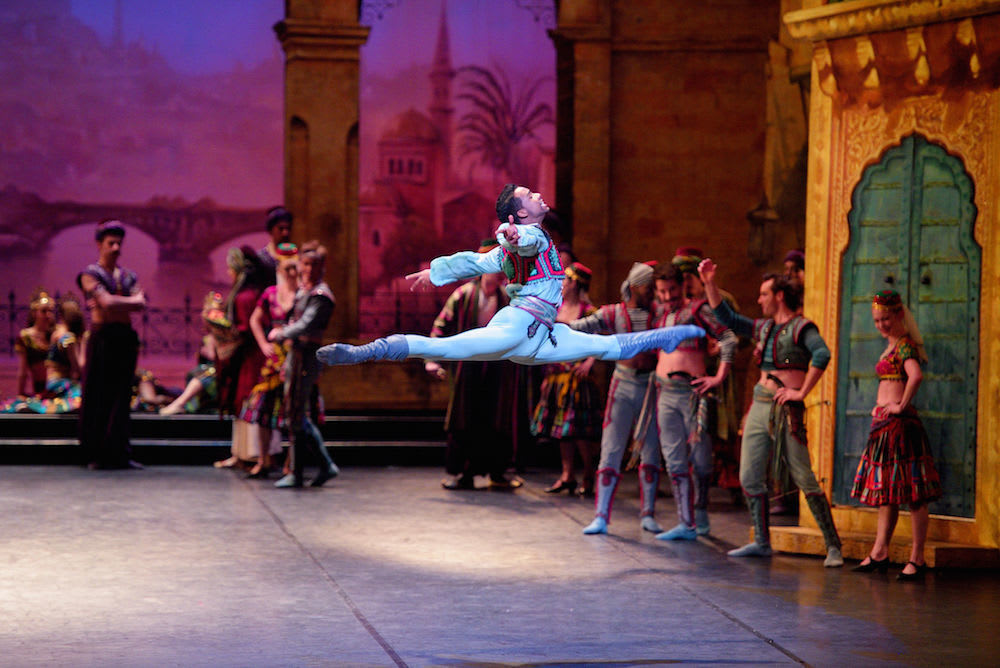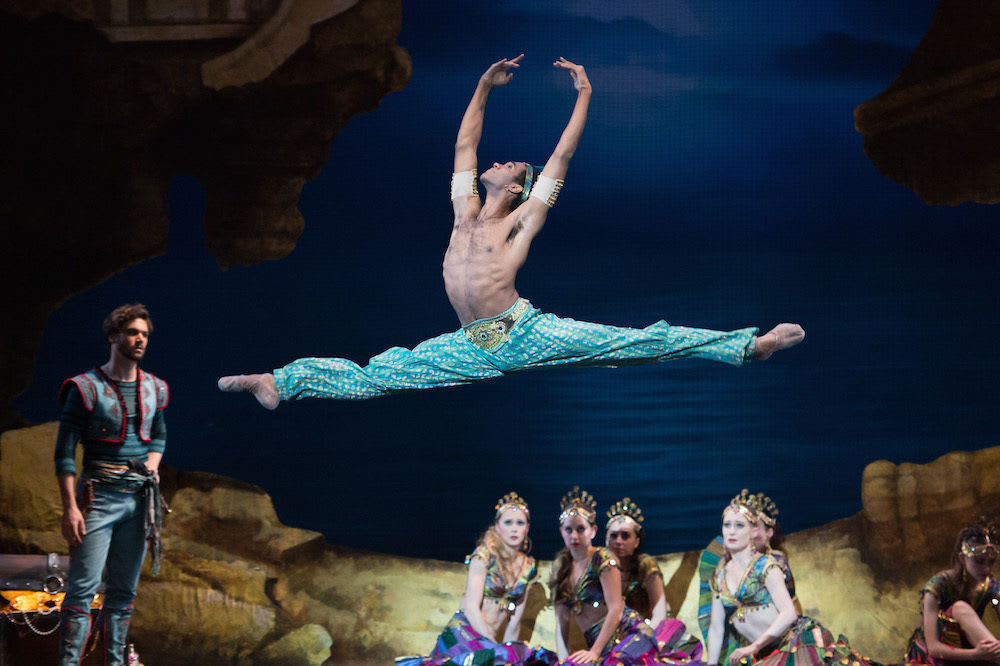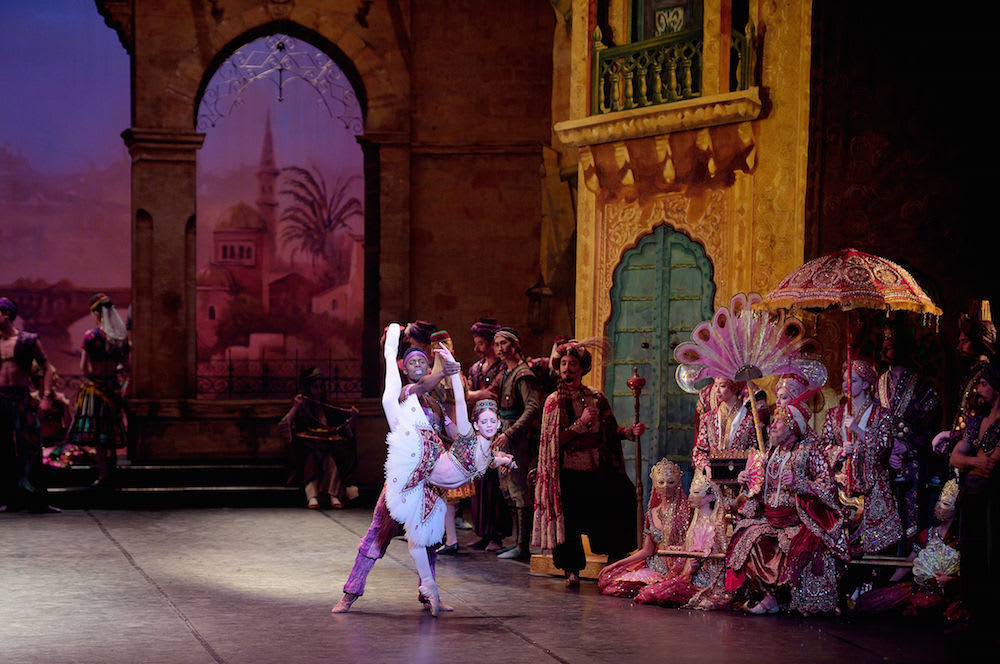 Believe the promo: Le Corsaire is an 'unmissable' treat. Never mind the glamorous set and costumes, a hokum Ali Baba and the Forty Thieves / Kismet storyline of 'dashing' pirates, slave maidens, sword fights, villainy amongst thieves and eternal love, it's the bravura dancing that is to die for, exceeding all expectations.
Exactly two years ago the dancing was superb. It couldn't be better this year, could it? Impossibly, it is. What has artistic director (and lead principal dancer) Tamara Rojo done? Set the standard by example? Hardworking, determined, an eagle eye for talent, she has made some shrewd judgements in programming, giving her young dancers opportunities across several roles. Every Le Corsaire cast is worth more than a look.
Many, quite rightly, mourned the loss of Vadim Muntagirov to the Royal Ballet, but no one is irreplaceable. Cuban Osiel Gouneo, guesting from Norwegian Ballet, is a macho Bolshoi-style corsair Conrad; slender first soloist Junor Souza (slave trader Lankendem) soars; smouldering nineteen-year-old junior soloist Cesar Corrales blazes through his role of dastardly pirate Birbanto and lead principal Isaac Hernández as Conrad's loyal servant Ali has the softest of landings after his airborne manège.
They fly through the air with the greatest of ease, energy to spare, or so it seems, scissor jumps, corkscrew turns, grands jetés, double cabrioles—you name it, they can do it. I wonder whether having Irek Mukhamedov (former Bolshoi Spartacus) in the fold as principal ballet master has anything to do with that. Four—I repeat four—male dancers in one evening with fire, ballon and style, Corrales and Hernández recent additions to the male stable.
Ballet for the people is Rojo's avowed intention, and does she deliver. The applause is well won—and this is not the glittery celebrity-crammed first night. One can but be impressed by her high profile dedication: leading and promoting a company is not for cissies, and at forty-one she is also still dancing lead roles: Medora, Conrad's love interest, tonight. Alina Cojocaru was scheduled to dance Medora, but an injury put paid to that, so in steps the company boss, taking on Alina's dates as well as her own.
She reveals a softness I've not noticed before. Always so stern, compact and brittle, her balances are legendary, her control impeccable, but tonight's yielding softness, as if borrowed from Alina, is a pleasant surprise.
She holds herself back in the story-setting first act—as my companion says, she does not stand out amongst the other dancers, but then long-limbed Laurretta Summerscales as slave girl Gulnares is a gloriously lyrical dancer, and the three odalisques, Ksenia Ovsyanick, Alison McWhinney, Shiori Kase aren't bad either...
A spirited minx, she pleases the Pasha (Michael Coleman), but it's in the middle act—the gala extract made famous by Nureyev and Baryshnikov's pyrotechnics—that she lets rip charged by the infectious competition of the male leads: dynamite in the pas d'action with Gouneo and Hernández, breathtaking in her double and triple fouettés, tender in duet and daredevil in fall into low fish dive from Gouneo's high one-hand lift. Act one is the warm-up; act two, the real deal, drives the audience wild.
The rotund Pasha's Le Jardin Animé opium dream in act three is sweetly tame after that: grown roses (Rojo, Summerscales, Senri Kou, Katja Khaniukova, Alison McWhinney and Ksenia Ovsyanick) and little boys and girls in turbans and tiny wings from Tring Park School pleasantly arranged in a garden bower, ready for the picking. The omnipotent Pasha may be a pantomimic simple-minded silly old fool, but his delight in and greed for young girls and children, hmm... Autres temps, autres moeurs.
Designer Bob Ringwood has taken much from Ballets Russes designer Léon Bakst and nineteenth century orientalists in his red and gold set and exotic eastern harem costume designs, dazzling the eye with a blitz of colour and depth, mosques and minarets, busy bazaar, an Aladdin's cave full of treasure trove, Topkapi Palace, and a shipwreck to cap it all.
Love, betrayal, kidnappings and rescues, passion and passionate extravagant dancing, what more could one possibly want on a cold January night? A trip to Muscat, Oman, perhaps? That's where the English National Ballet, "the only UK company to perform the full work", is taking their Le Corsaire in March—coals to Newcastle. They will love it. Paris (Palais Garnier) gets to see it in June, the first time that a British company has been invited there in sixty years—another feather in Rojo's cap.
Easy on the ear recognisable portmanteau music from nine composers—Adolphe Adam you'll recognise from Giselle, Minkus, Delibes and Drigo maybe, but Prince Pyotr van Oldenbourg or Baron Boris Fitinhof-Schnell sound like names concocted by the Trocks—is played with brio by the English National Ballet Philharmonic under Gavin Sutherland's baton, and gets prolonged appreciation from a very happy audience.
Reviewer: Vera Liber