Le Gateau Chocolat: Black
Le Gateau Chocolat with Ed Burnside
In Company Collective
Theatre Royal, Stratford East
–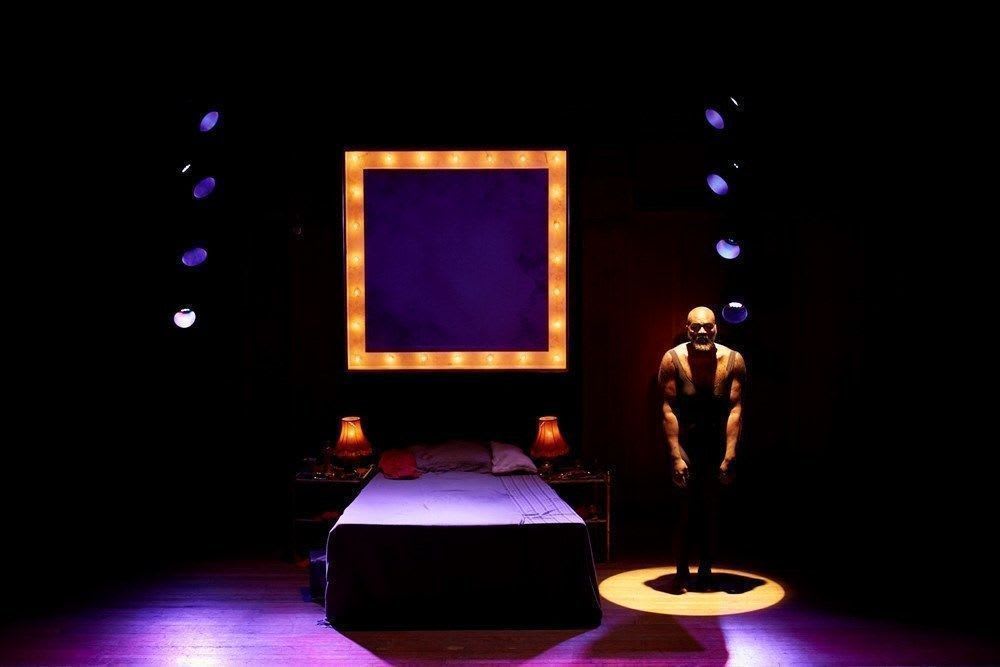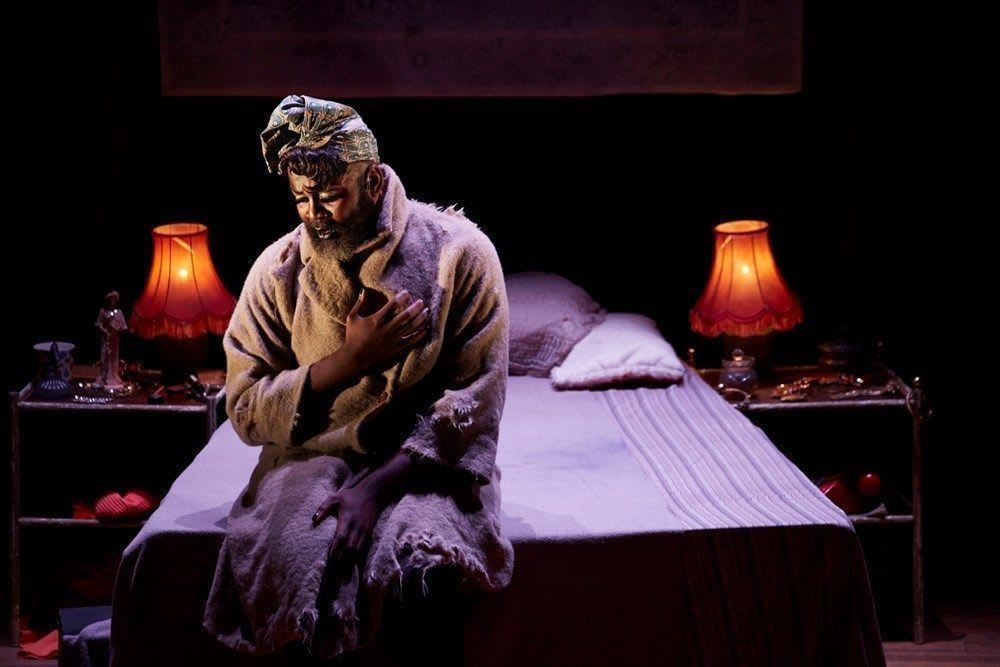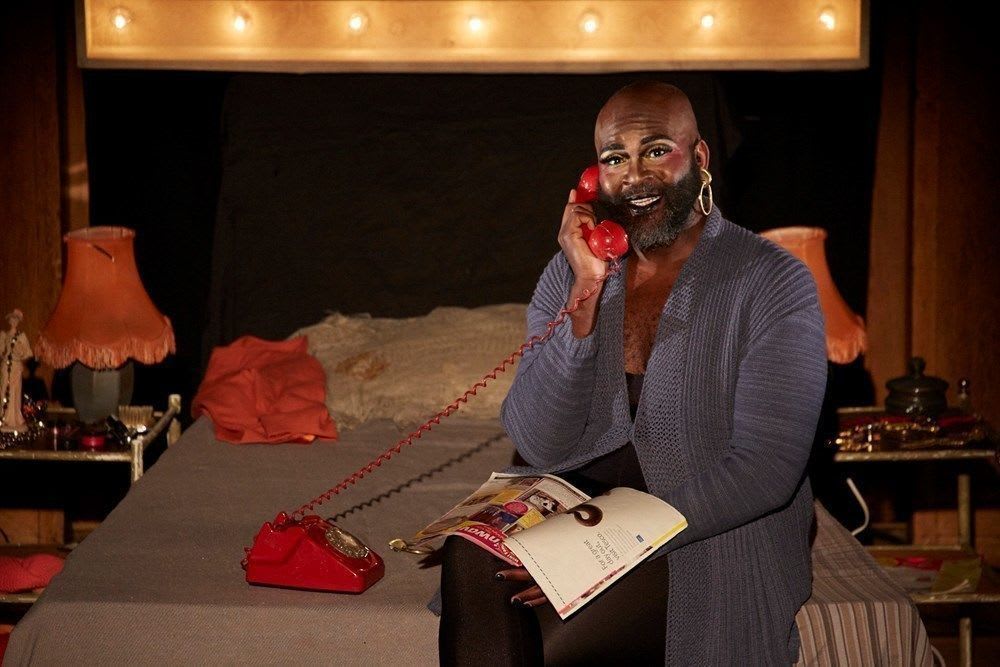 This hour-long solo performance was first seen in 2011 and has toured widely. It has been seen elsewhere in London earlier this year and a different range of Le Gateau's reminiscences were the basis of Icons which he performed at the Soho Theatre over Christmas.
This latest version is restaged by director Ed Burnside and supported by the Psappha New Music Ensemble a group of 13 fine musicians.
Le Gateau has achieved fame and some notoriety as a drag artist with colourful lycra outfits and exotic make-up but he has also sung with Glyndebourne and appeared in The Threepenny Opera at the National Theatre. This presentation is rather more sombre, though not without touches of glamour. The audience discover him already onstage, dimly lit as he sits on a bed in a shiny black leotard, finessing his make-up and putting on a wig.
When he disappears behind a screen, which is both a translucent mirror and used for video projection, there is some piping of woodwind from the musicians sitting rear stage interspersed with bursts of white noise. This creates an unsettling atmosphere as he is dimly seen struggling into costume before the house lights fade and the band strikes up some unmistakable Wagner.
Through the screen, Le Gateau is revealed like a portrait of Wotan by Rembrandt (though he thinks of himself as Rubenesque). But it is not the appearance that is surprising but the sound. A rich, dark bass that is thrilling. It receives the recorded applause of an opera house as well as that of the Stratford audience.
This is the beginning of what becomes an eclectic song cycle that illuminates a simple outline of Le Gateau's own life. Born in Britain then raised in Nigeria before coming back to Britain, his story is told with the help of a cartoon video of Little Black facing the problems of growing up in a world that is alien.
He was a little lad with a dream: a dream of being a diva, a glittery-gowned soprano diva, and a dream of synchronised swimming in the Olympics. He appears flitting across the stage in an all-in-one swimming costume with an orange skirt, waving a leg or an arm above the water but this just will not do in Nigeria where homosexual acts are illegal and the 12 northern states impose Sharia law.
Stripping off his costume, Le Gateau sings black lynching ballad "Strange Fruit": but for him black signifies not just his own colour but embraces others who suffer for being who they are. It is followed by "Old Man Sorrow" from Gershwin's Porgy and Bess (in which Le Gateau appeared in Regent's Park).
Now comes the first of a series of instructive insertions on how to deal with body shape challenges: Fat Facts. Here and later, he explains how to accessorize with a cushion or handbag to hide it, shop so at least the arms fit in the sleeves even if you can't button up and so forth, a touch of humour that doesn't hide the problem.
Meanwhile, Little Black faces bullying at school, physical bullying that turns into male on male sexual action and still remains violent. It leads on to the Appalachian folksong made famous by Nina Simone "Black is the Colour of My True Loves Hair" while Little Black is left still lonely singing Whitney Houston's "I Want to Dance With Somebody Who Loves Me".
Little Black now comes back to England. He has given up his dreams and has a new one, his father's, that he become a lawyer, then that dream fades. He finds himself working in a NHS call centre answering calls about HIV in a song specially written by Orlando Gough.
He doesn't tell us about the way that student visits to Brighton clubs began his own reinvention but describes the effects of that black dog depression and the depths that made him ponder suicide which leads into the lament "When I Am Laid in Earth" from Purcell's Dido and Aeneas.
"Remember me," the dying Dido demands, but Le Gateau points out he is still here. The pain still here too, the depression never goes away entirely but he lives in hope and his final song is the one that ends Leonard Bernstein's Candide: "Make Our Garden Grow".
That bitter-sweet number encapsulates a fragile hope mixed with a melancholy uncertainty and ends a recital that is occasionally funny, beautifully sung and very moving. The façade of long false eyelashes and green eye shadow might not have existed, for this is a man bearing his soul. If it is a performance, it's accomplished; if as real as it seems, it's so brave.
Reviewer: Howard Loxton