Learwife
J R Thorp
Canongate Books
Released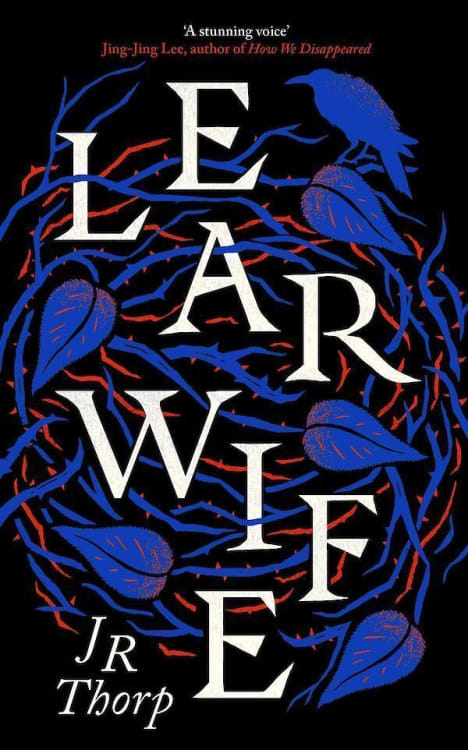 The life and works of William Shakespeare have long been sources for other writers and, more recently, creative workers in other art forms.
Given recent changes in society, there are often now feminist or at least feminising angles, which shed new light on old classics.
Impressively, even before Learwife was published, J R Thorp had been chosen as one of the Observer Best Debut Novelists of 2021 and deservedly so.
While the language can be dense and the protagonist contrary, this portrait of the banished, nameless wife of King Lear is strong enough to bear comparison with Maggie O'Farrell's award-winning Hamnet, a work with which it has much in common.
The 350-page-long first-person narrative takes the form of a stream of consciousness vision of the country and the protagonist's family immediately following the deaths of King Lear and his three daughters.
The connections remain remarkably strong, given that his Queen was banished 15 years before, when youngest daughter Cordelia was only a few months old, and has had no subsequent contact with anyone at the court, even her erstwhile close friend Kent.
Instead, she has enjoyed a relatively calm and happy life confined to a nunnery. However, having reached advanced age and yearning to mourn her family properly, the lady decides that it is time to return from what she regards as a temporary northern billet to the seat of power.
What ensues is a fascinating tale that operates on several different levels. Primarily, it presents a remarkably detailed journey through the sometimes clear but also muddled mind of a woman who was once married to not one but two Kings (sequentially) then deposed and sent to endure a very different kind of life.
There are tales of court, a power battle within the convent that has all of the attractions of a mediaeval reality show and other local colour that could have easily graced any novel which attempts to take its readers back to those relatively primitive times.
However, this author also has the ability to parse and incorporate many of the features of her original source while presenting the life and thoughts of a character so peripheral that Shakespeare didn't even mention her.
In addition, as readers will gradually discover, there are more parallels between the experiences of King Lear and his banished wife than might initially seem apparent.
Overall, this is an amazingly detailed portrait of a lost world that tangentially sheds light on one of the greatest plays of all time. At times, it is sometimes a mildly challenging read but rewards those willing to sink themselves into the dual worlds of the lost Queen.
Reviewer: Philip Fisher