Les Misérables: The Staged Concert
Alan Boublil and Claude-Michel Schönberg, based on the novel by Victor Hugo, music by Claude-Michel Schönberg, lyrics by Herbert Kretzmer
Cameron Mackintosh
Released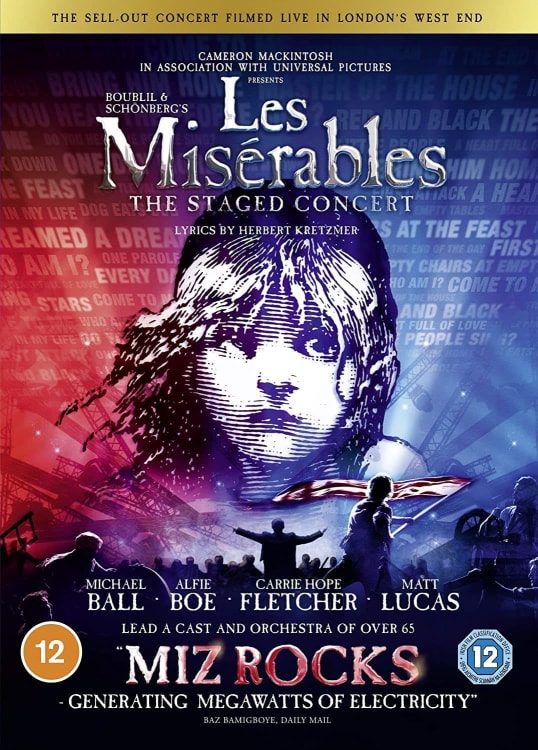 Who knows when we will have another chance to see Les Misérables on stage again at the Sondheim Theatre? Having reopened in January, it was one of the many casualties of the lockdown two months later.
In the meantime, devoted fans of the show that has been playing in London for the vast majority of the last 35 years can cheer themselves up with this DVD / Blu-ray recording of the star-studded Staged Concert, which filled the gap while the show was transferring between theatres at the end of 2019.
It is in the nature of such productions that the drama takes second place, but such is the quality of the underlying musical that this version tells its tale of love and hate in revolutionary times adequately at the very least and is often spectacular.
Instead, the main attractions are twofold. First, there is an opportunity to enjoy what has become a classic show with a cast of over 40 picked primarily for their musical talents, complemented by a full-scale orchestra with them on the stage.
Secondly, there is a cast led by the kind of names who can guarantee that a show of this kind will sell out, even with ticket prices at premium levels. It obviously follows that they are also the sorts of attractions to make this recording very popular, both as a prospective Christmas present for friends and family but also as a treat for oneself.
This really is an occasion to relish, as the final concert of the run in December 2019, played to a wildly enthusiastic full house, is brought to vibrant life thanks to excellent video direction.
As a bonus, there are also some post-show onstage treats including speeches from producer Sir Cameron Mackintosh and composer Claude-Michel Schönberg, as well as a bevy of former stars making guest singing appearances in the encore.
Before that, the perennial battle between Jean Valjean and Javert is respectively taken up by Alfie Boe and Michael Ball, both clearly relishing the occasion. Not only do they team up perfectly in "The Confrontation" but each has great solo moments such as when Ball sings "Stars" and Boe, "Bring Him Home".
Character and humour are injected by the comedy double act of Matt Lucas and Katie Secombe portraying the Thénardiers, inevitably peaking with "Master of the House", which appropriately brought the house down.
Of the younger generation, Carrie Hope Fletcher should draw tears as Fantine, while Rob Houchen and Lily Kerhoas are tuneful, fresh-faced young lovers. On the barricades, there is some irony in seeing Bradley Jaden playing the revolutionary Enjolras, given that he was about to take over as Javert in the staged production.
Finally, in lower key but beautifully sung performances, Shan Ako, whose stunning voice, comes from a different musical heritage and raises deserved extended applause for "On My Own" and the two children playing Gavroche and little Cosette all charm.
The big question that most people reading this review will have is whether they should buy this video as a gift for themselves or somebody else. Either way, it will give great pleasure to Les Miz addicts who are currently deprived of their favourite fix.
In addition to the DVD, a double CD version of the concert is due to be released on 20 November and should prove equally popular with both devotees and casual fans of musical theatre.
Reviewer: Philip Fisher