Les Misérables
Alain Boublil and Claude-Michel Schönberg after Victor Hugo
Cameron Mackintosh
Donald Gordon Auditorium, Wales Millennium Centre
–

Listing details and ticket info...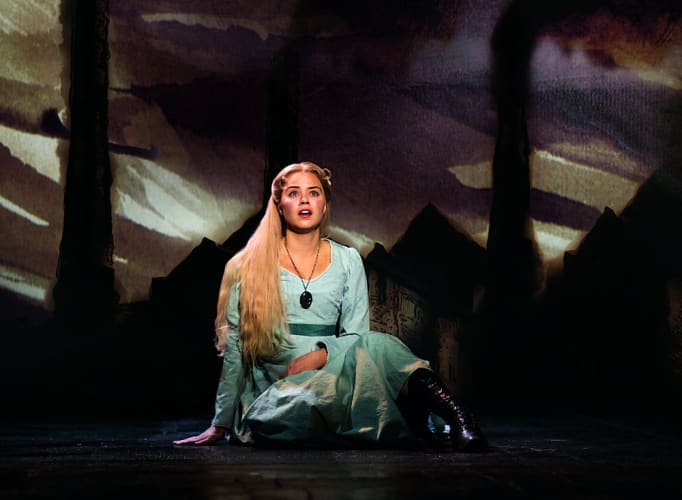 Fate (or a clever programming team) has decreed it that the main stage offering at the Wales Millennium Centre this Christmas is Les Misérables—coinciding not only with the combat-friendly festive period, but also a general election in which themes of European identity and revolt are high on the agenda.
The show, based on Victor Hugo's mammoth novel, returns to Cardiff (a decade on from its Welsh debut) in the midst of an extensive UK tour, mere months after the West End run (one of many productions worldwide) ended after thirty-four years. Ironically, having successfully avoided the tale in all of its manifestations thus far, this was my second Les Misérables of 2019, following on from August 012's adaptation which put Hugo's take on the Battle of Waterloo into the context of Brexit.
Even I, however, was aware that this version focusses on the rough-hewn Jean Valjean who, having been unjustly imprisoned in 19th century Paris, escapes and makes good, only to find himself doggedly pursued by the incorruptible Inspector Javert—a central theme being the conflict between natural and state-ordained justice. Valjean becomes the guardian of Cosette, the illegitimate child of the much-abused Fantine; but any possibility of their remaining under the radar is scuppered when conflict breaks out between the government and revolutionary forces.
One is immediately struck by Matt Kinley's set design, which smoothly transports us from prison to stately residence to tavern, assisted by murky video projections (from Fifty Nine Productions) inspired by Hugo's own paintings; and this is even before the act two tour-de-force of the barricades, at which bloody battle is evoked via Paule Constable and Mick Potter's lighting and sound design.
Much of the show's success, I would imagine, is founded on the star-making nature of its central roles, and this production does not disappoint in this respect. Dean Chisnall makes for a powerful and sympathetic Valjean, with Nic Greenshields equally impressive as the conflicted Javert.
The female principals also score highly: Katie Hall's Fantine breaking hearts with "I Dreamed A Dream", Charlie Burn charming as the adult Cosette and Frances Mayli McCann giving a Celtic twist to her Eponine, Cosette's spirited rival for the love of student revolutionary Marius (Felix Mosse).
Ian Hughes and Helen Walsh also put in crowd-pleasing turns as the sinisterly comic inn-keepers, the Thenardiers (Andreane Fitou and Christine Rowland's costume design contributing significantly to the amusement). The child roles, shared amongst several performers across the run, are also deservedly well received—especially young revolutionary Gavroche—and directors Laurence Connor and James Powell make judicious use of a talented ensemble.
If the show has a weak spot, it is the music: aside from the hit songs (Eponine's "On My Own" and Valjean's "Bring Him Home" alongside "Dream"), the through-sung score isn't especially melodic, and there are a few dubious rhyming couplets. The live orchestra, under the baton of Ben Atkinson, does excellent work, however.
As well as the handful of big tunes, Les Misérables boasts high drama, low comedy and epic spectacle—there's even a prominent red flag, to rouse the revolutionaries amongst us. Having had fairly low expectations—of its appeal rather than its quality—I found myself thoroughly seduced by the show's humanistic grandeur.
Reviewer: Othniel Smith