Let It Be
RAIN
Prince of Wales Theatre
From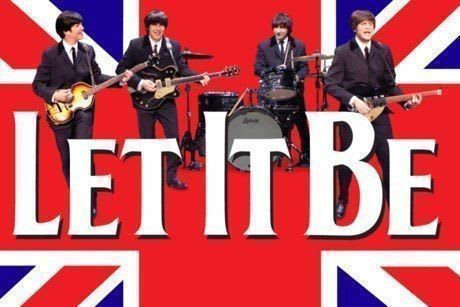 Nobody should be deceived into thinking that this is a musical or full-scale theatrical creation. Let It Be is effectively an extended imitation rock concert featuring four likely lads doing their best (and they are good) to conjure up the mystique of the Beatles.
Starting with "She Loves You", for a couple of hours they nobly pound out around 35 songs from the earliest days of the Fab Four 50 years ago until their break-up in the heady days of psychedelia.
There are two separate quartets who do their best to look and sound like the real thing. The team at the performance under review sounded great but required a considerable degree of suspension of disbelief when it came to looks. In fact, until they grew long hair and moustaches it was almost impossible to distinguish between the three guitarists.
For aficionados, the main problem lay in the fact that the producers could not find the left-handed guitarist to portray Paul McCartney. In addition, although his playing and singing was impeccable, Ian B Garcia required facial remodelling that was almost closer to plastic surgery than make-up.
Michael Gagliano playing John Lennon is just as good vocally and musically but is seriously undersized to portray a musician who must have been at least 6 inches taller, judging by the pictures projected behind him.
The performance starts out low-key, largely consisting of a series of underpowered replicas of the Beatles in their early days. The volume is ramped up with "A Hard Day's Night", which certainly helps to inject a little more excitement.
A similar increase in energy occurred when the crowd was finally encourage to its feet for "Twist and Shout". One had to wonder why the boys didn't go for it from the start and whip the audience into a frenzy to match that of the young girls shown on video screens, which also projected other historical material and a series of computer-generated images that enliven the evening.
This is particularly necessary since many of those attracted to this show are likely to be at or approaching the age of the remaining members of the band, who are septuagenarians. At the performance under review, it was noticeable that the ageing limbs and minds of many audience members took a great deal of stirring but they did eventually rejuvenate.
Whether it is the music or the production, once the lads don their Sergeant Pepper garb and get a bit more psychedelic the performance finally takes off. As other shows of this type, the producers could do worse than plant a few screamers in the audience to gee up their peers into an appropriate frenzy earlier in the evening.
After the interval, there was a similar slow cranking up through the Summer of Love until, once again, the band got the audience on to their feet for "Revolution" and kept them going until the encore finally ended with a rousing rendition of "Hey Jude".
It will be interesting to see whether there is a market for this kind of show. There are already a number of Beatles tribute bands to provide a similar kind of entertainment, albeit in much less comfortable surroundings but at lower cost. The press may also struggle to get behind this show, if their reaction to We Will Rock You and Rock of Ages, which are real musicals as opposed to concert performances, is anything to go by.
The success or failure of Let It Be will ultimately depend on whether there are enough Beatles diehards desperate to hark back to their youth (or that of their parents and grandparents) probably to celebrate birthdays, anniversaries and other special occasions. Time will tell.
Reviewer: Philip Fisher