Les Liaisons Dangereuses
Christopher Hampton
Salisbury Playhouse
(2010)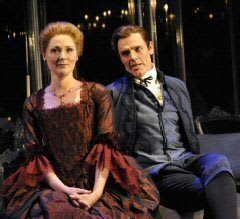 One day Andrew Lloyd Webber will write a musical version of Pierre de Laclos' to me convoluted expose of dissolute French high society that we know today through Christopher Hampton's play as Les Liaisons Dangereuses (Dangerous Liaisons).
I can foresee Graham Norton introducing TV contestants for the various roles - the Marquise de this and the Vicomte de that very exciting, and not many tunes to remember.
Which is just as well as the play contains quite enough complexity to exercise our concentration for one night.
That said, this revival for Salisbury Playhouse directed by Toby Frow is highly sophisticated indeed. And the set by Mike Britten who, like composer Richard Hammarton, contributed to Arsenic and Old Lace and People at Sea, is as sophisticated as anything seen at The Playhouse for some time. Mirrors reflect all, including characters not on stage, to such an extent that I begin to think of the famous hall at Versailles! The person responsible for the elaborate costume design also deserves credit.
Frow's production has a strong company of players headed by Ruth Gemmell as La Marquise and Richard Clothier as Le Vicomte. Sadly for many of us, the former drops her voice to an extent that frequently exposes the acoustic limitations of the open stage of the Playhouse. I checked with other patrons and the problem is apparent even in row C.
Yet we still get the unpleasant message of these two schemers who use sex as a weapon to humiliate and degrade others while drawing for themselves great delight in the process.
There are strong performances from Eileen Page as de Rosemonde, from debutante Lauren Grace as Cecile and from Sam Marks as Danceny, with a nice characterisation from Michael Stevenson as the major domo.
This work was originally written as an epistolary novel, all the various characters involved adding their piece and contributing to the power of the story. In fact while there is an almost Wildean aspect to this play, his characters are tame by comparison.
It may serve also to remind us that the English were not the only great diarists. It has been said that the tale depicts the decadence of the French aristocracy prior to the Revolution.
If they were all like this then small wonder they brought out the Guillotine.
The production continues until Saturday 22nd May.
Reviewer: Kevin Catchpole