Little Miss Sunshine
Book by James Lapine, music and lyrics by William Finn, based on the Film Little Miss Sunshine, written by Michael Arndt
Selladoor Productions
Arcola Theatre
–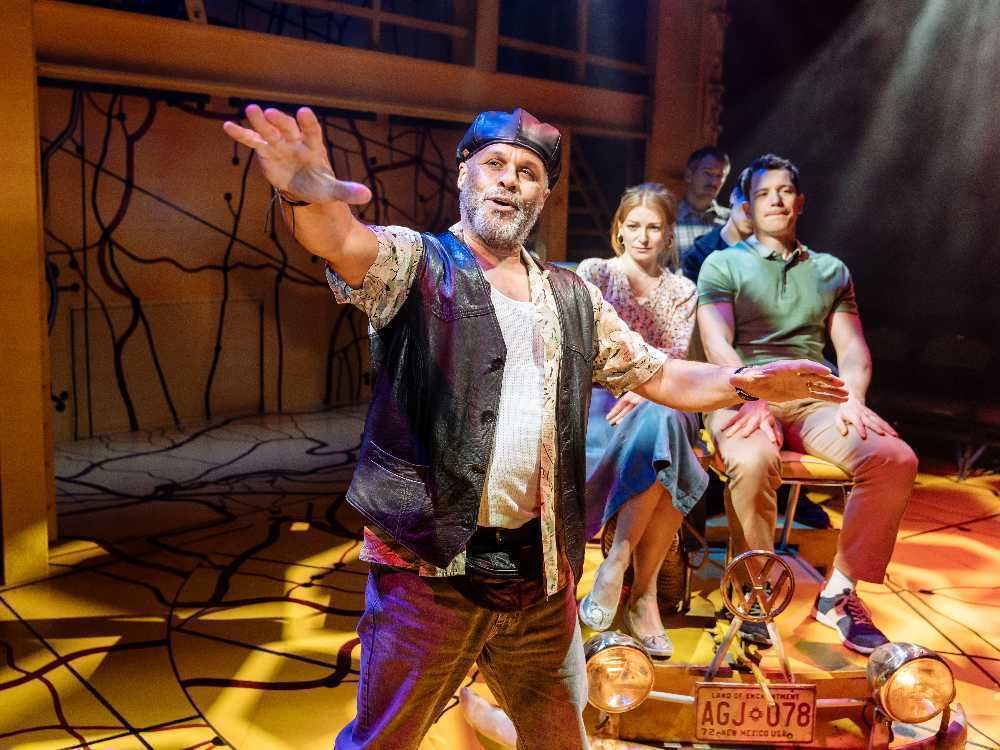 The Arcola's Artistic Director Mehmet Ergun, who directs this performance, has managed quite a coup in bringing this musical version of the mildly subversive 2006 feelgood movie to the Arcola.
The stage version of a cult film has been created by the team behind The 25th Annual Putnam County Spelling Bee, William Finn and James Lapine. It was first seen in California eight years ago, transferring off-Broadway, presumably in the unfulfilled hope of making it on to a bigger New York stage.
For those that have never seen the movie, it is a picaresque road show following the adventures of a haphazard family from Albuquerque, New Mexico who travel across the country in search of wish fulfillment.
The wishes to fulfil are those of Olive Hoover, a little girl portrayed by Sophie Hartley-Booth (at her best when dancing) on opening night. In attempting to achieve her dream, the little girl is egged on by her crazy grandfather, played with wit and gusto by Gary Wilmot, to enter the junior beauty pageant of the show's title, competing against a trio of munchkin mean girls who strut and preen scarily like the real thing.
In an ailing yellow VW Campervan, Olive is joined by a crew that comprises sex- and drug-addicted Grandpa, Paul Keating as her suicidal uncle, a lovelorn gay Proust scholar, Sev Keoshgerian's silent misanthropic brother Duane, plus unemployed Dad and long-suffering normal mum, respectively Gabriel Vick and Laura Pitt-Pulford.
Along the way, arguments abound, while Olive gets a series of practical lessons in life's vicissitudes. However, despite a series of unlikely problems, the little girl shows her own sunshine almost always having seeing the bright side and fun in which the audience can delightedly share.
There is no question that the plotting is heavily melodramatic, while the humour which can be very funny is also sometimes a little laboured.
The show struggles to squeeze in to a cramped stage space and is not ideally directed for those sitting on the wings of a thrust staging.
William Finn's songs complement the story but few will live long in the memory. The undoubted musical and dramatic highlight comes immediately after the interval with what should be plucky Olive's theme song, "Nothing Gets in the Way".
As with the much-loved movie, the main attraction of a two-hour long evening lies in the pleasure of seeing little Olive showing the kind of maturity that the old folk lack, especially when her dream is finally achieved with results that avoid the kind of saccharine that would been compulsory had Disney been involved in the project.
Reviewer: Philip Fisher