The 25th Annual Putnam County Spelling Bee
Music and lyrics by William Finn, book by Rachel Sheinkin, conceived by Rebecca Feldman
Donmar Warehouse
(2011)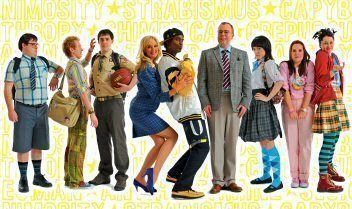 It is appropriate that this American musical, directed by Jamie Lloyd, should have opened during half term week in London.
The Broadway hit seems directed at a young teen audience, having something of the quality of a 90 minute pilot for an afternoon children's comedy drama.
For the uninitiated, a Spelling Bee is a highly competitive event in which children duel to the death (not quite literally though it feels like it to them) in contests to decide who can spell best.
William Finn has taken Rebecca Feldman's original idea and turned it into a musical that attempts to shed light on the strains of growing into and through puberty, using a set of ten representative geeks to entertain his audience.
To be fair, four of the "children", including some execrable spellers, are drawn from the audience at each performance. They are charged with enjoying themselves under the pitying eyes of their friends and others who will probably be mighty relieved that their names were not drawn.
The event, which takes place in a Christopher Oram-designed school gym/basketball court, is compered by a typical anchor duo. Katherine Kingsley's Rona Lisa Peretti is all long legs, flashing teeth and blonde hair as well as being a former champ back in the very early days of the contest. Her partner, Vice Principal Panch, is a man, played by Steve Pemberton, disappointed with his own life. He enjoys the Spelling Bee as, for at least a few hours, there is an opportunity to pretend to be important as he tortures these poor stressed-out kids.
The youngsters are all flawed in some way. Indeed, the more normal they are, the worse is their spelling. By the end, the likes of Logainne Schwartzandgrubenniere (Iris Roberts) with her two racially differentiated dads but no mum are long gone.
Head to head are the unwholesome pairing of William Barfee (David Fynn), overweight with a hint of some mental difficulties, and Olive Ostrovsky whose lack of confidence might require medical treatment. Unsurprisingly, they fall for each other but only one can win.
This framework provides the writers with the cut and thrust of competition, a chance for youngsters to compare themselves favourably with the competitors and, best of all, a stream of jokes, often based on not very subtle sexual innuendo.
The story is enhanced by a series of cheery pop songs of which the best are, first, that as competitors are rejected and, secondly, the solo delivered with gusto and feeling by the powerfully-voiced Hayley Gallivan as Olive. She might be remembered by fans for the equally strong impression that she made in Spring Awakening.
The 25th Annual Putnam County Spelling Bee seems an oddly unadventurous choice for the Donmar but it might well be that the popular show draws in younger audiences to the theatre over the next few weeks, which would be no bad thing.
Playing until 2 April
Reviewer: Philip Fisher