Long Day's Journey into Night
Eugene O'Neill
Bristol Old Vic
Wyndham's Theatre
–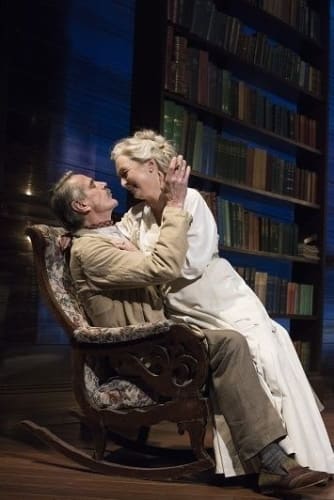 Along with Death of a Salesman, Long Day's Journey into Night must rank as one of the greatest in-depth analyses of family life written by any American (or arguably international) playwright.
The two plays feature families in the middle of the 20th century comprising a pair of ageing parents and two wastrel sons who might have had the world at their feet had they not been in love with "whores and whiskey" to quote the dismissive putdown use more than once by Jeremy Irons, looking rather like Laurence Olivier on film, in the guise of James Tyrone. For those not familiar with the history, he is a figure so closely modelled on Eugene O'Neil's father that the play could well be several steps closer to reality than the usual term used, semi-autobiographical.
Sir Richard Eyre and his designer Rob Howell have cleverly mixed a traditional concept with something a little more expressionistic. Events unfold over 3½ hours in a sitting room that could almost be a conservatory, with wood linings but furniture as flimsy as the mental states of all present. The symbolism goes further with the main area kitted out in sunny browns, while in the background rather gorgeous turquoise blues suggest the night that this day eventually tumbles into.
However, the main interest must lie in the events themselves and the four characters.
When young, James Tyrone was told by no less a man than Edwin Booth, the greatest actor of his day, that he possessed a rare talent and might have been able to follow in his mentor's footsteps. However, his casting as Gaspard in The Bells, a role made his own by Henry Irving in this country, turned the budding genius into a wealthy but unfulfilled character actor.
Nothing could diminish the initial passion of Lesley Manville's girlish Mary Tyrone who fell in love with the actor while still at school and, by the time that we meet them, had shared 36 years of sometimes traumatic marriage. However, her primary problem is now rampant morphine addiction so bad that every member of the family (including herself) refers to the lady at one time or another as a dope fiend.
The boys have never managed to escape the shadow of their famous father. Jamie played by Rory Keenan is an actor who struggles to keep a job, always overly willing to dissolve his hopes in an alcoholic haze, in the company of the worst kind of female.
More hopeful is Matthew Beard's Edmund, the Eugene O'Neill figure. However, his attempts to become a poet and journalist have temporarily stalled due to an illness that his mother desperately refers to as a summer cold, while knowing in her heart of hearts that it is actually consumption, which took away not only her father but also an infant son.
With all of this background, there is much for the family to debate, often explosively. What we eventually learn is that every problem directly results from James Tyrone's miserliness, which manifests itself in his unwillingness to allow a second lightbulb to shine but is much deeper-seated.
This production has much to commend it, keeping viewers on the edges of their seats from start to finish. In particular, Lesley Manville's depiction of a woman suffering from something close to madness, desperate to escape but unable to do so, will long remain in the memory, while the menfolk around her all have their moments.
In particular, Jeremy Irons (despite an American accent that doesn't always hold up) and Matthew Beard really come into their own when father and son have a heart-to-heart conversation that could bring tears to the eyes, while Rory Keenan makes his mark in a family confessional, which is probably as good a way as any to sum up one of the greatest plays of its era or any other.
This production, which started out at Bristol Old Vic, is only playing in London for 10 weeks. While it may not be packed with laughs, the sensitive and wholly credible portrayal of a family at war with itself is strongly recommended.
Reviewer: Philip Fisher