Lord of the Flies
Directed and adapted by Matthew Bourne and choreographer Scott Ambler
New Adventures & Re:Bourne
Sadler's Wells
–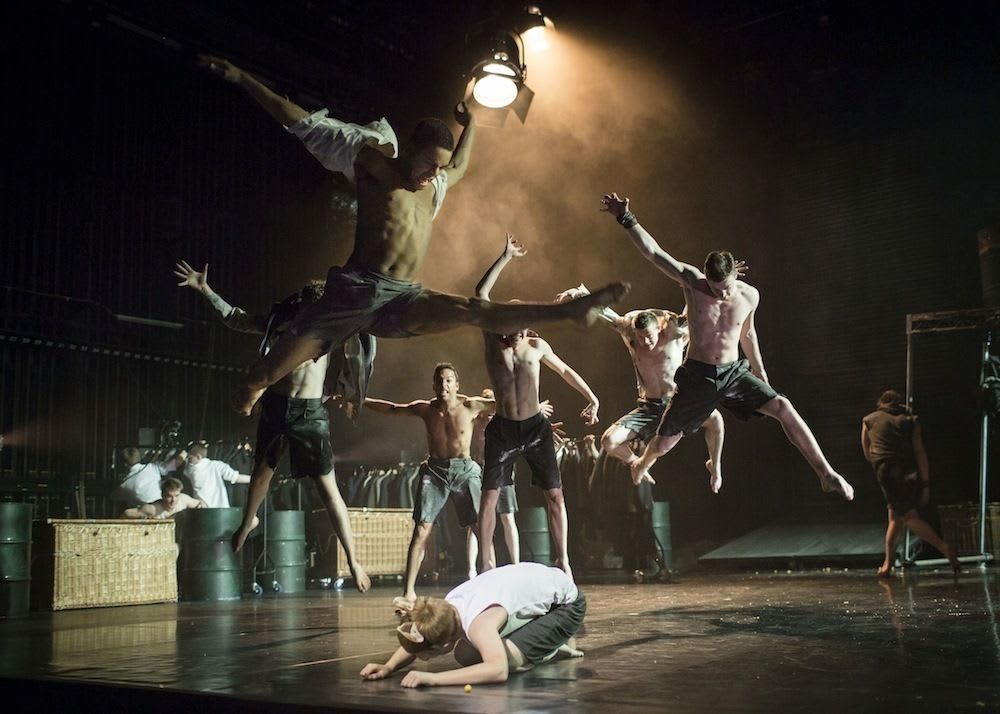 "The isle is full of noises", but not of the "sweet airs" variety, more the hairy ape in his stoker's hell. Smoke belches from a back doorway, colliding metal on metal clangs, and suddenly from this ship's hold emerge, two by two, neat orderly schoolboys of all sizes. Thirty boys ranging from mature prefects to first years.
Allegories and clichés, cinematic and biblical: angelic voices are heard—a schoolboy choir. And the shutters come down. They can't get out—the exterminating angel has them in its grasp.
But this is the digital age—trapped in a dark abandoned theatre, their mobile phones (couldn't they call someone—no reception?) light the way until Ralph finds the electric switch and the whole house is flooded with light.
Up and down the aisles and stairways they explore their castaway home, and lo and behold they find trays of ice creams and catering boxes of crisps—that explains the bad behaviour…
Oil drums, wicker laundry baskets and racks of clothes good for make believe refectory, thickets and brazier on a hill. The symbol of authority is a drumstick not William Golding's conch shell: a drumstick to beat the Shell oil drum.
Tropical island music, steel bands and birdsong, ball games and hopscotch, fantasy games of flying planes, but not before long disorder and elemental elementary savagery reign.
The rest you know, no doubt having studied the book at school, or perhaps seen the film and play adaptations. The veneer of civilisation is membrane thin.
A big red sun, a bigger silver moon, feral energy unleashed, cohort choreography replaces that listless sitting around phase, tribal circle dances, chants and face-paints up the ante. Apocalypse Now.
The boys are bloodied by their first kill, the pig's head takes centre stage, the 'beast' is sought and fought, Piggy is crushed under a falling mega spotlight, and Ralph is left sitting alone staring into the abyss, as a soldier in full metal jacket leads them away through the Close Encounters of the Third Kind misty hatch.
Some willing suspension of disbelief is required, especially in the case of the tramp (dead fighter pilot) who gets into the theatre through the shutter door the boys can't open. Phantom of the Opera anyone? We are in the land of imagination after all.
What is so remarkable about this production is not Matthew Bourne's usual inventiveness—this is a given now—but that in each city that his company plays it recruits local boys to take part. This in itself is an immense task and achievement.
The figures are astonishing. In London (ninth on the list of this thirteen city tour) for example 22 boys (ages from 10-23) are whittled down from an original 900 in taster workshops, 130 invited to audition.
First staged in Glasgow in March 2011, "following an invitation from the Theatre Royal to create a new work that united young men, many with little or no experience of dance, with professional dancers from the New Adventures Company", the Lord of the Flies project has worked to date with over 7,000 boys and young men.
The project mission statement is nothing less than hubristically ambitious: "to help change the landscape of boys dance in the UK, to attempt a project never before seen on the large-scale touring network and to deliver a production that delights new and experienced dance audiences."
And boy, do the boys give it all they've got, buoyed by Terry Davies's dambustering filmic score. Choreographic vocabulary kept very simple, the drama is more in the music than the dance, waves and waves of big screen film music and head-banging drum and bass sound.
What an opportunity to learn stagecraft from the New Adventures and Re:Bourne team, choreographer Scott Ambler, set and costume designer Lez Brotherston, and Matthew Bourne the man with musical theatre and film in his veins.
The casting is astute: Danny Reubens is a nasty piece of work as Jack, Sams Archer and Plant are perfect as kindly Ralph and asthmatic Piggy, and Layton Williams stands out as put-upon delicate Simon.
An extra matinée was added at Sadler's Wells. Cardiff, Newcastle, Norwich and Bradford are still to come. According to Bourne, there is a hunger out there for this sort of community reach and involvement.
Reviewer: Vera Liber