Love Story
Based on the novel by Erich Segal, book by Stephen Clark, music by Howard Goodall, lyrics by Stephen Clark and Howard Goodall
Language Laid Bare
The Jack Studio Theatre
–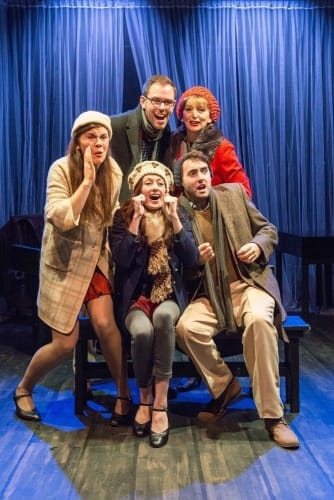 Back in the 1970s, the film Love Story was a runaway success. It spawned a best-selling book and gathered dozens of award nominations winning many including Best Original Score for composer Francis Lai, who also wrote the "Where Do I Begin" theme song—a huge hit for Andy Williams and later recorded by other big singing stars.
Although I harboured an insatiable appetite for the book as an adolescent, as an adult I wouldn't use it to line the hamster cage, but I do very much like the musical adaptation penned by Stephen Clark and Howard Goodall—above all for its wonderful music.
In fact one of the things that strikes you about this Love Story before you've barely left the theatre is how the book / film / song of the other one manipulatively culminate in a tear–jerking soppiness so strong that it threatens to choke you, whilst this classier version plays out without giving the impression that its sole purpose is to leave you sobbing.
"Where Do I Begin" pales into schmaltzy datedness in comparison to this score and book which keeps the 1960s setting for the story but is fresher and less florid and thereby is more timeless than of its time.
The story on which the show is based is minimalist—one could say lightweight—on page count and on plot. Rich Harvard student Oliver meets, falls in love with and marries Jenny, a girl from a poor background. He hates his father, she loves hers. He sacrifices his wealth, she sacrifices her career. She dies.
There is a further problem with the plot which is that from page one we know there is a tragic ending—as in the film, the opening lines give it away—"What can you say about a twenty-five-year-old girl who died?"
It's rather like a show about the Titanic. You have to embrace the inevitable and enjoy the journey. With Love Story, the start is a beautiful ensemble piece which does just that, and then goes from strength to strength, borrowing words, tunes and imagery, through to the reprise of "What Can You Say" at the close, which is affecting but without being overly mawkish.
Book writer and co-lyricists have also made a virtue of the story's brevity and provided a sprightly 90-minute piece that doesn't over-stretch the source material; "Pasta", an entertaining and well-structured song alone thriftily covers a whole first year of married bliss. And mercifully there is not a hint in book or lyric of the emetic "Love means never having to say you're sorry" catchphrase (higher on the list of 100 movies quotes than "ET phone home" and "Bond. James Bond"). Not for nothing was Love Story Olivier-nominated for Best New Musical. It should also get an award for good judgment.
The economy of the piece lends itself to a simple setting, and director Joseph C Walsh has kept things unfussy in this production of the show from Language Made Bare. The staging makes full use of a clever composite piano-shaped structure that separates out to provide spaces or surfaces (designed by Darren Beaumont), and the darkness of the black set is broken only by a white curtained backdrop (which is better suited to the settings than the memorable but over-designed whiteness of the show's original production—Chichester Festival Theatre then Duchess Theatre, London).
The talented and hard-working cast at The Jack make up for the sparseness of the characterisations in the original story. Recent Royal Academy of Music graduate Jonny Muir manages to make spoilt rich-kid Oliver Barrett IV quite likeable, though he failed to convince me as an athlete, and Caroline Keating sings and plays the piano beautifully; you can certainly see why Oliver would fall for this Jenny.
Jennifer Lucy Cook and Ian Southgate provide excellent support on the piano and in the ensemble which also benefits vocally from Laura Armstrong as Jenny's Mother. Southgate and Cook as musical directors with musical supervisor Rob Archibald must take the credit for the seamless changes of pianists and for nurturing such a wonderful sound from the ensemble.
This is an intimate chamber musical in a space well–suited to its mass. The story is sad, you may need a tissue, but the cast do justice to the lovely songs so if you go, you're unlikely to be saying you're sorry.
Reviewer: Sandra Giorgetti