Lulu
Alban Berg
English National Opera in a co-production with The New Israeli Opera Company and Städtische Bühnen Frankfurt am Main, Oper Frankfurt
Coliseum
(2005)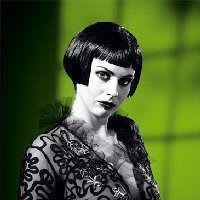 It is plainly no coincidence that two operatic productions currently enjoying revival are of works by Alban Berg directed by Richard Jones - English National Opera's 2002 production of Lulu and Welsh National's account of Wozzeck. If ever there were examples of craftsmen in their element
More to the point is the appetite of both Berg and Jones for Büchner and Wedekind, a taste for strong meat produced ahead of its time. As Welsh National tour the country with Jones's witty reading of Büchner, ENO now dust off their Wedekind at the London Coliseum.
For me, Jones's productions, not least Lulu, lack the strong flavour of true German expressionism - but then they would, wouldn't they? Although I recall a splendid account by of Pandora's Box by Northern Stage and Kneehigh theatre in which that was present in spades.
Yet with the diminutive Lisa Saffer recreating her 2002 Royal Philharmonic best vocal performance in the title role, Jones and his 16-strong ensemble are once again bent on mischief!
If there was less than an ovation for last night's opening performance of this revival, it was almost certainly down to a lack of comprehension in the house. That and a natural tardiness of audiences for Berg's peculiar scoring (the whole opera is written in what's called dodecaphonic score).
No, I don't understand that, either but my beef is with the dogged refusal of opera companies to provide surtitles for English performances. Setting aside Berg regulars, few of us could totally immerse ourselves in the iconoclastic entertainment so brilliantly served up by a polished company.
Richard Coxon, tailor-made in voice and physique for the impulsive painter, Jeffrey Lloyd-Roberts a colourful Alwa, and Gwynne Howell, sheer delight as every girl's "father", Schigloch.
And there is Robert Haywood, fresh from fighting Wotan's battles, as the ubiquitous Dr Schön together with his cutting finale in the streets of London. And there are other crafted caricatures from the company.
Paul Steinberg's designs appear legion; there are even two of the same wall hangings in contrasting shades. But then, it is that sort of piece.
Altogether, a distinctly school-boyish charm it has too, albeit with teachers involved, though it will never pack the old Coliseum, or anywhere else unless it's the basement theatre or a room upstairs. Of course, The Donmar managed it with a garage!
"Lulu" can be seen at The Coliseum on April 18th, 21st, 29th, and May 5th, 7th, 10th and 13th, all at 7.00 pm
Reviewer: Kevin Catchpole