Macbeth
William Shakespeare
A C Group
The Jack Studio Theatre
–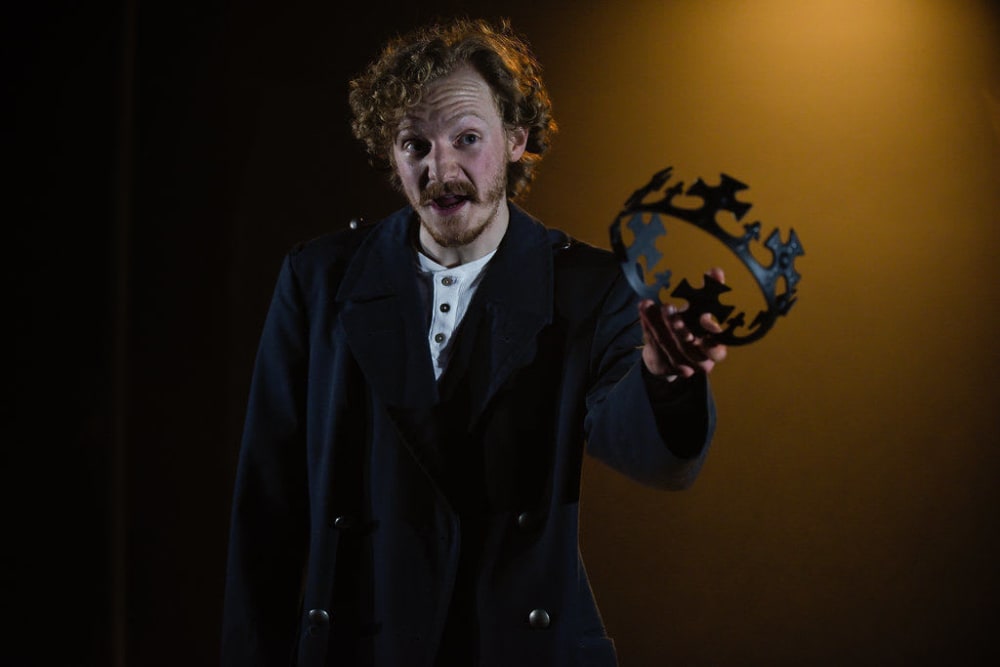 AC Group's is an energetic if disappointing rendering of Macbeth.
A timeless story of the moral and psychological corruption brought about by political ambition, its tragedy is in Macbeth's fall from nobility and respect to despotism and loathing and Lady Macbeth's mental unravelling.
Driven by a joint greed for power, they take into their own hands a course of murderous events that will lead them on a journey to the throne as supernatural beings portend, and from there to their own deaths.
In this production, we see some strong visual images but the chill and brutality is missing. Here, a fidgety Macbeth, played by William Ross-Fawcett, demonstrates the self–propelling transition from acclaimed soldier to irrational tyrant and is to be lauded for this clarity, but for me there is nothing pernicious in the portrait.
Beside Ross-Fawcett's Macbeth is Amelia Clay as his wife. Clay provides a resolute and centred Lady Macbeth and, if there are sinister tones to be found, they are in this performance. Clay is also more clear and certain in the delivery of the verse than others.
Beyond these two central performances, the production is marred by an assembly of ill-fitting choices.
The greatest of these is the small size of the cast. The Macbeths aside, the more than twenty remaining roles in this Macbeth are played by a cast of six, each with three or more roles.
In itself, this doesn't have to be a problem but the minimalist costume changes and monochrome pallet adopted by designer Reuben Speed (the significance of Lady Macbeth's atypical deep red tunic not being lost) contributed to ambiguity in character differentiation.
There are visual elements that work well and the striking silhouetted tableaux that bookend the first act are missed in the second which has little to match them. Some scenes are atmospherically lit whilst others are obscured rather than aided by an excess of fog. Witches twitch and shudder, their diction garbled by way of being fantastical.
Both pre-recorded and live music is employed here, another good idea and an effective one, but the music is also misused. Elliot Clay has provided evocative compositions but the mournful melody that accents the slaying of Macbeth is out of place—it is the downfall of a good man, not his death, that is to be grieved.
On a more practical point, the use of music in the final scene requires the triumphant Macduff to enter with the "usurper's cursed head" in one hand and a violin and bow in the other, which looks more unnatural than Macbeth toting a saxophone or anything that happens on the "blasted heath".
Out from the suffusion of devices, glimmers of hope come from Gabrielle Nellis–Pain as Malcolm earnestly struggling through in spite of increasingly losing her voice and most especially in Nell Hardy's portrayal of Macduff. In a performance delivered with a strength that belies her tiny physical frame, we see the considered nobleman, the bereaved father and husband and the slayer of Macbeth.
There are things to like in the course of this Macbeth and the production's failure to reach the bar set high by the company's impressive début at The Jack in 2015 has not been from want of trying but from wanting to do too much.
Reviewer: Sandra Giorgetti