Made in Germany

Stuttgart Ballet
Sadler's Wells
–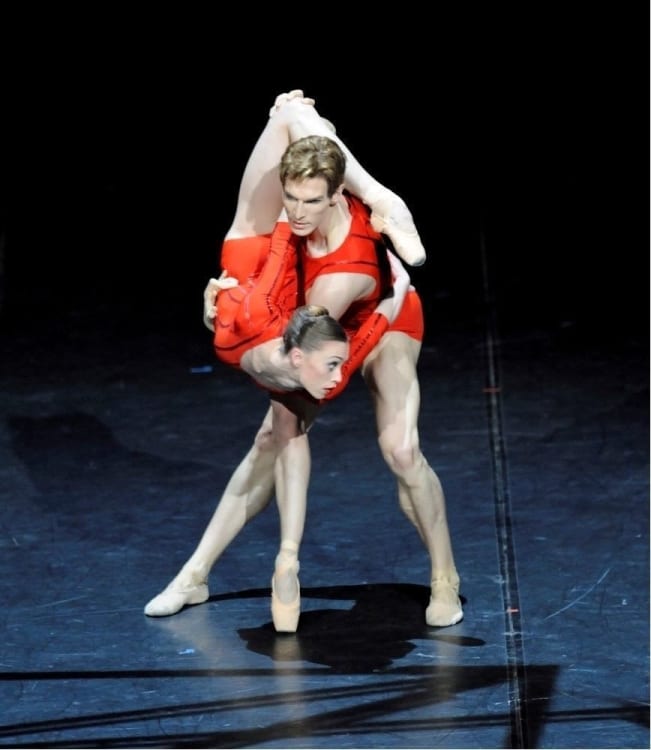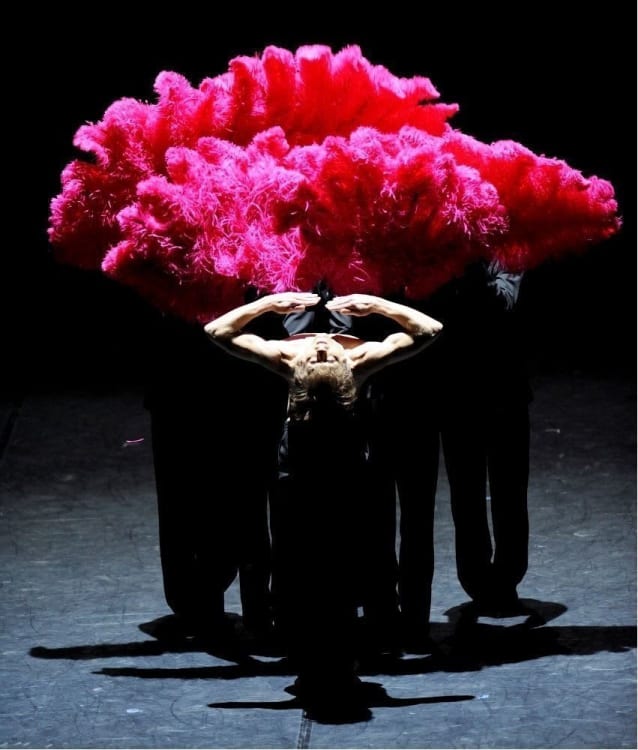 Not a grande bouffe or an abbuffata, but a repast of gradual satiety created by old and young maîtres, Made in Germany aims to please all tastes, the tart and the sweet, or at least hopes that some will hit the spot.
Nearly three hours with two intermissions to consume a thirteen-course meal—a smorgasbord of bite-size morsels. Some piquant, some palate fresh, savoury dishes and madeleines, but all delivered with panache and good humour by Stuttgart Ballet's young dancers.
Three acts, a starter, a main and a pudding, are served piecemeal. Three pieces by Stuttgart Ballet founder John Cranko, one by John Neumeier, two works by resident choreographer Marco Goecke, two by Christian Spuck, one each by Douglas Lee, Mauro Bigonzetti, Itzik Galili, Demis Volpi and Edward Clug.
To music by Chopin, Brahms, Schubert, Glazunov, Shostakovich, Prokofiev, Rossini, Michael Nyman, an original composition by Itzik Galili and Thomas Höfs, to Johnny Cash, Elvis Presley and Sarah Vaughan singing songs of love and pain.
There are interesting solos, marvellous pas de deux, extracts from full-length ballets, wit, irony, and Trocks slapstick send-up. And seven of them are UK premières. Made in Germany ranges from 1964 to 2012. Whew!
From classical homage in Cranko's opening number Hommage à Bolshoi (Maria Eichwald in fabulous lifts with Filip Barankiewicz), his Romeo and Juliet balcony scene duet, which is better in context, as would be John Neumeier's The Lady of the Camellias following hard upon—pas de deux make up the bulk of the programme—to 'Mark Morris' frisky and 'Wayne McGregor' angularity and punchy kinetic.
Dance à grande vitesse—yes I see both McGregor and Christopher Wheeldon in Brit Douglas Lee's Fanfare LX (Anna Osadcenko and Evan McKie)—and tremendous partnering.
Alicia Amatriain and Jason Reilly (whom I last saw dancing Onegin at the Royal Opera House) in Spuck's silly crowd pleasing Le Grand Pas de Deux and in Galili's totalitarian Mono Lisa, which has a Hofesh Shechter driving force.
But Alicia Amatriain can afford to play the fool when her technique is so amazing. Speed, precision, and beyond 180 degrees hyperextensions have to be seen to be believed.
Elisa Badenes and Daniel Camargo dance as one, clinging, dependent on each other in Volpi's Little Monsters, each the puppet of the other, interpreting Presley's love ballads with literal intent.
Bigonzetti's Kazimir's Colours extract speaks of tensions and need, too, conflicts of the soul in a Shostakovich nighttime drama, Anna Osadcenko's legs bringing out its anxieties in Malevich Constructivist form.
Her partner Friedemann Vogel has his own moment in Goeke's Fancy Goods, a jazzy solo all rippling shoulders and wiggling hands and bum. A fantasy with five burlesque red fans providing a club background mood that lingers in his dance.
Goeke's solo piece for Marijn Rademaker, Äffi, is in similar vein, Johnny Cash replacing Sarah Vaughan. Solitary pain, screams in the night, a whistled Brahms lullaby, bare torso—and what torsos these male dancers have—fluttery hands.
Edward Clug's Solo from Ssss… follows Fancy Goods and couldn't be more different, and I loved this. Pablo von Sternenfels is Chopin's expressive instrument, animated in colour, tempo and mood.
The two ensemble piece extracts, Cranko's 1972 Third Movement from Initials R.B.M.E., dedicated to Richard Cragun (R), Birgit Keil (B), Marcia Haydée (M) and Egon Madsen (E), and the last of the evening, Finale from The Seventh Blue created in 2000 by Spuck, give soloists and the corps de ballet a chance to shine.
An impressionistic Chinese watercolour backcloth, Brahms on the turntable (sadly no orchestra for this bitty evening), Evan McKie steps out with Maria Eichwald in a mythological Ovidian scene, the accompanying six couples a bower of arms and legs.
Spuck's dancers by contrast step out to Schubert in a Chorus Line line-up. Shout, sprint, and show off. Show us what they can do in youthful frolic.
Made in Germany does what it says on the box—it showcases the diversity of Stuttgart Ballet's repertoire and 'the versatility of its dancers' and 'its leading and up and coming choreographers'—in an eager to please programme of bits and pieces.
The company also brings Cranko's The Taming of the Shrew for three shows only 22-23 November.
Reviewer: Vera Liber