Mary Queen of Scots Got Her Head Chopped Off
Liz Lochhead
TheatreUpClose
King's Head Theatre
–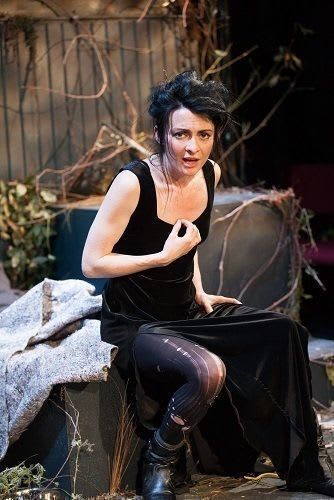 25 years ago when she wrote this play, the lady who has now become Scotland's National Poet, Liz Lochhead, must have known that she was taking on a giant when she wrote a piece that, if nothing else, has perhaps the best title of all.
A couple of hundred years before, Friedrich Schiller had written Mary Stuart, a theatrical masterpiece that addresses the uncomfortable relationship between those queenly cousins Elizabeth I and the Franco-Scottish Mary.
Although the original version of this play was well received North of the Border, it has not been seen in London for over a quarter of a century.
This revival by the King's Head's resident company, TheatreUpClose, comes courtesy of Robin Norton-Hale, whose low budget, modernised production of La Bohème turned out to be one of the operatic highlights of recent years. So powerful was it, that many callow viewers / auditors are likely to have overcome their prejudices on the incident and been turned on to opera for ever.
She tries to be similarly imaginative with this play, which is episodic and frequently runs the danger of losing an audience that has to overcome a large number of barriers.
The worst of these is a collection of odd accents tha,t in the case of Bothwell, is literally unintelligible. Perhaps worse, before she loses her head, Nora Wardell's doomed Mary veers between Scots and French in a haphazard fashion that can also make meaning hard to divine.
The experience also suffers as a result of sightlines that leave a large number of visitors craning their necks to see much of the action.
Through close to 2½ hours in an overheated auditorium, the foreign pretender is feted by a series of historical characters. Chief among these is Sarah Thom playing plummy, vengeful Elizabeth, a Queen who seems more jealous of her cousin's looks than fearful for her crown.
In the role of John Knox, Prentis Hancock rails for Protestantism, Bothwell wants to get sexed up, while the young Earl of Darnley marries the lady, plays his part in the procreation of the future James VI/I then succumbs to alcoholism, while sinister Riccio makes an all-too-brief appearance to cuckold him.
The writing and staging are intended to give Mary's life a racy modern feel with narration delivered by Le Corbie, a humanised crow given spirited life and wit by Shelley Lang.
The result is a patchy series of sketches that do not do all that much to reveal the character of either Mary or the satellites that revolve around her. They do however intermittently entertain as the writer's anarchic wit shines through.
Reviewer: Philip Fisher