Matthew Bourne's Cinderella
Choreography by Matthew Bourne; music by Sergei Prokofiev
New Adventures
Bradford Alhambra
–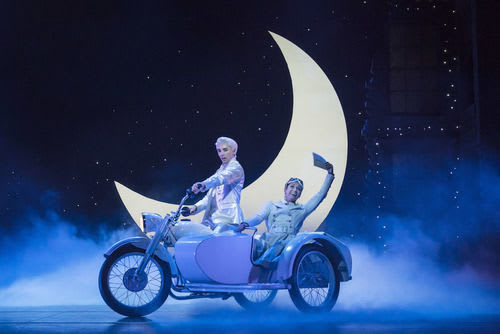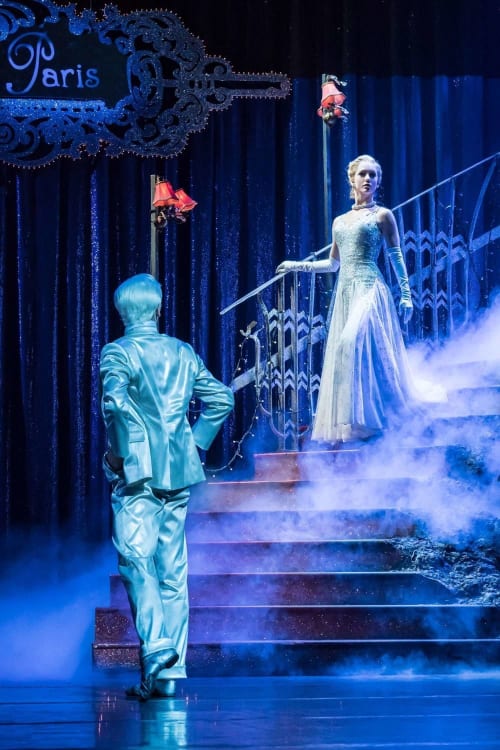 Sir Matthew Bourne, the UK's most popular choreographer, is responsible for some of the most successful dance productions of the last 25 years. His iconic reimagining of Swan Lake—once thought controversial because of its strident homoeroticism—has been embraced by the theatregoing public, and now features on the GCSE syllabus. Even his most ardent critics concede that Bourne has managed to open ballet up to a wider audience by stripping it of its perceived fussiness and replacing it with a strong narrative drive.
Having loved both Early Adventures, a collection of Bourne's short works, and The Red Shoes, I was naturally curious to see how he would approach Cinderella. First staged in 1997, Bourne relocates the action to London in 1940. The opening image of a sparkling blue slipper set against the war-torn rubble of the city quickly informs us that this production will blend the turmoil of the Blitz with the magic of the fairy tale and the glamour of Hollywood cinema.
Bourne's Cinderella retains the dramatic structure of this well-known story, but also makes some notable alterations. In this version, Cinderella (Ashley Shaw) must contend not only with a vile stepmother (Madelaine Brennan) and two wicked stepsisters (Stephanie Billers and Anjali Mehra), but also with three despicable stepbrothers, one of whom has a shoe fetish (Dan Wright). Cinderella's veteran father (Alan Vincent) may be alive, but he's unable to defend his daughter from the confines of his wheelchair.
There is hope for Cinderella, however, in the dashing form of an RAF pilot named Harry (Dominic North), with whom she strikes up an immediate rapport. If only she could escape the house to attend the dance at the Café de Paris, where young people gather to forget about the war by jitterbugging until the early hours.
Enter Cinderella's supernatural aide: not a fairy godmother with a wand, but a youthful male angel (Liam Mower) dressed in silver. However, this angel has a sinister side to him, and Cinderella will have to grapple with wartime horrors before she earns her happy ending.
Clement Crisp, one of Bourne's most vociferous critics, has described him as a first-rate showman and a second-rate choreographer. I agree wholeheartedly with the first part, but not the second. Bourne belongs to a tradition of British choreographers who place storytelling at the forefront of their work. His choreography may not be the most formally adventurous, but it is strongly rooted in character. At times, the performers' movements seem closer to dramatic gesture rather than dance, but I would argue that this enriches rather than detracts from the overall production.
Furthermore, Cinderella is filled with moments of great choreographic beauty, with Bourne responding intelligently and imaginatively to Prokofiev's score. The scene in which Cinderella dances with a dressmaker's dummy only for him to turn into her RAF pilot is funny, poignant and delightful. The scenes at the Café de Paris, in which Cinderella's stepfamily dance with various partners, are slick, energetic and fast-moving. The pas de deux between Cinderella and Harry after the dance is filled with passionate longing.
The ensemble tackles the dramatic and choreographic demands of Cinderella with confidence and finesse. Ashley Shaw is a beguiling leading lady, who beautifully conveys the transformative power of love. Similarly impressive is Dominic North, who looks and acts the part as her princely pilot. Madelaine Brennan excels as Cinderella's femme fatale step-mother, and Liam Mower's lithe physicality imbues the angel with a remote, ethereal quality.
Just as important as Bourne's choreography is Lez Brotherston's outstanding production design, which skilfully recreates the landscape of wartime London, including the London Underground and the Thames Embankment. My heart was in my mouth at the beginning of the second act where the angel uses his magical powers to restore the Café de Paris, which was bombed on 8 March 1941, to its former glory. It's in scenes such as this that one can most fully appreciate Bourne and Brotherston's creative partnership.
Credit must also go to Neil Austin's expressive lighting, which adds immeasurably to the lustrous quality of the production.
Matthew Bourne's Cinderella is a terrific piece of work, overflowing with witty and imaginative detail.
Reviewer: James Ballands