Medea
Euripides, in a new version by Ben Power
Olivier Theatre (National Theatre)
–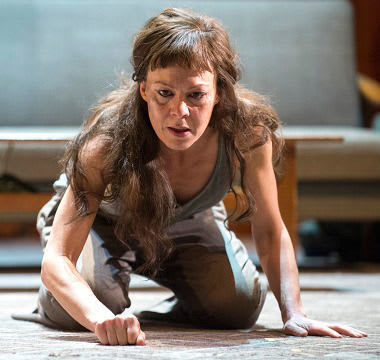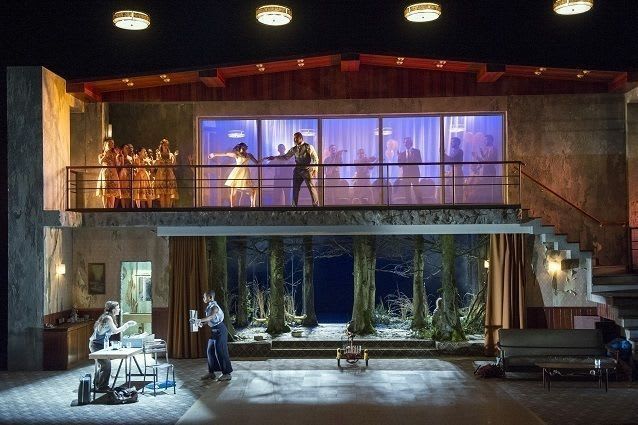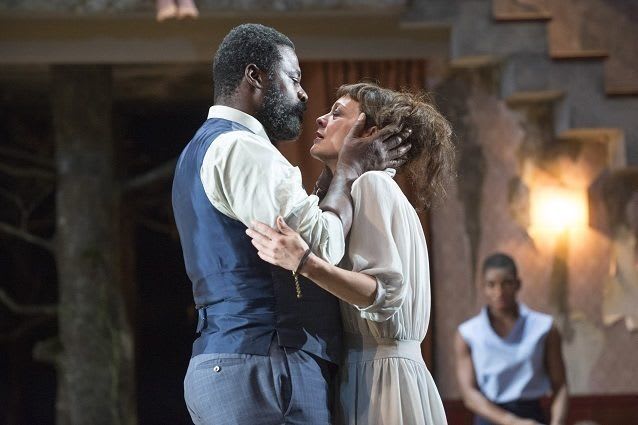 Medea is one of the greatest and most sought after female roles in the theatrical canon. In living memory, it has drawn outstanding performances from the likes of Fiona Shaw, Dame Diana Rigg and most recently the latter's daughter Rachael Stirling in a Headlong production with similarities to the National's latest, very modern, incarnation of the play.
Now, Helen McCrory gets the opportunity to show her mettle and makes the most of her opportunity.
Carrie Cracknell has chosen a stunning setting, beautifully realised by Tom Scutt, which has echoes of chilling childhood fairytales. A large house features peripheral rooms but also a glassed-in ballroom above a slice of sinister forest before which most of the drama is played out.
As one might expect from this enterprising young director, dance and movement play a significant role thanks to the efforts of choreographer, Lucy Guerin, while the striking musical accompaniment composed by Will Gregory and Alison Goldfrapp has a haunting quality in every sense of that adjective.
However, what makes this Greek tragedy unforgettable is Euripides' epic plotting and language. On this occasion, Ben Power has used modern idioms in a suitably poetic fashion, which makes one hang on every word throughout the 100-minute running time.
The story that this team tells contains few surprises since, from the opening prologue related by Michaela Coel playing Nurse to Medea's two children, we are told exactly what is likely to unfold.
Her role as narrator is then passed on to 13 Women of Corinth, cast as much for their dancing skills as acting ability.
Soon enough, we learn that Medea sacrificed much, including her own brother, for the love of that legendary but inconstant Argonaut Jason, Danny Sapani towering over his ex-wife as he tries to justify deserting her in favour of lithe Kreusa, silently played by dancer Clemmie Sveeas.
As we all know, "Hell hath no fury like a woman scorned" but this is a message which had apparently passed by Kreusa's father, Martin Turner as King Kreon.
Rather than banishing Medea from his country immediately, he makes a fatal mistake of giving her one day's grace. Rarely has such a small mistake proved so horrifically costly.
Having got the bit between her teeth, this artful schemer moves forward with a ritualistic inevitability, tension building to the kind of bloody denouement that is difficult to forget.
With such tremendous competition, Helen McCrory may not quite be the very best Medea but she is certainly an extremely good one and fully justifies her casting.
Teetering on the edge of insanity throughout, she manages to colour the part, showing not only a heartbroken woman hell-bent on revenge but also something of the kindness and passion that attracted Jason in the first place.
Carrie Cracknell has created a novel and richly rewarding vision of an ancient classic that hits viewers between the eyes with a short, sharp shock that will leave most reeling, bridging the gap of millennia from Euripides to Ben Power. This stylish production would be well worth seeing even if it was not part of the Travelex £15 Season.
For those who cannot get to London there will be an opportunity to see it as part of NT Live in cinemas across the world on 4 September.
Reviewer: Philip Fisher