Medea
Euripides, in a new version by Mike Bartlett
Headlong
Watford Palace Theatre
–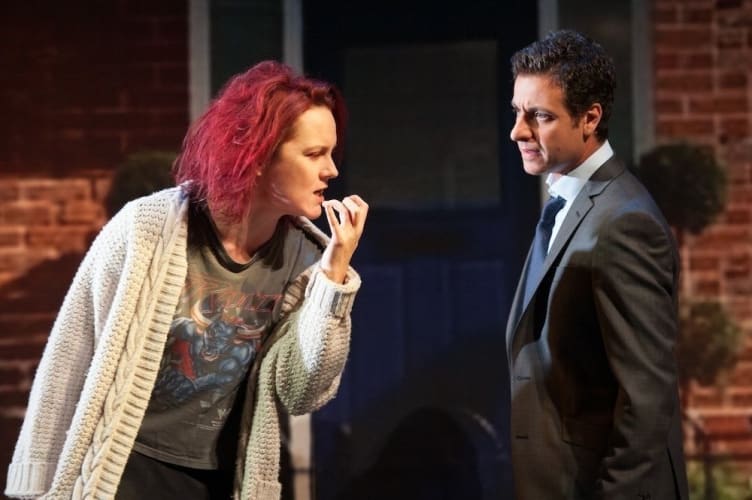 One hopes that before buying tickets and heading out to Watford, fans of Greek tragedy do a little research or they could be in for a shock. On the other hand, those theatregoers that tend to be put off by traditional Grecian tunics and posturing may welcome something a little different.
Headlong has a reputation for treating the classics with irreverence and usually does so with flair. What they do not necessarily come up with is a faithful reproduction of, in this case, Euripides' play.
One of the best playwrights of the moment, Mike Bartlett has had enjoyed successes with Earthquakes in London and Chariots of Fire.
Showing his customary spirit of adventure, he has set this new version of Medea, which he also directs, in contemporary suburbia. In doing so, he turns the central figure into a red-dyed, lank-haired Goth with attitude. This is particularly strident as she contemplates her ex-husband's wedding the day after we enter the scene.
Rachael Stirling's character is fast running off the rails following the desertion of Adam Levy's handsome Jason. To be fair, It cannot be much fun when your husband runs off with a newer model, especially when the unseen beauty is leggy and 21.
Medea reacts by neglecting herself and silent son Tom, leading to a funny cookery scene that will chill any devotees of the innumerable TV series for foodies.
Medea gets little real help from a pair of so-called friends and reacts even more harshly to her husband's putative father-in-law, who is also her own landlord. Estuarine Nick Carter, played by Christopher Ettridge, is unsympathetic in every sense of the word. In part this results from a mortal insult with which Medea has terrorised her callow successor.
The early scenes, in and just outside a Ruari Murchison-designed photo-house that opens to reveal two storeys, can be bitingly funny as Medea says what she thinks, caring little for social graces.
The tone changes when Jason appears and she can no longer hide her deep bitterness at his betrayal.
This all seems very modern, but never strays too far from the spirit of the original.
The spectacular final scenes of the 95 minutes and an unforgettable closing image get even closer to Euripides and, due to the familiarity of the surroundings, are likely to have an even greater impact on the audience, who may well find themselves as traumatised as Medea and Jason by the time the final curtain comes down.
As one has come to expect, Rachael Stirling proves to be a fearfully convincing feminist icon, effortlessly creating a thoroughly modern Medea, with the assistance of Mike Bartlett and the supporting cast, of whom Paul Shelley gives a lovely cameo playing a kindly, if mildly lecherous neighbour.
This thrilling Medea might well offend purists but will richly entertain the more open-minded, as long as they are willing to accept a completely new reading of an old favourite.
Reviewer: Philip Fisher