Mischief Movie Night In
Mischief Theatre
Mischief Theatre
Immersive LDN
–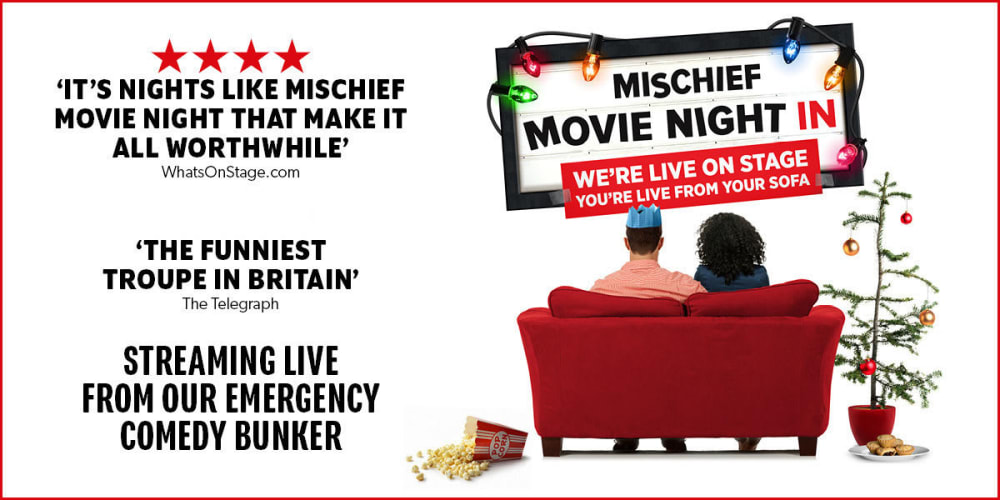 The company behind The Play That Goes Wrong is irrepressible. Not even a full-blooded virus pandemic can keep them down for long. After discovering that the government had ended this show's West End run in its prime, they decided to take it online.
In various forms, what is now branded as Mischief Movie Night In has been a staple of the company's repertoire for years. The concept is simple enough. A talented and highly versatile team of actors improvises a movie on themes and featuring characteristics put to them by members of the audience.
Since that is impossible, at each performance, social media and a small Zoom audience are substituted as an initiation process with the company building up fresh nightly movies that will inevitably be packed with their trademark recipe for constant laughter. The 70-minute performance under review is a pretty typical example.
One of the company's co-founders, Henry Lewis, plays Oscar, the compère but also more slyly the director of proceedings, who gives his seven colleagues some breathing space. With assistance from both the live, interactive Zoom audience and those communicating via social media, he subtly filibusters through 10 minutes of preamble. By then, rather than a spy movie or Disneyesque fantasy, the voting public on this occasion chose that melodramatic staple, the murder mystery.
As in an elaborate game of Cluedo, guided by social media users, they also plumped for the setting of a dress rehearsal for a musical and the title of Dress for Danger. From there on, viewers were led through a ludicrous plot with murders abounding, victims including the talentless starlet, an octogenarian standby whose name mysteriously changed depending upon who was uttering it and even one of the murderers.
To add to the fun, the evening was replete with Mischief Theatre's favourite element of gaffes as well as outtakes, freeze frames and other stylistic props, all accompanied by an appropriately cynical commentary from dear Oscar.
The company of eight comprises over half of the original team, seemingly hamming it up as much for their own entertainment as that of an online audience from around the world, who will undoubtedly take enough laughs away from each performance to ensure strong word-of-mouth, helped by bargain basement ticket prices of a mere £10.
This is a show that does exactly what it says on the pack and, while it cannot quite compete with the pleasure of sitting as part of a delighted full house rolling around in the aisles of a real West End theatre, it is the next best thing.
Reviewer: Philip Fisher