Missing
Amit Lahav
Gecko
Battersea Arts Centre
–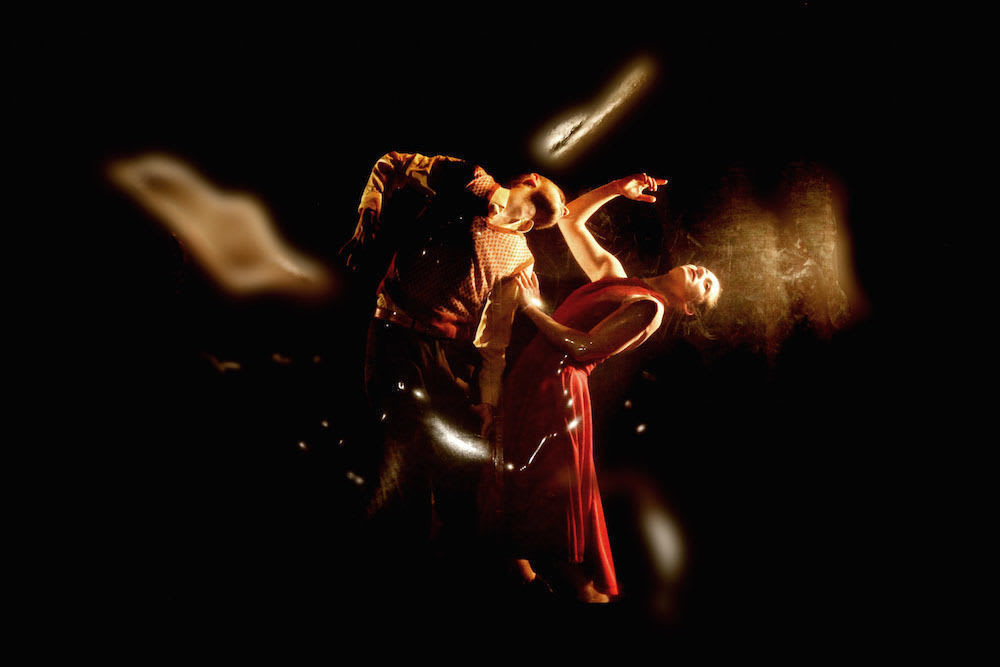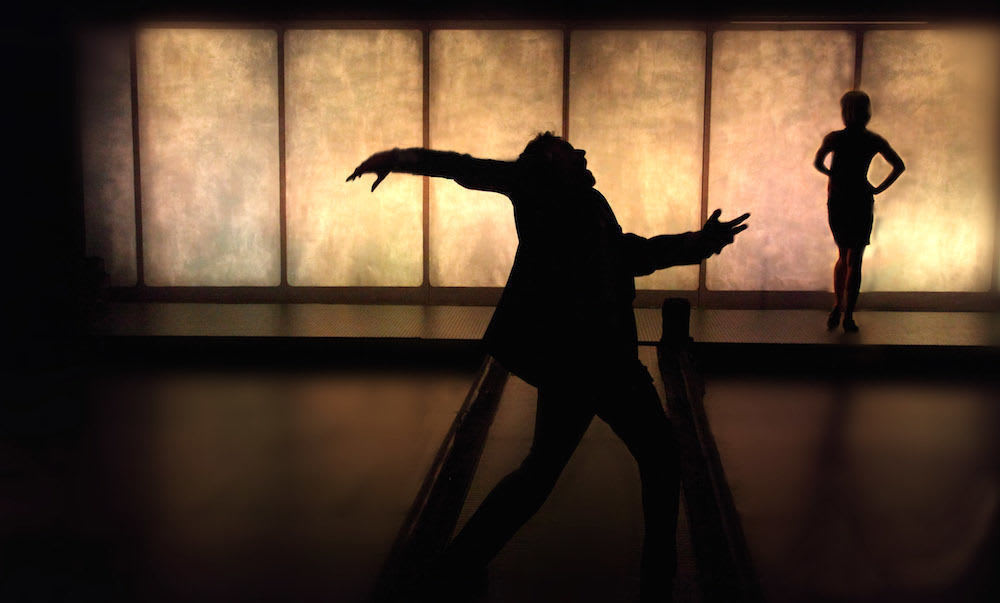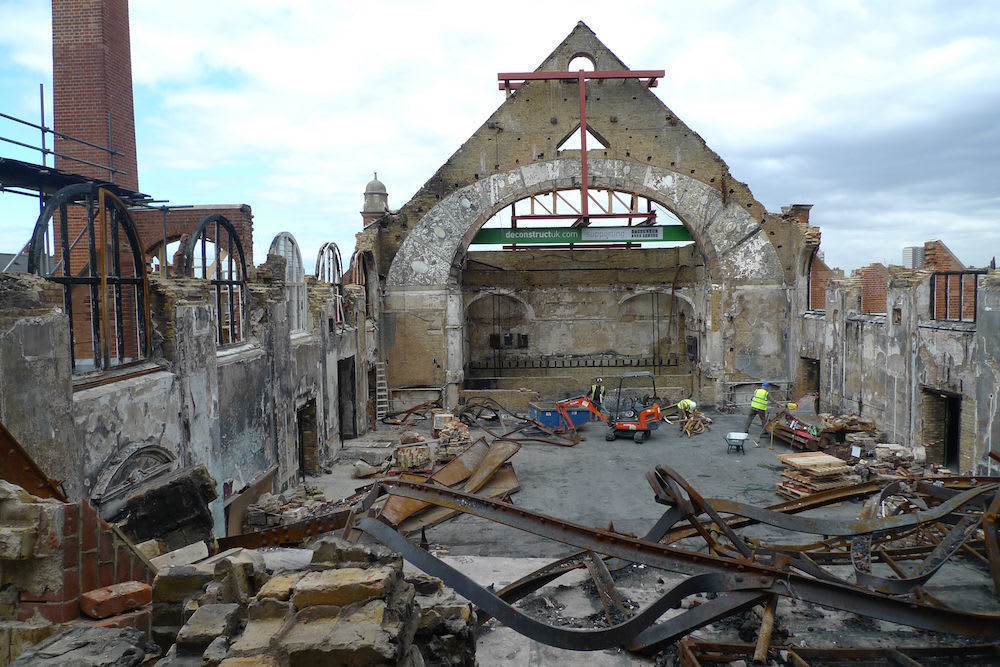 Fittingly, Gecko's Missing officially reopens Battersea Arts Centre's (BAC) aptly named Loved. Lost. Reborn. Phoenix Season, "a five-month celebration of risk-taking and renewal", after a devastating fire totally wrecked its 122-year-old Grand Hall some three and a half years ago.
Sets, props and costumes destroyed midway through their 2015 run, the physical theatre company Gecko returns to complete its schedule cut short by fire on Friday 13 March 2015. I was fortunate to catch it then before the fire and am now curious to see its evolution. What do I remember (in a show about memory) and what has changed? Familiar tropes prompt my mind's eye.
Not quite the same yet the same. For one, there is no chest x-ray to diagnose Lily's problems this time. Instead gesture, repeated winding blows to the sternum by a strange shabby Italian mystic / therapist defibrillates listless Lily's numb heart, exorcises her demons and awakens the traumatised child inside.
A touch of magical realism: what does he keep in his array of cardboard boxes, people's souls? Lily's light bulb glow is tiny, all is not lost the spark is alive. Yet something is missing in her empty life. Human warmth, perhaps, a loss she can barely remember.
Memories roll by behind her as she sits slumped on a bench, figures cavorting like Ingmar Bergman's Seventh Seal dancers across a darkening skyline. Who are these people on the travelator, the conveyor belt of lost souls? Life on a roll? Five performers only, two women and three men, fill the film noir stage.
Life glides by, she meets and marries a man who cheats on her. Is she is repeating the embedded behavioural patterns of her parents? Stay with it and the flashbacks in smoky vitrines, which appear as if by magic above the stage, at the sides, and glide forward increasing in size, slowly divulge her problem. It's like looking at old foxed photos, misty slides, crackling home movies. The backstory reveals the mystery.
Her parents met in Spain, she a dancer in the club he was working in cleaning tables. He is English and their gauche encounter is amusing, his Spanish stilted, but he wins the hot-blooded woman. And they have a little girl—Lily—a puppet in the vitrine of their volatile life.
She watches, silently as children do, their violent quarrels; now she needs to excavate them to make sense of her life, of herself.
A child of a mixed marriage, two cultures, two languages to navigate: she has become English, taciturn, with only fragments of Spanish. A personal story for artistic director Amit Lahav, harking back to his mixed heritage, an Israeli bass player father, a mother from North London, who auditioned for his father's band in Tel Aviv as a go-go dancer.
A move from the warmth of a voluble Middle Eastern life to East London left its mark, as did his parents failed marriage. Missing is his way of finding his way back, just like Lily, to those deliberately repressed memories, romanticised memories, unreliable memories, healing memories.
How our early life impacts on our psyche is a massive subject and all of us can surely identify with Missing. Episodic, mysterious, moving, evocative, a jigsaw piece we have to put together as much as Lily.
She and we get there in the end and exult in her rediscovery of her Latin soul, of her mother tongue, of her mother's flamenco dance, a flame rekindled by the shabby magician. By the time he's finished with her, her light bulb, her frozen heart, has grown considerably—the size of a crystal ball. She is restored to herself.
Gecko, transcending the babel of languages that divide with body language that unites, proves a little goes a long way in this thoughtful seventy-minute show.
David Price's excellent original music, an emotive film score, signals moods, emotions, and speaks to one's inner being, whilst Sturm und Drang sound and lighting design (Enzo Appetecchia, and Chris Swain and Amit Lahav) underscores and turns Lily's simple quest into a dramatic production. Overall design is by Rhys Jarman and Amit Lahav (Lahav keeps a firm benevolent grip on his creation).
As do architects Haworth Tompkins in their sympathetic melding of the Hall's nineteenth-century past with the necessary twenty-first-century technical wizardry, thankfully conserving its Victorian visual splendour, beautifully peeled back to bare brick in what interior designers might call shabby chic style crossed with Lord Leighton or William Morris...
The evening is preceded and concluded by welcoming speeches, thanks to many supporters, and commemorative poetry. Immediately after the fire, Stella Duffy created the hashtag #BACPhoenix and the next day local supporters came to cheer BAC and its team on.
"One month later 2,300 people attended a fundraiser at the Southbank Centre." "Three years later and following countless acts of kindness, by thousands of people and organisations, we have rebuilt, brick by brick. We are truly grateful to everyone who is part of this story of renewal." (artistic director David Jubb). Hear, hear.
Reviewer: Vera Liber