Missing
Amit Lahav
Gecko
York Theatre Royal
–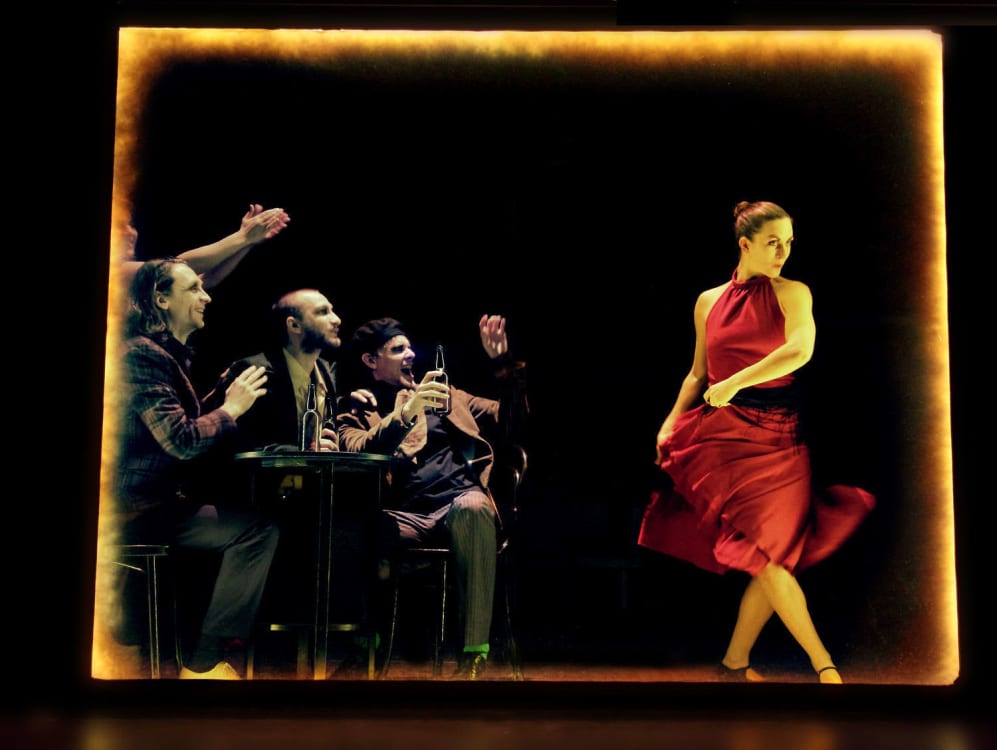 It was partway through the 2015 run of Gecko's Missing at Battersea Arts Centre that the venue was caught in a devastating fire, destroying the complex machinery of the show's set. Having returned to play a part in BAC's triumphant reopening, it is now embarked on a national tour.
At York Theatre Royal, the press night performance was also subject to a technical hitch before it had even begun, which meant a peculiarly charged atmosphere in the youthful audience as the tech crew restarted the show from the top. You can see why they'd need to get it spot on, as this is a deviously complicated endeavour which, once started, just keeps rolling for the 70 minutes of its intense, energised and manifold splendours.
Those who like a clear narrative throughline—or much in the way of text and story at all—may be wrongfooted by the piece, which is driven instead by a flurry of sometimes bewilderingly opaque physical images. Underpinned by a dynamic and varied score (from Enzo Appetecchia and Dave Price) and, as ever, boggling and brilliant design all round, this is Gecko doing what they do best: presenting beautiful and challenging visions for interpretation.
Artistic Director Amit Lahav appears here speaking Italian and asking for a volunteer. He gets one in the form of Lily (Katie Lusby), who, it seems, has in fact put herself forward to take charge of his soul—his 'anima'—and memories. For this is, according to the director's note, an autobiographically-based piece.
Without giving away too much about potential interpretations of any possible threads of story here, we see glimpses of Lily as she moves through life, from childhood (depicted through an eerie doll puppet) through partying with peers and coffee-fuelled days on the conveyor belt of the nine to five. There's a burgeoning relationship, a wedding, and later betrayals. Fragmentary snatches of dance suggest all of these and more, but really the joy of the piece is the enticement to stitch them together as you reach for interpretations of these ever-shifting images. It's a rare combination of constant mental leaps and sheer aesthetic thrill.
Lahav and his collaborators are such spendthrifts with visual ideas and imagery that these flashes of energetic choreography and stagecraft overlap and merge before getting a chance to settle in, restlessly throwing ever-new ideas in at just the right moments. Chris Swain's lighting and Rhys Jarman's mobile set (both generated through close work with Lahav) combine to create these striking, versatile and rich stage pictures.
There is inventive work with frames, sudden new levels to the set, puppets which emerge out of the spooky depths of the stage and a dazzling moment in which lightning seems to course through two of the dancers as they grapple with each other. Once the eye adjusts and the brain catches up, this is revealed as an essentially remarkably simple piece of design and lighting—but as with so many of Gecko's most inspired moments, there's a richness of visual imagination that dazzles the eye with the least high-tech of means.
Not that this is a simple show, by any stretch. The performers are almost constantly on the move, not so much multi-roling as shapeshifting, at one moment disco dancing along a stage-wide conveyor belt, at another clowning comically in a bar-room chat-up scene or clambering up the walls of a confining flat.
Lucia Chocarro, Katie Lusby, Ryen Perkins-Gangnes, John Ross and Lahav himself all impress with a range of dance styles and physical feats that synchronise and interweave as though effortlessly.
Many of the Gecko trademarks are present—the amplified (and pre-recorded) breath and mutterings of the dancers, the generic workday suits setting off the incredible physicality of the performances—but these are reconfigured into new structures and visions, so those familiar with the company will nonetheless find something new and beautiful here.
There's an odd 'shock' sequence of loud jolts right at the start of the show which acts to focus the audience's collective attention and introduces one or two recurrent images, but otherwise seems a little unnecessary. However, beyond this it's a flawless performance of breathtaking visual imagination and beautiful physical feats. Don't expect a story, but do go with eyes wide open to take it all in.
Reviewer: Mark Smith